In your kitchen, you need function and you want great form.  Most people settle for one or the other, but the Twelve kitchen is stepping in and making the kitchen more convenient and more beautiful than ever.  Designer Carol Colombo used seamless lines to plan the Twelve design for Varnenna Poliform.  With the Twelve, it's all about providing you with a clean slate for creating and decorating in any style you want.  Few kitchens are so adaptable that they look at home in a flowery vintage design or a monochromatic minimalist contemporary setting, but the Twelve will do it all.
The countertops are designed to feel thin and lightweight to balance their deep front-to-back dimensions; perfect for food preparation.  All of the vertical surfaces are smooth, glossy panels of sweeping color, as if painted into being with a single wide brushstroke.  Colombo avoided handles or any detailing that would interrupt the cabinet face, creating either closed storage in cabinets or open displays on nearly-invisible floating shelves.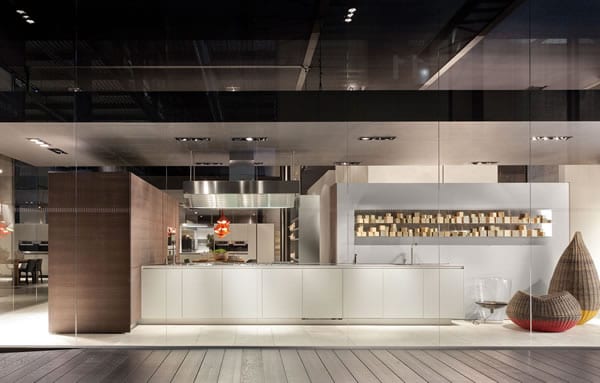 The personality of the Twelve Kitchen by Varenna Polioform comes not from ornate shapes but from color and finish.  The exceptional variety of options realizes Colombo's goal of creating a simple, functional cuisine that takes on a unique style every time a new combination is created.  Twelve is the ideal backdrop from which you can emulate any style, period, or color palette.  This kitchen puts you in control of your design. What look will the Twelve take on in your kitchen?