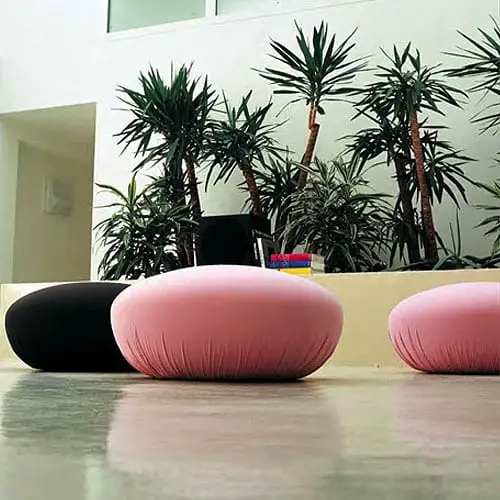 Bonaldo Furniture Designs
The Sunrise Sideboard
Designer Gino Carollo produces yet another piece of furniture with a sense of practicality and versatility that is inextricably connected to its sense of style.  The Sunrise Sideboard from Bonaldo is a good design made adaptable to any situation.
The concept of a buffet is an old one, but the Sunrise sideboard is no longer restricted to the dining room alone.  Use it in the dining room, living room, office, or hallway; this slender piece will reinvent itself wherever you decide to place it.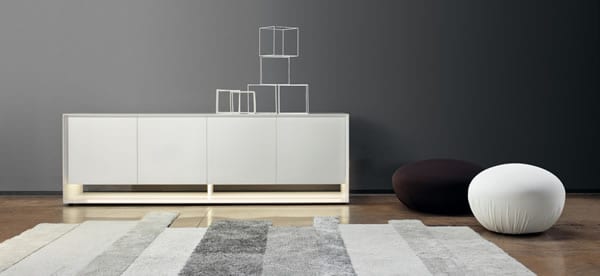 The Sunrise Sideboard has hi-tech styling in both its three- and four-door versions for spaces small and large.  The smooth design nearly camouflages its purpose as a cabinet, but don't let Carollo's cleverly flat shapes convince you that the sideboard won't quickly become the most useful piece of furniture in your home.
The lacquered wood is available in three neutral matte colors: snow white, anthracite grey, and quartz grey. The palette provides a clean slate of cabinets for prominently displaying decorative accents atop the raised wood frame.  Inside the deceptively spacious cabinets, you will find glass shelves for a clean, contemporary look even with the doors wide open.
The Sunrise Light version of the sideboard includes a built-in light fitted into the visible compartment to illuminate the attractive, futuristic shape.  So simple, so adaptable, there is a place in your home just perfect for a designer storage solution. Think outside the dining room with the Sunrise Sideboard: where will you use it?
Go Minimalist with the Welded Table by Bonaldo
If you're looking for a table that defines your decorating style, the Welded table by Bonaldo makes an excellent choice. This design flaunts different functionalities and personalities thanks to its legs which can be attached in different positions.
They can be placed close together near the center to form a dining table or they can be spread apart close to the sides to create a work desk where you can glide from side to side on an armchair.
The piece is the brainchild of Alain Gilles and is perfect for commercial and residential environments. His idea sprung from a desire to use few materials and to simplify all the processing phrases.
The Welded table by Bonaldo has an ultramodern metal base and a wealth of options for the dining surface. Its rectangular-shaped top is available in black or extra white acid-treated glass, marble, matt white lacquer, solid American walnut, or Canaletto walnut.
Its legs are made from laser-cut metal sheets that have been welded together. The tridimensional shape of the legs gives the design a smooth, classy look while providing structural strength. The legs come in lovely colors such as green, orange, brown, anthracite grey, luminous red, and matt white.
This piece is a great option for a variety of home settings as it showcases minimalism with a strong personality. When you want a table that offers practicality, essential appeal, clean-cut lines, and simple design, get the Welded. Its legs look refined and reassuring and when viewed from the sides look simple and striking.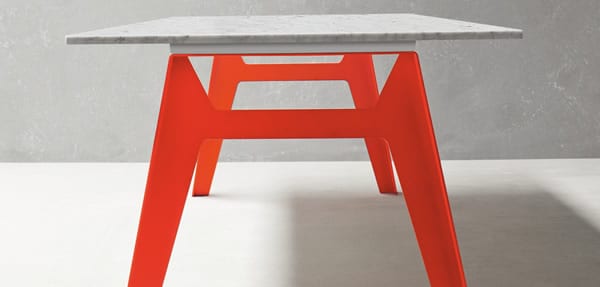 Bonaldo's Swing Chair
You can never have too many ways to get comfortable. Bonaldo's Swing Chair, designed by Jochen Hoffman, is a perfect embodiment of innovative flexibility in comfort.  The Swing Chair is one of the most contemporary rocking armchairs on the market today, certainly unlike any rocking chair, you've used before.
Not only does it capture the fluid motion of a great rocking chair in a sleek new design, but with a simple motion transforms itself into a full-length chaise lounge for a reclining experience.  The ergonomic design of the Swing Chair holds true whether you're leaning into the curved backrest to rock away, or putting your feet up on the convex slope of the built-in footrest.
Not short on style, the Swing Chair by Bonaldo, offers multiple color combinations for its crisp outline.  Choose from either a painted or chromed steel frame system cushioned entirely with shrink-resistant rubber padding.
The beechwood armrests are available in three distinct finishes: natural wood, rich painted mocha, and industrial painted anthracite grey.  To complete the look, the piece comes upholstered in your favorite choice of fabrics, leather, or skay, a green and eco-friendly alternative to leather that is low on maintenance and high on style.
When all the custom elements of the rocking chair come together, the result is personalized comfort for the 21st century.  Perfect for rocking and reclining in a bedroom, living room, or office, the chic Swing Chair will be your go-to seat from the moment you try it.
Fully Upholstered Platform Bed by Bonaldo of Italy
On a recent trip to the High Point Furniture Market I saw the Bonaldo "Squaring" fully upholstered platform bed by designer Guiseppe Vigano. At first glance this elegant low profile bed is different with it's two low cushioned benches for sitting, lounging or displaying objects which is perfect to be positioned in the middle of the room if space allows.
The quilted covering is completely removable for cleaning and a matching bedspread is included with the bed system that is available in 36 colors of softly napped synthetic suede. Made in Italy King or Queen
Total Length: 112″ Total Width: 110″ Headboard Height: 17″ Headboard Width: 25″ Platform Height: 9″ Platform Bench Width: 28″
$7250 Plus Shipping

Bonaldo's Glam Pouf / Coffee Table by Gino Carollo
Often the ottoman intended for feet ends up acting more like a coffee table. The Bonaldo "Glam Pouf" offers you both options, one with a fully upholstered surface in either shiny technical fabric or in leather, and one with a glass top.
Designer Gino Carollo is no stranger to the modern design game and as early as 1986 his activity in the Industrial design sector included collaborations with prestigious Italian and foreign furniture companies. Glam Pouf $2,762.00, add $150 for the Coffee Table from modenpallette.com See all of the stellar modern furniture from Bonaldo.
Melt Sofa Sectional for Bonaldo
Interior design has the ability to capture ideas and moods and transform them into solid, tangible objects that bring emotion into our day-to-day routine.  With such power and potential, designer Mario Lipparini set out to harness the playful, cheery feelings of fun and excitement.
His goal gave shape to the Melt Sofa Sectional for Bonaldo, a sectional so flexible and varied it begs to be played with, moved around, and personalized for even more hip attitude to brighten your days. The bold, chunky dimensions are so unapologetically inviting you won't be able to resist a smile and your guests won't be able to stay away.  This sectional has the power to melt your heart and make you laugh.
Each modular piece has generous proportions and geometric angles that add personality to the average box-like sectional sofa.  The Melt is available with leather or fabric upholstery cover options to play with until the look is just right. Feet are anthracite grey painted wood.  Options like a chaise lounge, deep corner units, and liberal poufs are perfect for mix-and-match assembly and a casual, laid-back feel.
Its undeniable sense of solid presence and wood-frame construction make the Melt the perfect seating choice for all of your entertaining.  When you're ready to relax, the toughest question you face is which spot to take for yourself. Don't miss this dynamic, tailored silhouette that packs a serious aesthetic punch no matter how you customize it. Why not add some fun and excitement to your boring day with the Melt sofa?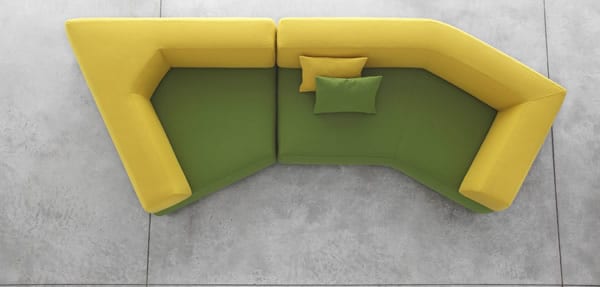 Lovy Sofa by Bonaldo
Refined and casual at the same time, the Lovy sofa explores a new creative language by mixing Italian design and traditional craftsmanship. The exquisite piece is part of a new collection of contemporary furniture from Italian brand Bonaldo. Lovy sofa, that shows an exceptionally expressive versatility reminder of organic and flowing shapes has been designed by Sergio Bicego and manufactured in Italy.
The Bonaldo sofa features a typical design that turns it into an eye-catching object and that is guaranteed to create interesting contrasts in any setting. A semi-oval shape encourages conversation and the dual-height backrest creates movement from a visual perspective.
Sergio Bicego's Lovy sofa is a glamorous piece of furniture featuring stylish tufted upholstery and a high headrest element. Two optional throw pillows are also available in either matching or contrasting fabrics or leather. It comes in a single size of 250cm wide, and can be made in a huge choice of fabrics and leathers with quilted or smooth seat. The particular shape of the backrest makes it a perfect piece for the middle of a room, commercial spaces, a bedroom or large bathroom.
Lovy is a comfortable work of art that emanates an invitation to relax. A welcoming refuge where you can leave your worries behind and take the break you need, offering a pleasant sensation of welcoming warmth, thanks to the soft cushioning in the seats and backrests.
Bonaldo is one of the greatest Italian furniture makers that produces elegant furniture and designer accessories, originated from a great passion for design. From home decor to hospitality, their products thrive harmoniously in any space, often becoming the centerpieces of those settings. Tables, chairs, accessories, sofas and beds are produced by Bonaldo exclusively in Italy employing the most modern technologies and fine materials and exported all over the world.
Voila Coffee Table from Bonaldo
Show off your fun side with the modern Colourful Coffee Table from Bonaldo.  Italian designer Max Piva combined his educated eye for art, design, and photography to fashion a bold new twist on an old living room centerpiece: the coffee table.  Inspired by a touch of origami, this graceful piece sits perched upon its corners as if it was weightless.
The smooth form can hold your gaze, folding over itself endlessly like a set of the famous Penrose stairs that continue indefinitely.  A trick of the eye, known in the art world by the French term "trompe d'oeil," Piva's design playfully keeps you guessing.  The Voila Coffee Table  rests lightly in the center of a room as if, like the origami crane, it could soar off in an instant.
Modern materials enhance its expressiveness.  In Plexiglass, the transparent plastic in saturated tones give the design a burst of vivacious color and force: crystal clear, smoke gray, fire orange, lemon drop yellow, or sapphire blue.  This piece will take your living room and your attention by force.  In a material that defies gravity even more and highlights the purest geometrical forms, the silk-smooth sheet metal version is offered in matt white, anthracite grey, and dove grey.  A table that emphasizes texture and shape over color and subtly recalls the lines of a sleek jet aircraft with all the same gravity-defying grace as the Voila table.  In any form, this table will steal your breath and your first impression when you enter the room.
Candy Sofa Bed by Bonaldo
Candy is a real feast for the eyes. It is a stylish bed with vibrant colors that creates a fairy-tale atmosphere. It is designed by Giuseppe Viganò for children and is a must-have for every family. Young ones will be delighted and captivated by its style. The sofa bed offers great seating during the day and transforms into a comfy bed at night. It is long enough to accommodate different sizes.
Designed to meet your child's needs for years to come, the Candy Sofa Bed byBonaldo is truly unique. It boasts a look that will never go out of style and makes a perfect match for different types of décor. You can change your child's bedroom to suit his or her tastes whenever you want without having to replace the furniture. The sofa bed is designed with safety and style in mind to give you a neat and functional room set up that reflects the tastes of the times.
It creates a lovely, cozy space for your child. It is a space-saving piece that will delight many parents. The space under its frame can house a large container, two drawers, or even a second bed base.
Bonaldo is one of Italy's most renowned furniture companies. It creates beautiful furnishings using quality materials and new manufacturing processes. Its ultramodern designs are timeless and look perfect in every setting. Candy is one of its exemplary pieces. It is beautiful, colorful, functional, and most of all modern.
Bonaldo Space Saving Sofa Beds
The Europeans really know the importance of "small space" furniture and maximizing every inch or centimeter, whatever the case may be. Bonaldo furniture of Italy has a progressive collection of modern and contemporary furniture with a crisp clean look and here are three convertible sofa beds that look great and offer space-saving options.
With just a simple movement of a special mechanism, the Loft sofa can be used in various positions and converted into a comfortable dorme use. The angular shape and defined lines of the Loft make this piece by designer Stefan Heiliger a real eye-catcher despite its small size.
The Papillon and larger Papillon XL also make use of small spaces and has a much softer look and feel. With ease the dual split back of this Centro Design lays flat for a comfortable sleeping surface on command.
The Papillon series comes in a wide variety of completely removable covers which makes cleaning a breeze. The third sofa bed from Bonaldo is the Pierrot which has a very linear concept and a more conventional futon type mechanism that lays flat with a simple movement of the back. A slightly arched cut out in the backrest break up the otherwise straight lines of the Pierrot which is available in leather or fabric upholstery.