Streamlined, simple, and clean: isn't that how you wish your life was every day?  Modern life gets busy and complicated, but at least in one area you can count on convenience all day long.  Instead of being one of the most chaotic places at home, make your kitchen the most stylish and most straightforward with the Grafica Kitchen.  Val Design created the complete system to flow seamlessly into your routine.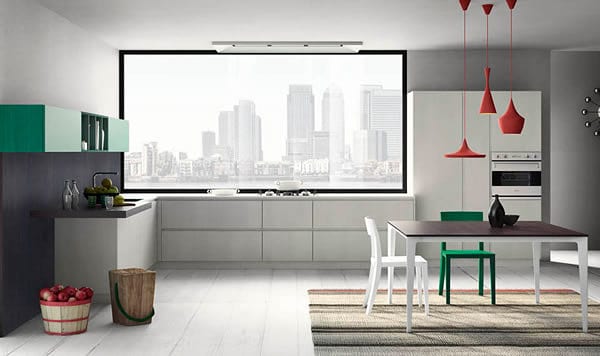 We're an affiliate
We hope you like our recommendations! Just so you know, we may collect a share of sales or other compensation from the links on this page. Thank you for using our links, it is much appreciated.
All the features in the Grafica Kitchen by Val Design emphasizes square shapes and straight lines to keep the area looking cutting-edge contemporary and open, no matter how small your space.  You'll feel like you have the room to move freely from cabinet to cabinet, all of which are smooth paneled without indents or drawer pulls to break up the flow the bold, uninterrupted lines.  The sink and stove are fully integrated into the countertops, so a bulky facet or the face of an oven doesn't make this kitchen look kitsch.  Easy to navigate and easy to clean, this style puts you in control over daily meal times so that one major part of your day is always convenient.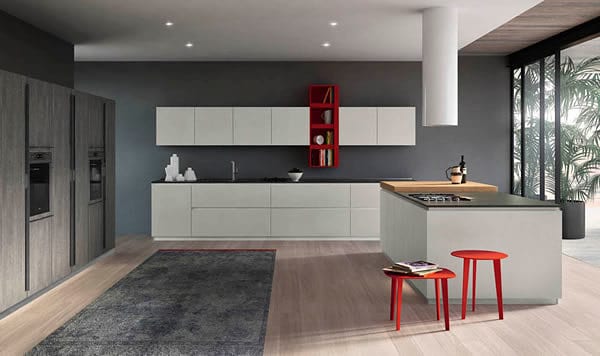 Val Design wants to bring you more than just practicality in a kitchen, though.  They created a sleek style with a bold punch of contemporary.  Smooth textures and pops of bold color against a white backdrop are the hallmark of the Grafica Kitchen.  A bright shelf or cabinet lets you pick the focal point and put a little twist of fun, chic design that's all your own.