The Ultimate Bedroom Decor
No matter how much furniture you have in our homes, our beds are the first thing we see in the morning and the last thing we see at night.
Like snazzy clothes and fancy cars, bedroom furniture can reveal our personalities and make the relaxing time much more pleasurable.
Here are a few of the most outstanding modern beds Furniture Fashion has reviewed over the past few months in hopes we can inspire our readers to create the Ultimate Bedroom Decor they will enjoy and find amazing every single morning.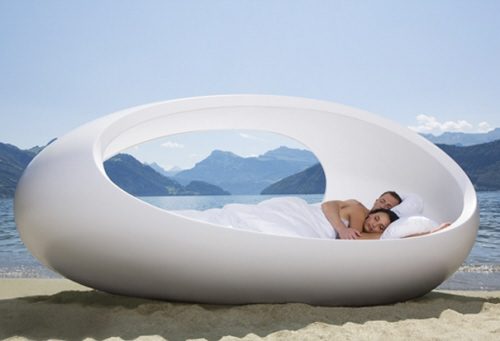 Designer
Ganther Thany
gives us a look at one of the most well-rounded beds especially if the technology is your thing. This LOMME egg shaped "sleeping pod" comes equipped with built-in lights, a sound system, and an iPod dock so you can drift off to sleep with your favorite music.

Bonaldo's "Squaring" platform bed by designer
Guiseppe Vigano
has all the attributes a cool Italian design should include bold visuals, and a sleek low profile.
This fully upholstered modern bed is perfect for floating on the middle of any room that can house this oversized behemoth. The quilted covering is removable for cleaning and they include a matching bedspread with the bed system available in 36 colors of softly napped synthetic suede. $7250
Sure there are a lot of canopy beds out there and the concept is nothing new, but I can't seem to take my eyes off the "In Heaven 2″ from designers Birgit Gaemmerler and Christiane Bambuch.
The clean and modern lines are proof that less is more, and that they can improve a good thing on no matter how many times it has been done. The In Heaven 2 four-poster canopy bed features a solid wood construction, and an upholstered headboard in removable fabrics or leathers.
W 68.11″ Queen 83.86″ King, L 78.75″ Frame Height: 12.60″ Overall Height: 85.43" Available in beech, oak, maple, American cherry or American walnut. Q $7300 K $7900 with slats.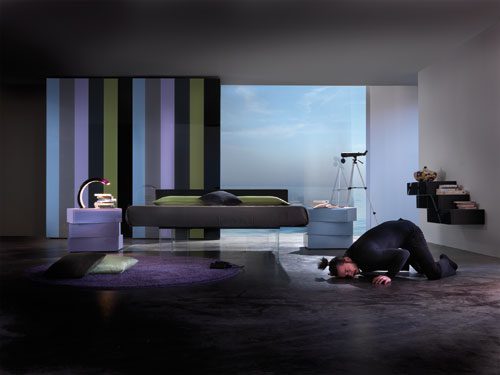 Starphire glass panels give the illusion of a "floating effect" to the Letto Air platform bed designer Daniele Lago. The Lago collection from Italy has a playful side that combines great shapes and creativity usually not associated with grown up furniture.
The Air Bed makes adjustable height by turning the glass rectangles that support it from the tall to short side and even features twenty figures of kamasutra under the mattress for inspiration.
180 x 200 cm, also available in single size
Poliform enlisted the creative genus of designer Marcel Wnders for their Dream2 series of beds that has a variety of looks in it a bag of options. Wanders, well known for furniture designs that defy the establishment and show no influence from trends or current styles.
The Dream2 platform bed is a series of panels combined to create a headboard customized in different fabrics and colors with or without night stands in a high or low configuration.
The Dream bed has an upholstered structure, using the fabric or leather of choice, or a combination of the two. Here is another design Furniture Fashion featured by Wanders from the Moooi collection.
Here is the fastest looking of the beds we reviewed known as the "
Air Lounge Platform Bed
" from Meritalia of Italy. Designer
Fabio Novembre
transitions the smooth lines of this beautifully sculpted platform bed design which previously included a sofa, chair, and
coffee table
collection called the Open Air Lounge System. This fully leather wrapped bed fits in any room design thanks to a well-finished headboard.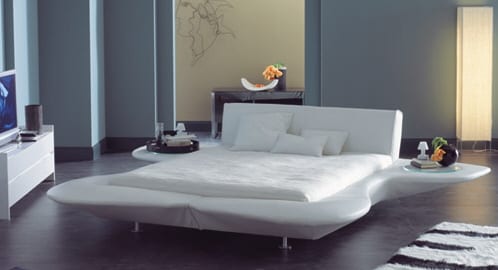 Here are two modern platform beds from Flou of Italy and designer
Mario Bellini
that put a new definition on the platform description with bold straight shapes that surround the sleeping surface.
The "Grand Piano" (top) and the "Grand Piano Piano" beds offer a built in side-table with your choice of straight or beautifully curved lines with glass tops available for drinks and accessories. Bellini included cut in areas on the sides for easy movement getting in and out of bed.
Sure the term floating bed can take on several meanings from a bed with recessed feet to the use of cables to suspend it from the ceiling, but designer Janjaap Ruijssenaars six year development struggle yielded the world's first floating bed.
The platform that can also suffice as a dining table inspired by the mysterious monolith in Stanley Kubrick's 1968 cult film 2001: A Space Odyssey.
The sleeping platform which Ruijssenaars admits needs comfortable bedding is tethered to the earth with small cables and suspended with opposing magnetic fields.
Personally the current $1.54 million price tag brought back down to earth, I am holding out for the mass production to get the price in check.
Here is one of our readers favorite beds featured in "The Suspended Bed from HouseFish" that is more like an uber hammock for the modern yet casual interior design.
The Suspended Bed 2.0 made with a sturdy machined aluminum platform and stainless steel tension cables to keep the bed stable and free from movement.
Available in bare aluminum, powder-coated in any custom color, or veneered in any wood.
$2998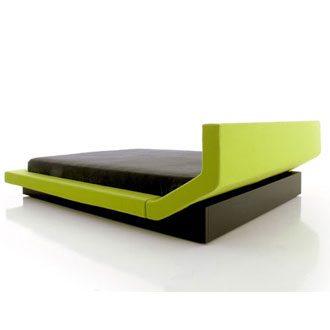 Porro of Italy as you may assume from the pictures creates furniture and beds are on the cutting edge of modern interior decorating.
Designer Jean Marie Massaud hit a home run with the "Lipla Double Bed" (really a queen) that features a close fitting elastic fabric that stresses the clean lines available in various fabric colors and shiny or flat wood finishes for the bed and optional nightstands.
The structure that stands behind the headboard and flush with the frame provides nightstands on both sides of the bed and runs the full length of the structure.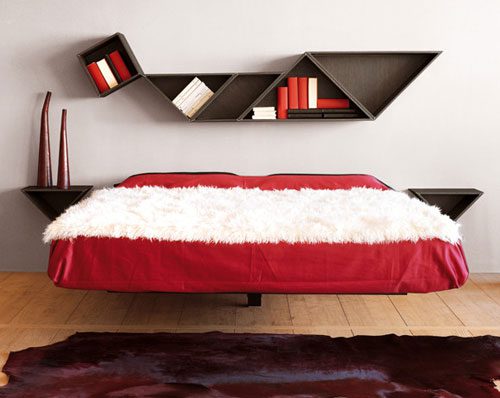 One more look at today's floating beds and the "Fluttua" series from designer Daniele Lago. This collection of cool modern beds is available in conventional or round shapes that floats on a height adjustable center post that connects to the wall for a very minimal look.
A recessed frame gives the Fluttua a sturdy support despite a lack of visible bed structure. Made in Italy by Lago
For the last of the beds in our review, I threw in a less flashy and more Zen style from Haiku Designs inspired by the Edo Period of Japan which has been modernized here with a fresh new look.
We make the Kyoto furniture collection of ecologically responsible solid mahogany and is available in Queen, King, or California King with a rich brown stain over mahogany.
The Kyoto is a platform bed and works perfectly with a futon or memory foam mattress to help keep a sleek, clean look and the Asian styling.
See the entire line of furniture with a distinctly eastern influence from Haiku Designs.