Storage is one of the most underrated details of our homes. We forget about it when we are decorating our homes but miss it when we don't have enough of it! From closets and cabinetry to shelving there are a variety of ways to store your household items in your kitchen. Open shelving is an option that allows your dinnerware, cookbooks, and collectibles to become part of your kitchen decor while still be functional. In recent years, open shelving has become a well sought after addition in many kitchens and you can have the look with some simple tips. Here are a few ways to beautify your kitchen storage with open shelving.
Image via: Erotas Building Corporation 
Sort through your housewares to display:
Before deciding if open shelving display is for your kitchen sort through your current dishware. For many homeowners the idea of displaying mismatched dishes, chipped china and stained plastic ware may not be your idea of beautiful display!  Instead, first look through your dishes and decide what is suitable for showcasing and what should stay behind closed cabinetry doors. Many homeowners prefer to color coordinate their dishes with the color palette of the kitchen. While other prefer a neutral look – where clear glass and neutral colored dishes blend beautifully with the rest of the kitchen. This provides the convenience of reaching for your favorite glass while still giving the appearance of a seamless continuous look across your kitchen.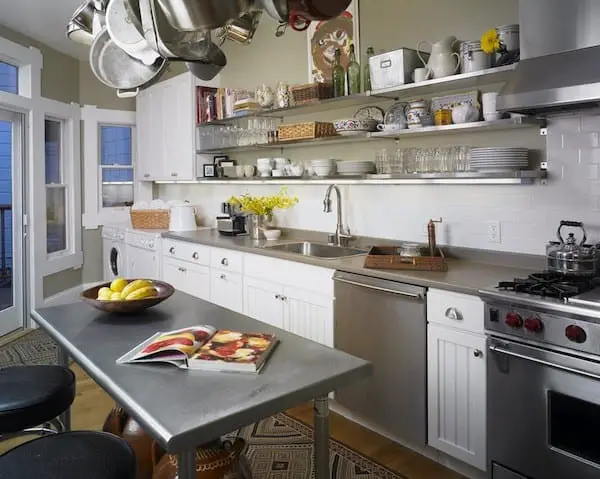 Image via: Carolyn Rebuffel Designs 
Open shelving for displaying your favorite items:
There are different forms of open shelving that may suit your kitchen the best. Custom cabinetry makers can leave doors off of your cabinets and intersperse them amongst closed doors cabinetry for variety. Displaying your cookbook and kitchen collectibles can often get hidden up under your kitchen sink! Instead display them proudly on your open shelving areas. The top of cabinetry tops – often referred to as plant shelves make a great place for showing off artwork, artisan wares and plants. This area is also ideal if you are an avid cook and have collections of copper pots and pans and collectible cookware that is too pretty to put behind closed doors.
Image via: Epiphany Design Studio 
Open shelving isn't for every kitchen but it can showcase your kitchenware in a way you hadn't considered in the past. If you love to have functional decor and you want the versatility that it can lend, try this open concept in your kitchen. If you're ready for a great DIY project, look to your own closed kitchen cabinetry and see what doors you can remove for a beautiful new look to your boring kitchen!