Lounge and sleep like French royalty in Autobahn's Bergère Bed from De La Espada.  This piece is a modern twist on the classical French-inspired Bergère armchair, which took Rococo France by force in the 18th century.  The Bergère, or "shepherdess" chair grew out of the more traditional wing chair, whose upholstered wings shielded their owner from heat or draughts.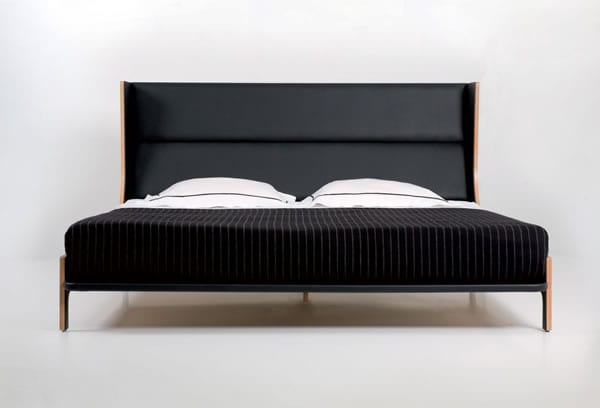 The solid back and sides gave the chair an extremely popular sense of presence among the French aristocracy, but rarely has the form been seen in a bed until now.  You don't need protection from the elements in today's interior design; so styling of the Bergère Bed is purely a study in beautiful aesthetics.  Autobahn's designers brought the European look into this century with a more streamlined and contemporary shape.  Like a low-slung box, the planar solid wood frame glides from the top of the headboard to the bottom of the smoothed legs.
Two panels of luxurious upholstery fit for the tastes of a bygone aristocracy line the front and inside panels of the headboard.  To accommodate a more modern, low profile shape the bed is a mattress-only platform style that does not require a box spring or foundation, which would add unnecessary height to the careful design.  With neutral colors and simple lines, the Bergère Bed will flow effortlessly into the modern décor and color scheme of your bedroom sanctuary.
What kinds of lofty dreams will you drift away to in a bed fit for a king?