The first things you usually notice when you walk into someone's home for the first time are the furnishings and accessories, but the architectural elements that surround these items also help to define your perception of the space. The most common architectural elements are baseboard (which goes around the room at the base of the floor) and, if you're lucky, crown molding to finish out the top of the wall. Other than that, you are left with neutral colored walls with some kind of texture. Sadly, one of the most important elements usually goes unnoticed unless there is something wrong with it. This article will focus on flooring, specifically hard flooring like stone, wood, tile, etc. Carpet falls under soft flooring and will not be covered in this article.
This custom home has tons of architectural detailing, way too much to cover in one article, but this is an excellent example of how the detailing can create a space that is an absolute knockout.

There are so many types of hard flooring, that I can't cover every last one, so I will go over the most popular (stone, wood, engineered flooring, tile), and the newest trends (high end vinyl, glass, concrete).
Stone flooring is a huge category that encompasses marble, granite, limestone, slate, travertine, and others. All of the aforementioned stones have tons of colors that make them different from one another, but people should also be aware of a stones variation in pattern. The most basic breakdown of pattern is to indicate whether the stone is consistent, or has a lot of movement.
This is an example of a very consistent granite: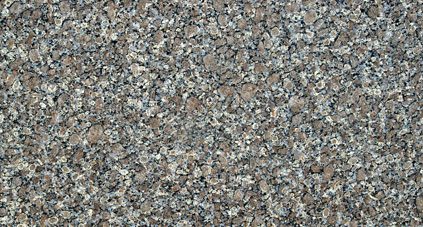 You should still check every box of tile to be sure, but the pattern doesn't really change, and most every tile will be very similar in color.
This is an example of a granite that has a lot of movement: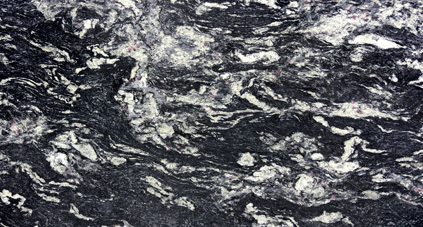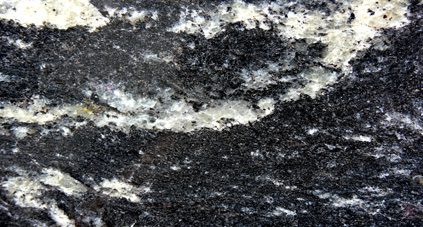 If you will notice, these two tiles are similar in color, but the pattern is extremely varied. The tile on top has a tighter pattern similar to ocean waves, while the one on bottom is looser like clouds. It can create a wonderful effect on your floor, and everyone will know it is real stone, but some consumers can't handle this kind of dissimilarity. If you fall in love with this kind of stone, check EVERY box you purchase, and realize that there will be an extra waste factor (meaning a higher cost) to account for tiles you don't like.
Above all when choosing any natural stone, be aware that it is not a controlled substance and is created by natural forces. Therefore we have no control over how the stone turns out from slab to slab. Always order more than you think you need because if you come up a box short 2 months after the stone came into the warehouse, chances are that the color of the stone in the new box will be a bit different than what has already been installed. This puts the workman in an awkward position, and makes you a very unhappy consumer.
Wood Flooring is wonderful to look at and to feel beneath your feet. So many types of flooring copy it, but nothing compares to the touch and sound of solid wood floors. The patterns of different species of wood can vary all over the board, as can sizes and lengths. Bellow are a few flooring examples that could only be achieved using real wood.
The floor shown below has wood planks of varying lengths, which is not uncommon, and is copied by many types of flooring. However, it is the large width of the wood flooring in this photo that makes it very obvious that this is real wood. The planks look to be 8-12″ wide, and custom cut.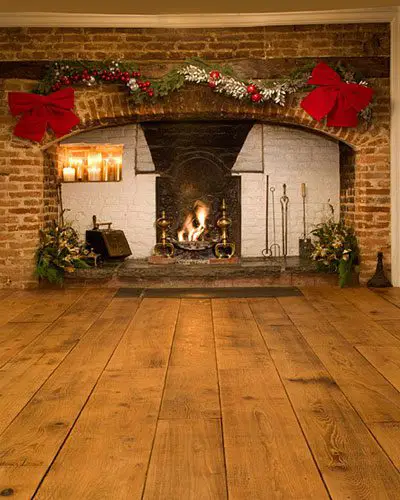 Another example of a wood treatment is Hand Scraped wood flooring, which some engineered wood flooring companies try to copy, but there is no comparison of quality when the engineered version is held next to the real thing.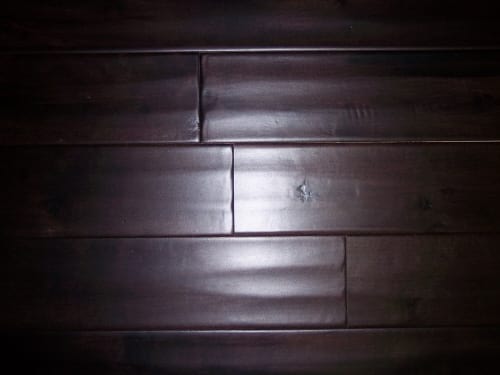 The depth of the scraping and the richness of the wood are so tactile that you want to touch it through the screen.
Engineered flooring is a modern wonder that provides a great look with a lesser price. It is called engineered flooring because the base of the plank is man made with a wood veneer (usually 1/8-1/4″ thick) fastened to the top. It can create a stunning look if installed correctly, and only a professional would know it wasn't solid wood!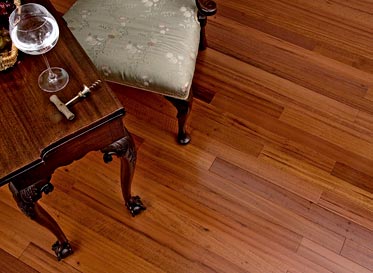 There are lots of engineered flooring companies and thousands of colors to choose from.
One of the most common and cost effective floor coverings is tile. Ceramic, Porcelain, and clay tiles are all popular choices for different styles, but be sure that you are aware that most will show a white or red background if chipped. However, you can purchase some ceramic or porcelain tiles that are colored all the way through, but they significantly increase the cost.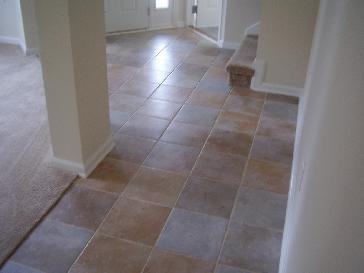 High-end Vinyl flooring was originally only used in commercial applications, but is slowly making its way into homes. It is gorgeous, durable, and doesn't really require special care.
Amtico brand is a favorite, and has lots of beautiful styles of flooring; one of my favorites is their exotic wood collection.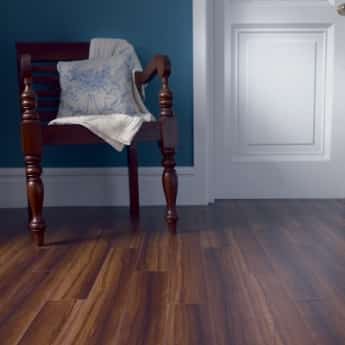 The planks shown here simulate Rosewood (an endangered species), which would be incredibly expensive if possible to procure the real thing. With this vinyl floor option, you get the look without the cost and you save the exotic trees from being overexploited.
Amtico also offers many other patterns that look great, and can simulate stone, a graphic design, or just be a bright solid color that could be fun for a pool room.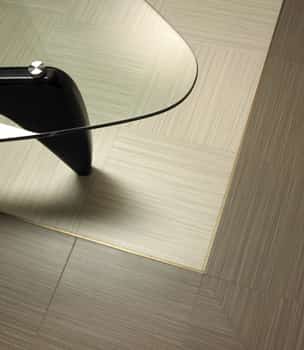 This linear motif is one of my favorite patterns, and the two different colors look great together.
Glass tiles are a huge new trend and can add elegance and/or fun to your space. The sizes, shapes, and colors are infinite. This material can be costly, but is well worth it. Custom patterns are available, though these can significantly raise your budget through the roof.
Glass mosaics can create a wow-factor in a powder room, and are generally affordable because there isn't a whole lot of space to cover.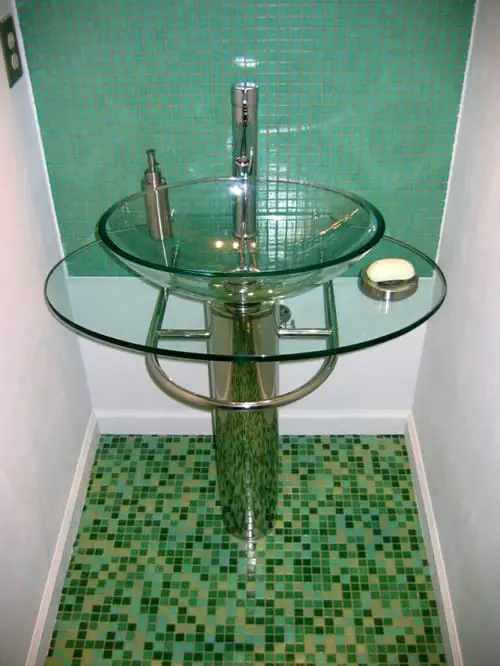 The fun reflective pedestal base looks great on this floor.
Here is a glass tile installation on a restaurant staircase, proof that glass can go anywhere ranging from a commercial space or into your home.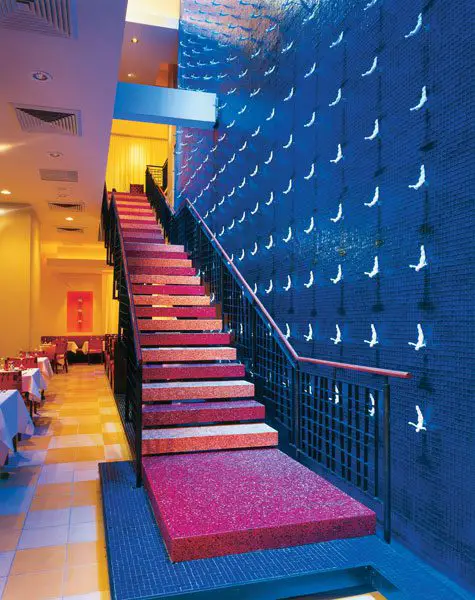 Perhaps a little wild, but for a fun contemporary home, it could be magnificent.
Concrete flooring is a fascinating trend that is going into both commercial and residential applications. It is durable, but may crack overtime as your foundation settles, you need to be okay with this happening and chalk it up to the floor's character if you want concrete floors. If lines and cracking would greatly disturb you, look for a ceramic tile that simulates concrete instead. Here are some gorgeous examples of concrete flooring: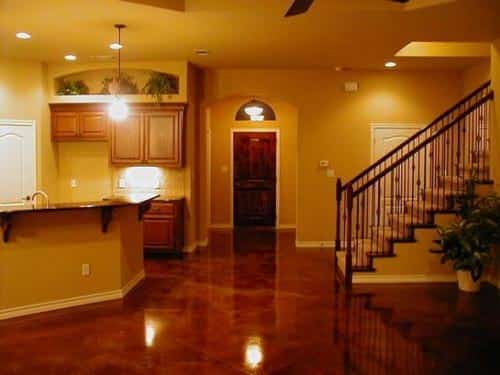 This floor has an acid wash that makes the concrete look marbled, and provide a rich color.
The natural color of concrete can be quite beautiful. A clear coat was applied over new concrete in this office.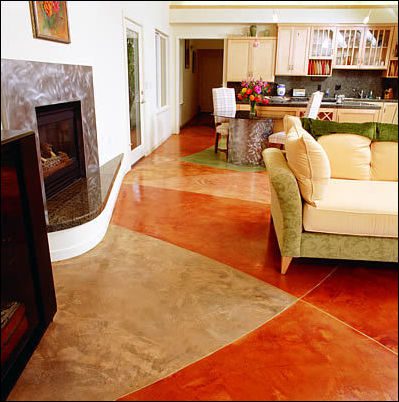 Colorful patterns can be incorporated into the floors with concrete staining techniques. This
living space
floor really has pizzazz.
Flooring can be a very interesting, bold architectural detail, or it can provide a fabulous background for your furnishings. Either way, this sometimes overlooked architectural detail should no longer be ignored, but designed to the fullest. It will make a difference in how you view your home, and can positively affect the resale value of your home.
Related Articles: