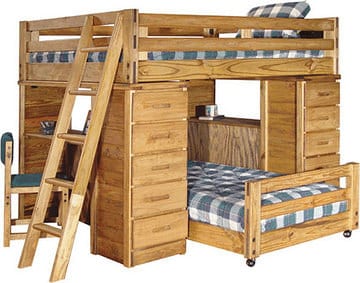 Desk and Bunk Bed Combo
Most of us grown-ups have a more selective taste now that we know of the finer things in life, but imagine seeing the Bedzilla from the BarnDoor Funiture Co. as an eight-year-old child.
This bunk bed is so cool I would have even done my homework to get it! The Bedzilla leaves nothing out, storage drawers, writing desks x2 (for the homework) full and a twin bed on wheels, all in a fort like concept.
Barn Door specializes in country style furniture and also makes several other models but this is my favorite, just ask your child.
The bed exceeds child safety standards and is very durable.
Desk Bed Combo
Modern Bunk Bed for Kids
Two words that do not usually go together are bunk bed and design. Most often we see the clunky cabin style or tube steel bunk beds that have been done so many times before.
The Pluunk modern bunk bed and single bed series designed by an internationally known architect features quality solid hardwood and ply construction with environmentally sound bees wax finishes.
The Pluunk children's bed collection is also available in reclaimed salvaged wood for the environmentalists out there. The Pluunk Furniture series is made in Canada in Maple or Walnut and is available from INQUISITIVEkid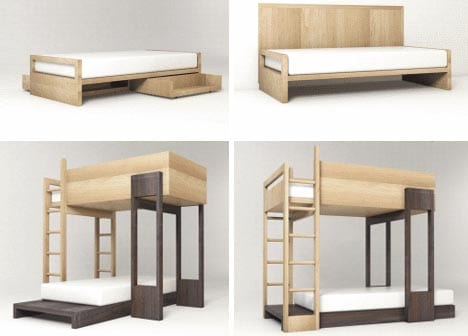 Uffizi Modern Bunk Bed from Argington
The concept of Argington's modern children's furniture is "based on the world in which we live, and the world we will leave our children and families". Therefore the materials Argington uses are as safe for your child minimizing environmental impact and providing healthy products through sustainable design and manufacturing.
That sounds like a lot of technical talk to describe Uffizi, a really useful and upbeat bunk bed I know your kid will love. Designers Jenny Argie and Andrew Thornton are dedicated to creating a new age of childrens furniture with an architectural concept, 99% wood product, and virtually no MDF.
The Uffizi bunk bed exceeds all CPSC and ASTM safety standards and is painted with non-toxic finishes. Minimum Space requirement:
90L x 47W x 77H Available from 2Modern for $1850
Related Posts