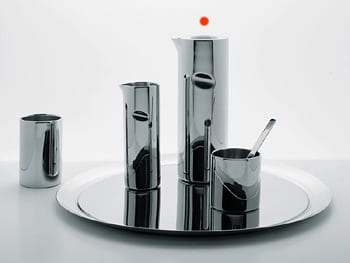 Alessi Kitchen Accessories
In a previous post I brought to our loyal readers the sharp and stylish kitchen accessories of Stelton. Well here are some equally awesome designs from Caffee Alessi that are sure to make your guests take notice, and your next cup of coffee a great experience.
Jean Nouvel designed this beautiful collection as part of the Tea & Coffee Towers in 2003/2005 which featured a covered carafe, mug, creamer, sugar bowl, and demitasse cups and saucers.
Each piece is not only striking but well made with double walled polished stainless steel and PMMA transparent lids. In addition, Alessi has a variety of kitchen accessories including fruit bowls, vases, and utensils with a modern theme.
Caffe Alessi Stainless Steel Kitchen Accessories