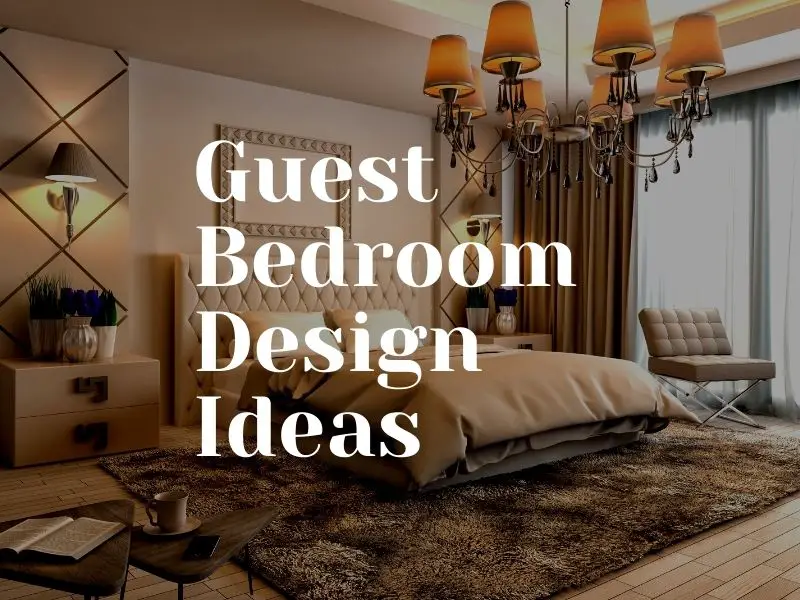 Great Ideas For Your Guest Bedroom
Now that the world is slowly but surely returning to normal, having guests stay over can once again be an enjoyable experience, allowing you to catch up with long-distance friends and family. There's something really enjoyable and special about welcoming guests into your home again and making them feel comfortable.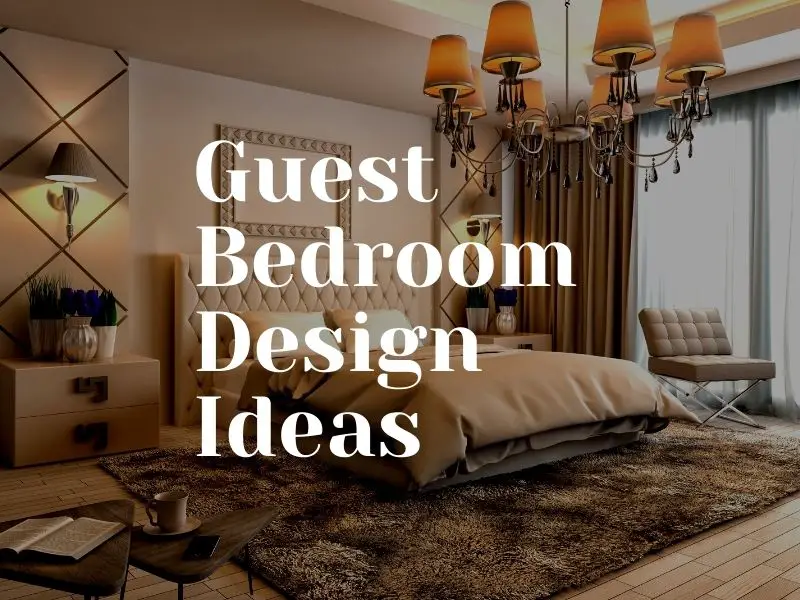 Over lockdown, you might have renovated and decorating the key rooms in your home, like many of us, but your guest bedroom might have become neglected over the past 12 months. For many people, decorating a guest bedroom was probably at the bottom of their list of priorities, but now that guests might return to our homes again, coming up with ideas for guest bedrooms is top of the list!
For decorating a guest bedroom, it's worth creating a space that is both comfortable and welcoming for guests, but also is functional for you to use when you don't have overnight guests.
A trick that is often missed when redecorating a guest bedroom is to make it as comfortable as other rooms around the house, but to make it daring and interesting. A guest bedroom should feel like a home away from home and be adaptable to the changing seasons – warm and snug in the winter, but light in the summer.
Whether you're after some quick tips that can be done in no time, or want to carry out a full revamp, here is a guide to furnishing and decorating a guest bedroom, with some fantastic ideas for guest bedroom decor and style.
Make Guests Feel Welcome
Even though your guests are loved ones, it's still important that you make them feel welcome. After decorating, stage the room for their arrival. Ensure the room is clean and there is fresh air running through, light a candle or add a diffuser a few days before their arrival to make it smell nice and welcoming.
Ensure the bed is made and leave out clean towels and perhaps even some basic toiletries, such as soap and flannels, so that they can freshen up on arrival. Look around the room and ensure there are plenty of plug points for your guests to use their phone chargers, hair dryers and straightening irons.
It's the minor details that count, so why not include some fresh flowers in the room too? You could even pop a pack of nice biscuits, or some fruit in the room, as well as some magazines or books that your guests can enjoy on their down time or in the evenings.
Give The Guest Bedroom A Dual Purpose
Spare bedrooms can, more often than not, just become a dumping ground for piles washing, DIY materials and stuff that you just don't want on show around other parts of the house. Try not to let this happen by investing in clever storage solutions to use around the home, which will then minimise the spread of clutter finding its way into your guest bedroom.
Under bed storage boxes and vacuum bags can make storing clothes and accessories much easier to both organise and store out of sight until you need them again. In the spare bedroom, you can easily contain clutter that might need to be kept in the room when your guests are staying.
Remember, not every home has the space and functionality to have a dedicated guest bedroom. If you are planning to have guests stay over regularly, then it's a good idea to have a room which can be suitable to accommodate guests as and when they decide to stay. If you need to have a home working space, then it is easy to combine the two uses in one singular room.
Alongside your desk, have a futon or chic sofa that can easily transform the room into a guest bedroom at short notice. If you invest in making the room comfortable, with delicate finishing touches and good quality bed linen, then a fold out bed can be just as comfortable as a deluxe guest bedroom.
By designing a guest bedroom with a dual function in mind, you can then ensure that it gets plenty of use all year round and makes the most of the space you have available.
Stick To A Theme and Colour Palette
'When decorating a guest bedroom, there are some decisions to be made whether to make the room into a neutral space that suits all interior decor styles, or choose something a little more bold, and add some attention-grabbing pieces of furniture, or perhaps custom blankets that will make this a special experience for all the guests.
Before deciding on your colour theme, be sure to do some research into guest bedroom ideas to get a feel for style ideas you would like to use in the room. Then, you can put your own personal spin on the decor, or simply use it to get some inspiration.
Whilst decorating a guest bedroom is down to choice, like every other room, the guest bedroom should have a clear overall theme and colour scheme, rather than being a mixing pot for numerous decorating ideas. When decorating a guest bedroom, you can use this opportunity to take some risks and choose a scheme which you might not use in other areas of the home.
Take the chance to experiment with your design personality and try ideas that you have always wanted to use. If the room is well designed and put together, then your guests will love it.
Remember, in chic and boutique hotels, the best rooms are ones that aren't carbon copies of one another, with each room being a little different. Try to use this opportunity to try something new and have fun!
Choosing A Colour Scheme
Speaking of colour palettes and themes, there are some trends that lend themselves to guest bedrooms more so than others. Creating a relaxing and comfortable guest bedroom starts with the colours on the walls and paint can set the mood in the room, whilst also acting like a canvas for the rest of the room.
Even though a guest bedroom might be used infrequently, choosing the right colour scheme means that the room is easy to furnish and you're less likely to grow less fond of it as time goes on.
A guest room should be styled and feel put together, rather than just being thrown together using castoffs from other rooms around the home. This will instantly make the room feel more comfortable, as your guests will see that it has been decorated with thought behind it. This all starts with the right colour scheme.
Off-whites, creams and very light beiges are great base colours for guest bedrooms, as they are colours which can then be complemented with other colours and different furniture. It also ensures that the room is light and lends itself to both winter and summer months.
Bold statement colours, such as green, grey and yellows, also work well for decorating a guest bedroom, as it provides a pop of colour and brightness. However, avoid painting the entire room in these colours if the room doesn't get much light, as it can make the room feel enclosed, cluttered and dark.
If you choose a darker or bold colour scheme, then complement this decision with lighter colours around the rest of the room. White works really well, as does natural and light wood furniture, with rattan accessories.
Whatever colour scheme you choose, be sure to get some guest bedroom ideas prior to committing to painting. It's good to see what things work well together and what doesn't. Decorating a guest bedroom shouldn't be complicated or over-thought, just go with a colour scheme that you think will work well!
Add Some Personality
Whilst you want to steer clear of having an overly cluttered guestroom, you also need to remember that this room will be used by friends and family who are staying overnight, so they'll be happy to see some splashes of your personality incorporated into the room decor!
Don't be afraid to compliment the decor of the room with some unique wall art prints, or ornaments and mementos from your travels. You don't want the guest bedroom to feel uninviting or unhomely, so these personal touches will make all the difference.
Invest In Quality Products
You want your guests to feel comfortable when they stay with you, and investing in quality products can make all the difference. When sleeping in an unusual room, you don't want your guests to find getting to sleep difficult because of scratchy sheets, or be irritated by the smell of a cheap candle. By investing in excellent quality products, your guests will feel comfortable.
The bedding and sheets for your guests should be freshly washed in non-bio washing products, in order to avoid any irritation if they have sensitive skin. It also means that the sheets smell freshly washed, which is something we all love!
Include a few different layer options so that your guests can add or remove depending on their temperature and you should always include at least two pillows for each guest. Cotton bedding is soft to wash and can be both warm in the winter, when layered with blankets, or cool in the summer.
If you plan on regularly having guests over, it might be best to invest in quality big, fluffy white towels that can be washed on high temperatures without getting damaged.
Having a big fluffy towel to wrap up in after a shower can be a lovely feeling and, if you regularly have guests, then washing the towels on a high wash is essential. Good quality towels won't become bobbly or shrink in the washing machine, maintaining their fluffiness.
For scent, be sure to use a nice luxury smell, even if the candle isn't premium. Stick to clean scents, such as cotton and avoid overly fragrant scents, such as berries or floral scents. There are many luxury and excellent quality fragrance brands that have candles and diffusers, which are also budget-friendly.