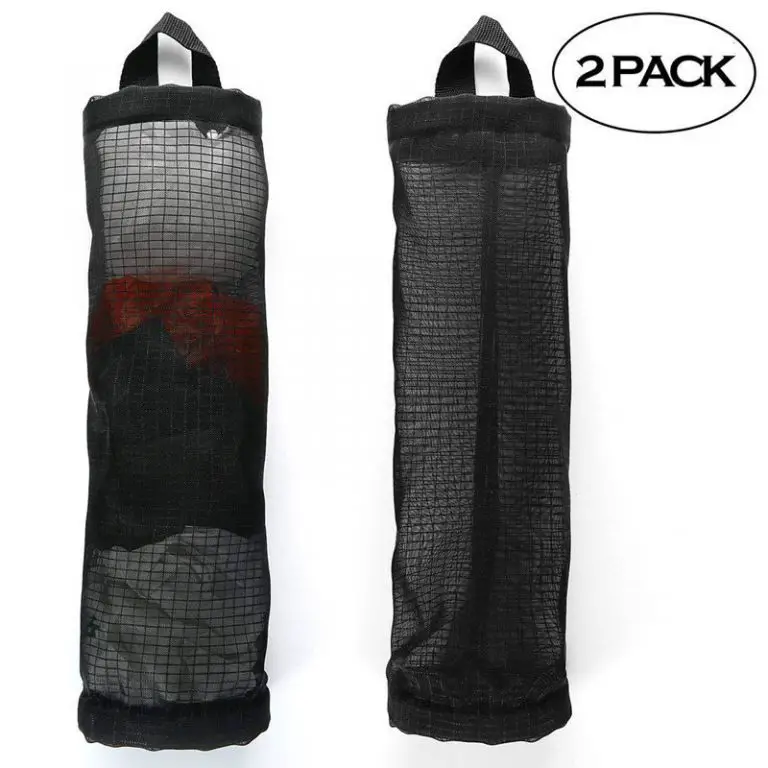 Storage Ideas For Recycling
Where we have saved on trees by moving from paper grocery bags to plastic, we have created another problem. Plastic is "free-flowing" these days, with most retailers giving plastic away for any goods that were purchased.
Here are 4 plastic grocery bag holders that you can use to store them for recycling later. I have one of these mounted inside my pantry I use after each trip to the store.
After I put my food away, I stuff the plastic grocery bags into the holder to store them away neatly. Before the next trip to the store, I empty the holder out and take the plastic bags back to the store for recycling.
Check out our ideas for simple kitchen storage solutions. Also, look at how easily you can store those umbrellas away for when you might need one.
Each of these models is inexpensive.
Simply Human Upright Grocery Bag Holder
Probably the most popular choice for those looking to re-use their grocery bags. A good looking cheap and small product that can be placed in a convenient spot for re-useable bags.
10 Year Warranty: We use the best materials and solid engineering so our products will last in tough environments like your home for years

EASY ACCESS OPENING: Easily tuck up to 30 grocery bags through the top opening for clutter-free storage; When ready to reuse, just pull one out of the wide dispensing slot in the front

VERSATILE PLACEMENT: Mounts on the wall, under a shelf or inside a cabinet

EASY INSTALLATION: Use the included screws or adhesive tape to easily mount to a wall, under a shelf or inside a cabinet

Size: 6. 6″ W x 3. 6″ D x 15. 6″ H
Spectrum Diversified Bag Holder
A simple place to store your old grocery bags for recycling Reduce, reuse, recycle! Store your old plastic grocery bags so you can reuse them. This organizer keeps them together and mounts to a wall or the inside of a cabinet to keep them out of the way yet within easy reach.
EASY GRAB DISPENSER: Large opening at the bottom makes it easy to grab a plastic bag to reuse as a trash bag, pet poop bag, or other uses. The hard plastic construction will compress bags, minimizing how much space your old grocery bags take up in your home

LARGE OPENING IN TOP FOR EASY LOADING: The wide opening at the top of the grocery bag holder allows you to easily insert the unruly plastic bags into the organizer. The slim cutout allows for slight expansion to accommodate more bags

WALL MOUNTED STORAGE: Holes are drilled for easy mounting; simply insert the screws into the holes and a pre-drilled hole in the wall and tighten until the plastic bag organizer feels firmly fastened

MOUNT WITH ADHESIVE: If you don't have any tools or don't want to drill into your walls, no worries! Alternatively, use the included adhesive stickers to attach organizer to the wall or cabinet door. Wipe both surfaces before applying adhesive tape

DIMENSIONS & CARE: 7.25″ L X 3.5″ W X 14″ H; to clean, wipe with a damp cloth and towel dry.
Over The Cabinet Door Bag Holder
Holds up to 60 plastic bags

Removable hanger provide flexible solution – over the cabinet door or wall mount

Non-absorbent foam backing to protect cabinets

Durable silver coated metal frame

Plastic Hook Thickness: 0.12" (3mm)
Hold a Bag Grocery Bag Holder
High quality: made of high-quality mesh cloth, with extremely durable stitches, will be used for a long time.

Easy to use: The grocery bag dispenser has a cylindrical shape and an elastic bottom hole that allows you to load the bag from the top.

Multi-purpose: Hanging design can be hung in hooks, walls, cabinets, cabinets, kitchen doors, bathrooms, closets, kitchens, utility rooms, and store and reuse plastic bags, clean rags, socks, small towels and other small things.

Hanging design: Grocery storage bag with hanging design, put the plastic bag in the dispenser at the top and take it out from the bottom to make full use of the vertical space.

Portable: foldable without assembly, easy to carry.
Grocery bag holders are always handy to have around for storing those extra grocery bags that you seem to accumulate each and every time you go shopping. Make good use of them by re-using them for waste disposal or other ideas. Check out our other Kitchen Storage Ideas.
A Selection Of Kitchen Storage Ideas
Image
Title
Price
Prime
Buy

Top

Lunies Wall Mount Bag Dispenser Large Capacity Plastic Bag Vinyl Holder - Multiple Large Holes for Easy Access Bags Great for Shopping Bags/Grocery Bags/Vinyl Storage White 1 Pack

Prime

Eligible

Take a Look
Enclume 8-Tier Cookware Stand, Free Standing Pot Rack, Hammered Steel ( Unassembled)

Prime

Eligible

Take a Look
Reusable Grocery Shopping Box Bags (3 Pack - Gray). Large, Premium Quality Heavy Duty Tote Bag Set with Extra Long Handles & Reinforced Bottom. Foldable, Collapsible, Durable and Eco Friendly

Prime

Eligible

Take a Look
mDesign Metal Over Cabinet Kitchen Storage Organizer Holder or Basket - Hang Over Cabinet Doors in Kitchen/Pantry - Holds up to 50 Plastic Shopping Bags - Bronze

Prime

Eligible

Take a Look
Baggy Rack Holder For Food Prep Bag/plastic Freezer Bag/Ziplock Bag Holder Stand, Meal Planning/prep Bag Holders,4 Pack/4pcs

Prime

Eligible

Take a Look
Chef's Path Airtight Food Storage Container Set - 7 PC Set - Labels - Kitchen & Pantry Organization Containers - BPA-Free - Clear Plastic Canisters for Flour, Cereal with Improved Lids

Prime

Eligible

Take a Look
Lotus Trolley Bags -set of 4 -w/LRG COOLER Bag & Egg/Wine holder! Reusable Grocery Cart Bags sized for USA. Eco-friendly 4-Bag Grocery Tote. (Purple, Turquoise, Blue, Brown,)

Prime

Eligible

Take a Look
KES 30-Inch Kitchen Pot Rack - Mounted Hanging Rack for Kitchen Storage and Organization- Matte Black 2-Tier Wall Shelf for Pots and Pans with 12 Hooks - KUR215S75B-BK

Prime

Eligible

Take a Look
SunnyPoint Over Cabinet Kitchen Storage Organizer Holder or Basket - Hang Over Cabinet Doors in Kitchen/Pantry - Holds up to 50 Plastic Shopping Bags (BROWN)

Prime

Eligible

Take a Look
Grocery Bags Reusable Foldable 6 Pack Shopping Bags Large 50LBS Cute Groceries Bags with Pouch Bulk Ripstop Waterproof Machine Washable Eco-Friendly Nylon Elephant Hedgehog Cat Turtle Dog Penguin

Prime

Eligible

Take a Look
Chef's Path Airtight Food Storage Container Set - 14 PC - Kitchen & Pantry Organization - BPA-Free - Plastic Canisters with Durable Lids Ideal for Cereal, Flour & Sugar - Labels, Marker & Spoon Set

Prime

Eligible

Take a Look
2Pcs Plastic Bag Holder, Wall Mount Plastic Bag Organizer, Large Grocery Bag Storage Dispenser, 22x9 in by SWISSELITE

Prime

Eligible

Take a Look
GeekDigg Pot Rack Organizer, 3 DIY Methods, Height and Position are Adjustable 8+ Pots Holder, Black Metal Kitchen Cabinet Pantry Pot Lid Holder (Upgraded)

Prime

Eligible

Take a Look
mDesign Plastic Kitchen Pantry Cabinet, Refrigerator or Freezer Food Storage Bins with Handles - Organizer for Fruit, Yogurt, Snacks, Pasta - Food Safe, BPA Free, 10" Long - 4 Pack, Clear

Prime

Eligible

Take a Look
Product prices and availability are accurate as of the date/time indicated and are subject to change. Any price and availability information displayed on [relevant Amazon Site(s), as applicable] at the time of purchase will apply to the purchase of this product.
Prices pulled from the Amazon Product Advertising API on: