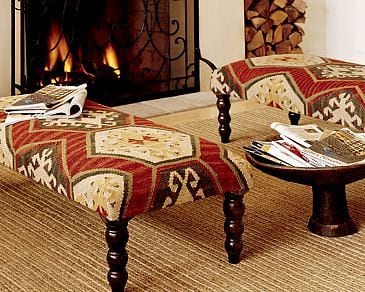 Benches by Pottery Barn Furniture
Today as I was looking around I found three great benches from Pottery Barn Furniture. A bench is a great way to have a stylish piece of furniture that can fit along a wall and not take up too much space. Besides the benefit of fitting into a small space, a bench offers flexibility when you need extra seating. Rarely, do we max out our seating in the home, but it can happen on occasion.
A bench can come quickly to the rescue! The three benches that caught my eye were the Blanca Settee, the Caitlin Bench, and the Kilim Bench. The Blanca Settee features a traditional, classy look. A great feature of this piece is the wide array of fabric colors offered by Pottery Barn Furniture. By my count, there are 73 color or pattern options for Blanca making this sure to match the colors of your home. Product: Blanca Settee. Price: $749- $899. Dimensions: 54 x 20 x 25″ h.
The Caitlin Bench features a large cushion covered in neutral color fabric. The wood frame and legs are finished in antique white. By adding a few colors from your home with a throw blanket or decorative pillows, this bench becomes one with your home's decor. This bench also works in a bedroom as a place to stack pillows and linens when removed from the bed. Product: Caitlin Bench. Price: $299.00. Dimensions: 45 x20 x 17″ h.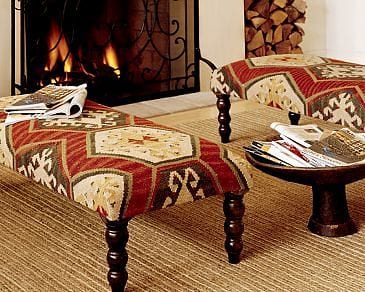 The Kilim Bench makes a much stronger statement than the other two benches. Featuring bold rich colors, patterned fabric, and espresso-stained wood, Kilim is sure to draw the eye of any house guest. I envision this piece in a lodge or a home where the colors are bolder. The fire and rugged carpet from the picture give me the image of a ski chalet housing these two benches. Product: Kilim Bench. Price: $499.00. Dimensions: 48.5 x 20.5 x 14.5″ h.