Modern Chair Designs
Beautiful Ideas for living room designs. Modern chair designs create concept pieces of furniture that allow us as human beings to relax. Though they are some of the oldest and simplest objects mankind has designed, some designers have thrown out even the basic concept of the chair instead of more unique modern thinking as these examples show.
Keep an open mind as you look at the pictures. Sure, these may not be right for your living space, but think about how big a design statement they would make.
SK Fishbone
This sculptural wooden design features vertical slats that make a strange statement and look something like a cartoon fish skeleton. Designer Nicolas Marzouanlian developed this eco-friendly indoor or patio style to be a purist piece of furniture, making it without the use of glue or screws.
---
Ontwerpers Laptop Chair
The laptop chair was a unique design for those who wanted a chair to sit in and have their laptop directly on hand and not in their laps. If you liked the Cabinet Chair but not the entire bookcase surroundings, then the "Cleanroom Chair" from Ontwerpers may be the perfect place to sit and surf the net. This modern "digital age" chair is made from fiber reinforced artificial resin with a metal frame and combines good ergonomics and functionality.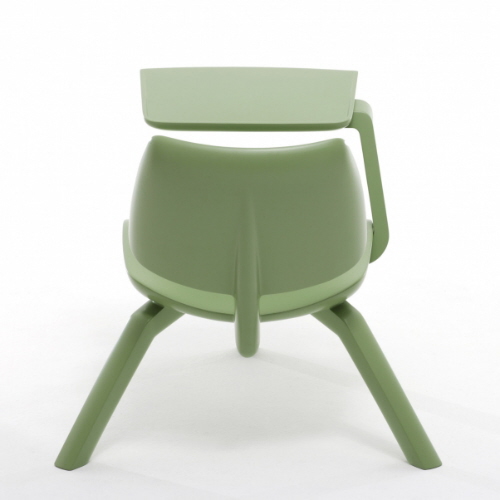 ---
Cabinet Chair
The new design label Gispen incorporated the Cleanroom Chair into their NgispeN collection and a variety of colors are available. See many more cutting edge modern furniture designs from Ontwepers of Rotterdam. 8
---
Azalea Retro Metal Chairs
---
Luis JJ Rocking Armchair
In this outrageous rocking chair the elements of shag rug, metal arms and wooden rocking sleds have been combined. Despite its unusual appearance the "shag rug" combines design elements in such a way that it is surely comfortable to sit on. Designed by Antonio Citterio for B&B Italia.
Luis JJ Rocking Armchair
---
SheetSeat Folding
Designers Ufuk Keskin and Efecem Kutuk took space saving to another level with their "SheetSeat" which is made of plywood and can be flattened to a mere 3/4″ space. The concept of a set folding up this small is a remarkable innovation in modern design thinking.

---
Vortex Modern Mid-Century Side Chair
Bouquet Chair by Moroso
The "Bouquet Chair" from designer Tokujin Yoshioka was inspired by an installation in the Moroso New York showroom that included 30 thousands of paper tissues that simulated a cloud-like atmosphere. Outrageous in most settings you could imagine, it likely will not be gracing many "bachelor pads" and might even challenge girl pads.
---
Armen Living Summer Chair in Green Fabric
---
Binta Armchair from Moroso M'Afrique Collection
As a guy it's hard to put colors together and usually mixing multiple colors is a bad idea. The "Binta Armchair" from Moroso screams "loud" in every possible way, a crazy mix of outrageous colors and patterns. Sure, a super-casual style can work in the right setting, but imagine trying to fit this somewhere in your own living space.
---
Mid-Century Retro Modern Velvet Upholstered Lounge Chair
Accent chair allows you to enjoy all that your room has to offer, whether it is your living room, office, home office, or study, with modern undertones, and vintage elements.
COMFORTABLE PADDED CUSHION
Comfortable and sturdy, these velvet chairs come with high-density memory foam cushions and a good velvet fabric to ensure you can rest comfortably for long hours. Elegant luxury-reflecting a quieter fashion, experience a tasteful of noble, supported by an exposed metal frame in a gold tone metallic finish Plastic antislip and floor protection.
---
Savannah Bent Wood Rocker
Real wood-working is an art form that dates back to the inception of furniture itself, and Jolyon Yates carries on the tradition in style. According to Yates his focus is to "display the soul by reflecting the care and honesty with which they have been conceived and crafted in a world of loveless volume manufacturing".
The Savannah Rocker molds carefully selected Birch Ply into outrageous shape to create this mastery in modern design and depart from "mass production" principles.
---
Cloud by Richard Hutton
The "Cloud" by Richard Hutton is an unusual creation. They construct it from nickel plated cast-aluminum in the shapes of small balls resembling features found in clouds. Standard upholstery options for most are usually in the realms of fabric and leather. In this example, nickel plated aluminum presents an outrageous alternative to traditional fabric or leather upholstery.
---
Voido Rocker by Ron Arad
Designer Ron Arad uses polyurethane to add structural integrity and visual appeal to the "Voido" rocking chair. Voido's never-ending curves look artistic and sensual when viewed from any angle.
---
Sound by Natuzzi
At first glance the new Sound from Natuzzi of Italy is without a doubt a great-looking classic option. Upon further full body inspection and a touch of today's modern technology one will find an iPod jack and speakers placed perfectly in the headrest for a relaxing musical experience. Natuzzi gets two thumbs up for recognizing the importance of integrating technology into its otherwise typical-looking design.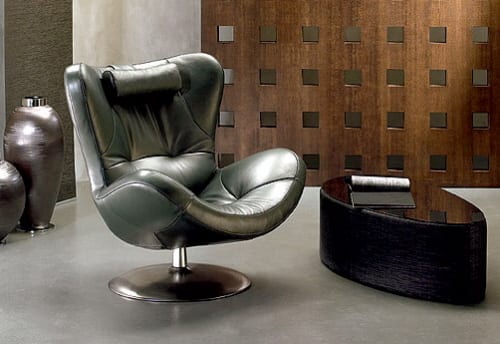 ---
MDF Italia Style
MDF Italia may be what the future of furniture holds. The stainless steel versions of the Lofty are limited and unsurprisingly, the work involved has a significant effect on the price. One cannot be sure how comfortable the chrome version is, but I can see it is very striking.
---
Marcel Wanders Designs
Marcel Wanders (2 July 1963) is a Dutch designer, and art director in the Marcel Wanders studio in Amsterdam, who designs architectural, interior and industrial projects.
---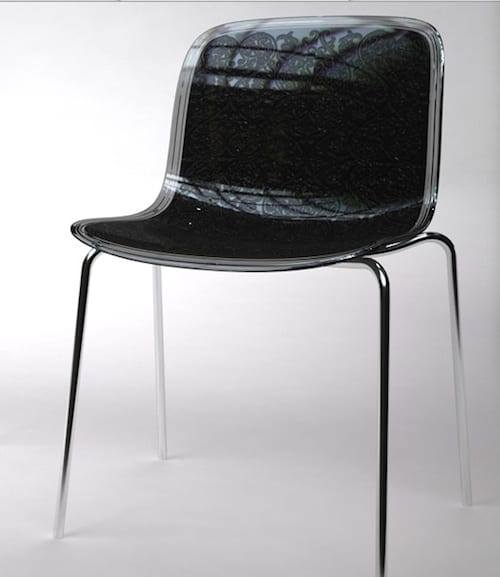 ---
Lobster and Shelly by Verikon
Verikon, a veteran of Scandinavian furniture designed the "Lobster" and "Shelly" chairs with help from Oluf Lund and Eva Paarmann, who work with furniture inspired by the skeletons of crayfish.
The results are sculptural and comfortable shapes with a very strong construction, like the skeleton of a lobster. Inspiration and construction aside, the Lobster and Shelly show us the modern lounge seating like never before, in a really creative and understated design.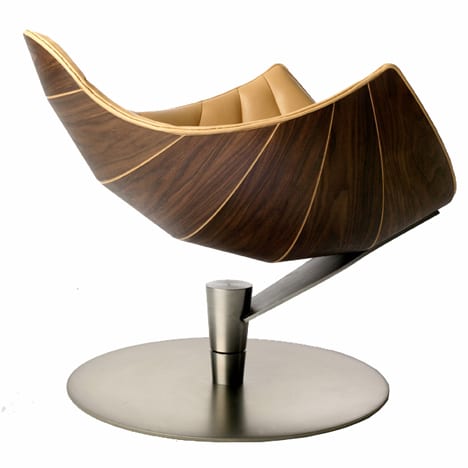 ---
The Cut by Domenico de Palo
The "Cut" from AntiDiva creates visual impact from opposing shapes. The outrageous element of Cut is its stark minimalism and how it creates such a stunning modern design out of a simple conceptual "cut" in a solid object. You would think that "less would not create more". But in the case of this one it does. The look when several are put together into a sectional is every striking.
---
The Ghost
The "Ghost" from FIAM makes the list but last as it is constructed of solid glass, a very unpractical structural material. This chair is currently shown in museums around the world including the Triennale di Milan, Italy and the Corning Museum of Glass, N.Y USA, further proving it to be more of a novelty than a design for everyday use.