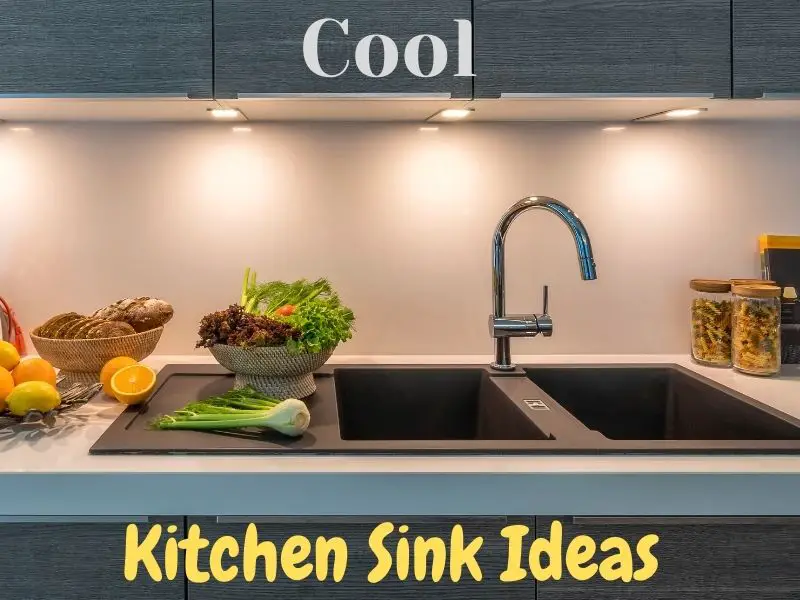 Cool Kitchen Sink Designs
For those looking to remodel an existing kitchen or start from scratch with the plans for your new dream home, we have compiled 75 Kitchen Sink Styles and Ideas to take out some of the leg work.
Today's options are far more advanced than the simple sinks we had just a few years ago. There is a lot more attention paid to the utilitarian aspects with integrating things like cutting surfaces, strainers, extra deep and larger sides for cleaning. You add a nice faucet set to compliment your selection, and you are set for years to come.
While the Kitchen Sink may not be glamorous and exciting normally, we can see from these innovative designs that there may be more to see than you may have thought. Getting the right kitchen sink design is something that should be at the top of the list for a good-looking kitchen.
Sure there are mostly utilitarian aspects to consider like size, depth and finish, but you can pair your new sink with an innovative faucet for a most attractive look these days. Also to consider are the food preparation friendly features like integrated cutting boards, vegetable washing baskets, and non-stick surfaces for cleaning ease and disposal.
There are so many sizes and configurations to choose from and the theme of the design. As you can see, there are hand hammered copper sinks that work great with a traditional interior all the way to the most ultra modern and everything in between. With so many options to choose from and aspects to consider we wanted to put together a compilation of some 100 Kitchen Sinks Pictures & Designs we think are a treat to give you an idea of what to expect when you set out to go shopping.
Choosing The Right Kitchen Sink: 75 Must-See Kitchen Sink Styles and Ideas
Kitchen Single Bowl Sink
Kore, the ultimate sink for modern home chefs. Packed with premium accessories such as the multi-purpose dish drying rack and bamboo cutting board, this ultra functional design of an integrated ledge system will allow you to wash and dry or chop and slice without losing any counter space in your kitchen!
For unbeatable value, the Kore sink set includes a stainless steel bottom grid that protects your sink surface and keeps dishes elevated for optimal draining. The drain assembly is made with real 16-gauge stainless steel, which makes it one of toughest sinks on the market – perfect for any kitchen space! Available in a range of sizes from 17″ to 45″, this kit has something to offer you no matter what size or shape your kitchen may be.
The Kore Workstation Series offers a kitchen sink design that is inspired by the culinary world. Get Kraus quality and innovation in your home with this series of sinks! For over ten years, we have been transforming ordinary spaces into extraordinary kitchens and bathrooms–our customers are our number one priority every step of the way. We take pride in what we do, so it shows from day 1 when you open up any new product for purchase at Kraus Plumbing & Bath!
Dual Mount Double Bowl Sink
Kraus Quartz Granite Kitchen Sinks. The best investment you can make for your kitchen, designed with 80% natural quartz to last. Tough and elegant- an extra tough sink that will compliment any room decor beautifully!
With the UV-stable material, your sink will always remain looking fresh and new. Non-Fading color is another great characteristic that this product has to offer as it won't fade or discolor over time! You can install these sinks either under mount for a seamless transition from sink to counter top or drop into an existing counter top opening. These sinks are also heat safe so you don't have worry about them being damaged by high temperatures!
The Kraus is a great choice for your home, as it provides an attractive and modern design that will make any room stand out. The smooth surface makes cleaning easy with just soap or water and can be wiped down after use to have the sink looking pristine in minutes. Furthermore, sound-absorbing properties minimize noise when you're cooking dinner on high volume! Lastly, this unit has been engineered to drain cleanly so there's no standing water left behind at all–perfect if you want something quick.
Double Kitchen Sink In Style
The Ruvati WORKSTATION sink from the Roma series is a perfect addition to any home kitchen. The deep stainless steel colander, cutting board and foldable rack are practical functionality for your dishes that won't take up as much space in an already crowded sink area. With mahogany wood construction with dark finish and integrated ledges built into the worktop of this modern design you'll love how easy it will be to keep all those dishwashing tools nearby without wasting precious counter space!
Mayfair Kitchen Farmhouse Sink
The Mayfair 30 inch Fine Fireclay Farmhouse Sink by Savil Row is made from the finest of materials and created with traditional English technique. The spirit behind the process should be at the forefront for this product; authenticity being key in creating an awe-inspiring experience with your order.
Drop In Stainless Steel Sink Unit
This workstation sink is the perfect addition to any kitchen. It includes integrated accessories that slide on tracks in the sink and it's made from 16-Gauge Premium thick grade T-304 stainless steel for durability performance! The 10″ deep drop in design provides more space for washing dishes, soaking larger items, and preventing splashing with its modern looking radius corners.
Undermount Large Kitchen Sink
The Ruvati brand is synonymous with exceptional quality appliances and fantastic customer service. With manufacturing facilities in the US, Europe, or Asia there is no doubt that this company has your best interests at heart when it comes to interior design for your kitchen or bathroom remodel project. This sink from their Gravena collection offers a modern linear style contrasted by rectangular bowls of 16-gauge steel which are one of the thickest on the market today guaranteeing you years of use without worry about rusting!
Ruvati's sinks are designed to meet the rigorous demands of professional use while still being beautiful and easy-to-clean. This stainless steel sink is resistant against rust, has 18:10 Nickel Chromium content in its metal composition as well a 10mm tight radius inside corners for easier cleaning with less water loss due to splash back. A thick soundguard padding on all sides ensures that noise made by your kitchen utensils won't escape into the surrounding rooms or down through cracks between floorboards upstairs where it could be heard – Ruvati knows how important this feature can be when you're trying to keep up appearances during dinner parties!
Ruvati understands what customers want out of their modern kitchens more than anyone else so they provide different sizes available. The inside of the sink is finished in commercial grade brushed finish which adds to the beauty of the sink. The slanted bottom and drain grooves channel water towards your built-in basket strainer, collecting food waste that can be emptied by flipping up a little lever on its back. The special features don't end there; this product also comes with handy grids for rinsing dishes before placing them into our elegant dishwasher!
Brass Tone Kitchen Sink
The Terraza series brings color to the world of stainless steel, making it a feature-studded sink. Using an innovative nano-PVD technology and tough matte finish that resists wear and abrasion, your sink will be as beautiful at day 10 as it is on day 1 because this durable surface won't chip or scratch off with use like many other finishes do! The gold option in our wide lineup also comes equipped with curved front panels for quick access to water without any extra hassle (making dishes more enjoyable) while adding flair to match whatever look you're going out for.
The Terraza sinks from Ruvati are designed so they'll never lose their luster: Choose shiny Matte Gold over stainless steel