We're keeping things outdoors this weekend, editorially speaking, to soak up the sun and enjoy the beginnings of what's typically the most fun season of the year. Today's post focuses on the art of the sear, rather literally.
Behold these ten incredibly quirky bbq grills, from converted cars and motorcycles to globes, beer barrels and Altoid tins.  Some have been upcycled from common every day objects while others started out as a creative sketch and turned into one-of-a-kind backyard legends.
Although we're sure the burgers, steaks and franks come out no more flame-kissed than those from any other grill, they've still got that certain extra something… namely, quite a story to tell.  Kick back and enjoy!
Choo Choo Train Rib Cooker via Buzzard Blog
Restaurant Grade-Professional 36 inch Outdoor Flat Top Gas Grill
Easy assembly, and quick ignition button
Griddle top is easily removable
Four independently controlled burners with low to high temperature settings provide versatile cooking options
Four industrial strength, caster wheels (two are lockable)
Solid stainless Steel burners for long life, and thick Rolled Steel surface for excellent heat retention and distribution
1957 Chevy Big Block Grill via Automopedia
A great way to have a BBQ from the front of your old car. The design has to be right but how coolis that.
Blackstone Tabletop Grill – 22 Inch Portable Gas Griddle
PERFECT SIZE – With 330 sq. inches cooking surface, this portable grill makes it easy to cook a quick, full meal wherever you are without the hassle of setting up a full sized grill
ADJUSTABLE HEAT ZONES – Two independently controlled H burners makes for a versatile cooking surface where you can cook several foods at once and not burn a thing! Also allowing the option to keep certain foods warm while others cook.
REAR GREASE MANAGEMENT SYSTEM – Built in grease channel and catch draws grease away from your food. Allows for easy clean up at then end of each use
PORTABLE – Super convenient portable griddle for tailgaters, parties, backyard barbeques and camping
GRIDDLE COOKING – Allows you to cook without the worry of flare ups or flavor loss from leaked juices, and helps keep meats tender
Sorry, had to throw this in. Perfect for those who like a cool drink but not always from a bottle. Cool beer idea that seems really popular.
Stainless steel reversible door
Holds US standard 1/2 1/4 1/6 and 1/8 kegs
Four rolling casters included for easy mobility
Temperature range of the thermostat goes from 36℉ to 45℉(2.2℃ to 7.2℃)
For free standing use only; Perfect for home,party,hotel,bar,restaurant and BBQ etc

Beer Barrel BBQ Grill via Epotpourri
Big Bad Barrel Pit Charcoal Barbeque
🔥🥩🍗 multi-function – our 5 in 1 barrel gives much more than meets the eye! It can be used as a Table to set down any item, an independent fire pit for winter, a BBQ pit with an adjustable cooking rack to manage the desired cooking temperature for meat or pizza, adjustable barrel Height for child safety, and the option to hang your meat as the perfect grill smoker.
🔥🥩 Portable – unlike solid barrels our 2 piece barrel can be dismantled to make easy for transport. A large barrel cannot fit into cars and a truck is necessary. Ours can be transported in most cars and all SUV; s along with trucks. This makes it very convenient for use at parties, Tailgating, beaches and parks. Quick and easy assembly and storage. Plan on 1-1. 5 hours of assemble to set-up the big bad barrel. Packaged for better shipping with extra padding there will not be any damage in ship
🔥🥩🍗 beginner or Pro – Whether you're a Pro with smokers and grills or just getting started, the Big bad barrel comes equipped with 6 stainless Steel hooks, 3 utensils, an independent charcoal pit, and standard stainless steel grilling rack. Enjoy cooking with pork ribs, hamburgers, fish and specialty meats.
🔥🥩🍗 cooking time – the Big bad barrel heats consistently to 225 degrees which is the optimum temperature for smoking. Temperature Can be Adjusted with the top vent on the lid. The consistent temperature throughout the barrel creates wonderfully evenly cooked meats. Meats are usually smoked from 2-6 hours depending on the thickness and style of meat.
Globe-Turned-BBQ by Goldenhen via Inhabitat
Not to sure about this one. Looks a little on the flimsy side.
Real cook Charcoal BBQ Smoker Grill
[MULTI-LAYERED DESIGN] – Thanks to the latch locking system,Realcook water smoker can be used as a fire pit for cold weather, an adjustable barrel grill for grilling, steaming, baking, braising, roasting, two different heights of bbq charcoal grills for meats and as a smoker for smoking.
[SPECIAL BOTTOM VENT DESIGN] – Built-in thermometer, Realcook charcoal smoker with special bottom damper and ash collector, which is easy to control the bottom air flow to maintain a steady temperature inside the smoker,easily removes the ash cup and dumps ashes in seconds.
[PROTABLE & EASY ASSEMBLY] – Unlike integral barrel smoker, Realcook portable smoker can be easily disassemble to 4 parts that merely take a small cube in most of the car trunk. It only takes 30-45 minutes to install and is suitable for party,park,beach,backyard.
[LARGE CAPACITY] – Featured 969 square inches cooking surface with 2 cooking racks, Realcook vertical smoker accommodates large cuts of meat or slab of ribs for smoking and tall enough for hanging large turkeys, chickens and other food with 4 hangers inside the lid.
[2 ACCESS DOOR DESIGN] – Realcook wood smoker featured 2 access doors is more flexible to check the status of foods and add charcoal or wood without removing the whole layer to avoid losing heat.The porcelain-enameled water pan captures smoker and moisture for infusing smokey flavor into your meat.
Motorcycle BBQ Grill via Waylou
Probabaly about as coolas you can get when it comes to a barbeque. Does it still run?
Multi-Function Barbecue and Charcoal Smoker Grill
14-inch smoker size L41.5xW36.5xH75cm,With cooking grill:size:41.5*40.5*62cm and Smoker:size:41.5*36.5*65cm.
Offers 6-in-1 versatility to grill, smoke, bake, roast, braise,and BBQ all on the same smoker grill.
Integrated thermostat for coking to perfection,monitors the internal temperature of your smoker.
Barrel shape promotes the chimney effect for quick heating-up,Porcelain-enameled lid, bowl, and center section retain heat and won't rust or peel.
It's easy to assemble and easy to use. Two layers design you can easily take them apart to transport or clean. Use as a bbq grill or a smoker it depends on you. With the latch locking system, it can provide you more stability.
The Lil' Pig by Traeger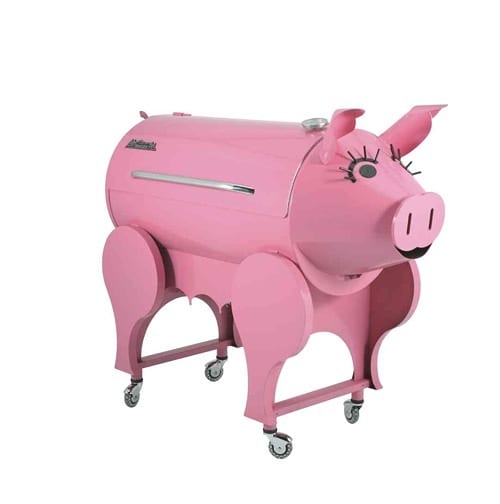 Stainless Steel 4-Burner Cabinet Style Gas Grill
Exclusive Stainless Steel finish for increased style and durability
Stainless Steel burners emit flame from the top to allow for even cooking
Porcelain-coated grease pan is durable and can be removed for easy cleaning
Porcelain coated cast-iron grates are rust-resistant and made to last
Reliable electric ignition to fire up your grill and 10, 000 BTU side burner
Image
Title
Price
Prime
Buy

Top

Flower House FHPC100-BRK Hanging Pumpkin Loveseat Chair with Stand, Bark

Prime

Take a Look
SkrLights 25Ft Outdoor String Lights with 27 Globe Clear G40 Bulbs,UL Listed Backyard Patio Hanging Indoor/Outdoor Lights for Bistro Tents Market Cafe Wedding Porch Letters Party Decor-Brown Wire

Prime

Eligible

Take a Look
Donet Portable Travel Camping Hanging Hammock Swing Chair Garden Hammock Chair

Prime

Take a Look
Homall Patio Furniture Outdoor Daybed with Retractable Canopy Wicker Furniture Sectional Seating with Washable Cushions for Patio Backyard Porch Pool Round Daybed Separated Seating (Beige)

Prime

Take a Look
Brightown Outdoor String Lights-25Ft G40 Globe Patio Lights with 26 Edison Glass Bulbs(1 Spare), Waterproof Connectable Hanging Light for Backyard Porch Balcony Party Decor, E12 Socket Base,Black

Prime

Eligible

Take a Look
Bare Decor EZ-Floor Interlocking Flooring Tiles in Solid Teak Wood Oiled Finish (Set of 10), Long 9 Slat

Prime

Eligible

Take a Look
Komorebi Hammock Chair | Hanging Rope Swing Seat for Indoor & Outdoor | Soft & Durable Cotton Canvas | 2 Cushions Included | Large Reading Chair with Pocket for Bedroom, Patio, Porch (Ivory)

Prime

Eligible

Take a Look
300lbs Max Weight Capacity Hanging Chaise Lounger Chair with Umbrella Garden Air Porch Arc Stand Floating Swing Hammock Chair BLUE gift a zippered poly bag

Prime

Take a Look
String Lights, Lampat 25Ft G40 Globe String Lights with Bulbs-UL Listd for Indoor/Outdoor Commercial Decor

Prime

Eligible

Take a Look
Weber 15502001 Performer Deluxe Charcoal Grill, 22-Inch, Copper

Prime

Eligible

Take a Look
Yaheetech 27PCS Indoor Interlocking Wood Flooring Deck Decking Tiles Patio Pavers Tiles Solid Wood and Plastic Corner Edging Trim Tiles Outdoor 12 x 12"

Prime

Take a Look
Keter Eden 70 Gallon Storage Bench Deck Box for Patio Furniture, Front Porch Decor and Outdoor Seating – Perfect to Store Garden Tools and Pool Toys

Prime

Eligible

Take a Look
QKK Mini Projector 4500Lumens Portable LCD Projector [100" Projector Screen Included] Full HD 1080P Supported, Compatible with Smartphone, TV Stick, Games, HDMI, AV, Outdoor Projector for Home Theater

Prime

Take a Look
Weber 14501001 Master-Touch Charcoal Grill, 22-Inch, Black

Prime

Take a Look
Leisure Zone 4 PCS Outdoor Cushioned PE Rattan Wicker Sectional Sofa Set Garden Patio Furniture Set (Dark Grey Cushions)

Prime

Take a Look
Prices and images pulled from the Amazon Product Advertising API on: