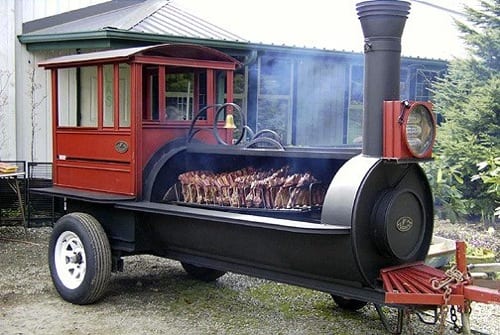 BBQ at Home Ideas For 2021
We're keeping things outdoors this weekend, editorially speaking, to soak up the sun and enjoy the beginnings of what's typically the most fun season of the year. Today's post focuses on the art of the sear, rather literally.
Behold these ten incredibly quirky bbq grills, from converted cars and motorcycles to globes, beer barrels and Altoid tins.  Some have been upcycled from common every day objects while others started out as a creative sketch and turned into one-of-a-kind backyard legends.
Although we're sure the burgers, steaks and franks come out no more flame-kissed than those from any other grill, they've still got that certain extra something… namely, quite a story to tell.  Kick back and enjoy!
All images are copyright of the respective owners.
Choo Choo Train Rib Cooker via Buzzard Blog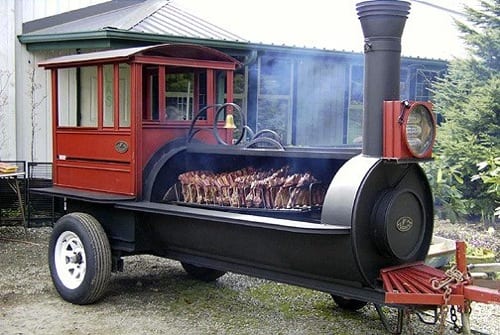 Restaurant Grade-Professional 36 inch Outdoor Flat Top Gas Grill
1957 Chevy Big Block Grill via Automopedia
A great way to have a BBQ from the front of your old car. The design has to be right but how coolis that.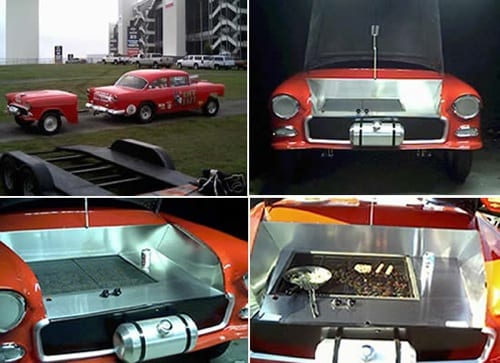 Blackstone Tabletop Grill – 22 Inch Portable Gas Griddle
PERFECT SIZE – With 330 sq. inches cooking surface, this portable grill makes it easy to cook a quick, full meal wherever you are without the hassle of setting up a full sized grill
ADJUSTABLE HEAT ZONES – Two independently controlled H burners makes for a versatile cooking surface where you can cook several foods at once and not burn a thing! Also allowing the option to keep certain foods warm while others cook.
REAR GREASE MANAGEMENT SYSTEM – Built in grease channel and catch draws grease away from your food. Allows for easy clean up at then end of each use
PORTABLE – Super convenient portable griddle for tailgaters, parties, backyard barbeques and camping
GRIDDLE COOKING – Allows you to cook without the worry of flare ups or flavor loss from leaked juices, and helps keep meats tender
Sorry, had to throw this in. Perfect for those who like a cool drink but not always from a bottle. Cool beer idea that seems really popular.
Stainless steel reversible door
Holds US standard 1/2 1/4 1/6 and 1/8 kegs
Four rolling casters included for easy mobility
Temperature range of the thermostat goes from 36℉ to 45℉(2.2℃ to 7.2℃)
For free standing use only; Perfect for home,party,hotel,bar,restaurant and BBQ etc

Beer Barrel BBQ Grill via Epotpourri
Big Bad Barrel Pit Charcoal Barbeque
Globe-Turned-BBQ by Goldenhen via Inhabitat
Not to sure about this one. Looks a little on the flimsy side.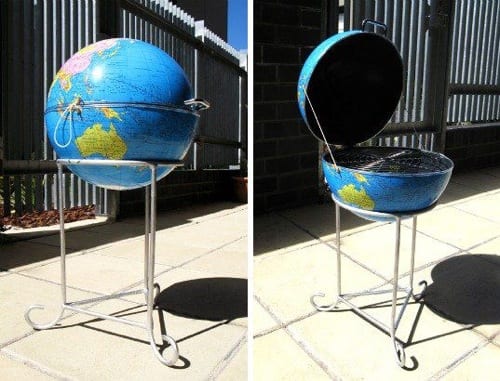 Real cook Charcoal BBQ Smoker Grill
Motorcycle BBQ Grill via Waylou
Probabaly about as coolas you can get when it comes to a barbeque. Does it still run?
Multi-Function Barbecue and Charcoal Smoker Grill
14-inch smoker size L41.5xW36.5xH75cm,With cooking grill:size:41.5*40.5*62cm and Smoker:size:41.5*36.5*65cm.
Offers 6-in-1 versatility to grill, smoke, bake, roast, braise,and BBQ all on the same smoker grill.
Integrated thermostat for coking to perfection,monitors the internal temperature of your smoker.
Barrel shape promotes the chimney effect for quick heating-up,Porcelain-enameled lid, bowl, and center section retain heat and won't rust or peel.
It's easy to assemble and easy to use. Two layers design you can easily take them apart to transport or clean. Use as a bbq grill or a smoker it depends on you. With the latch locking system, it can provide you more stability.
The Lil' Pig by Traeger