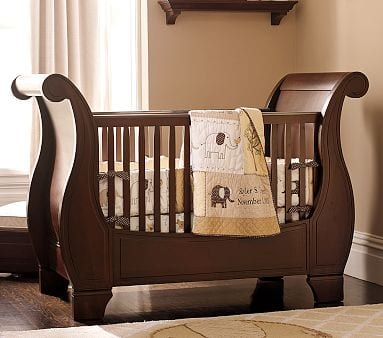 Pottery Barn Kids Crib
Welcome your bundle of joy with a traditional and beautiful crib and the Larkin Fixed Gate Sleigh Crib certainly fulfills the criteria.
Retailing on Pottery Barn Kids for $1,099.00, this exquisite sleigh crib features a rather attractive curved design and is solid enough to become a family heirloom.
Measuring 71.5″ wide x 33.5″ long x 49″ high, the wooden crib meets all required and voluntary safety standards enacted by the US Product Safety Commission, the American Society of Testing Manufacturers, and the Canadian Cribs and Cradles Regulations and has been crafted from solid hardwood.
The Larkin Fixed Gate Sleigh Crib can also be converted into a cozy toddler bed by purchasing the conversion kit separately.
This wooden crib was originally made in 2011 so is now available second-hand. Try and of your usual places for this stunning piece of furniture.
Images are copyright of Pottery Barn