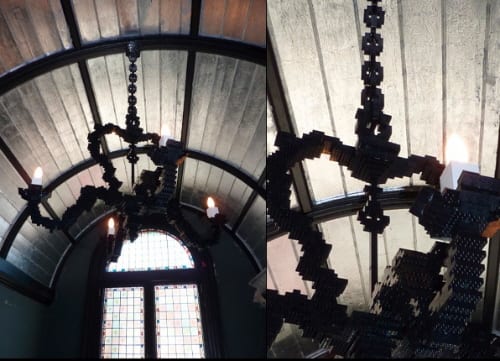 As a child, I spent countless hours playing with Lego bricks to construct robots, buildings and even automobiles. No I didn't end up being an architect (much to the folks disappointment) but they did inculcate a sense of design in me (or so I would like to think). Looks like I am not the only one who loved her Legos as there have been many designers who have paid homage to their favorite building blocks. Hence we decided to compile our favorite Lego Inspired Home Furnishings which range from the surreal to the sublime!
Lunablocks are Lego inspired blocks that can be played around mmm I mean customized to make functional furniture be it coffee tables, console tables or sitting arrangements.
What happens when Legos go Victorian? Well you get the awe-inspiring and almost gothic Lego Chandelier! Designed by John Harrington, this light fixture reminds me of Castlevania for some strange reason!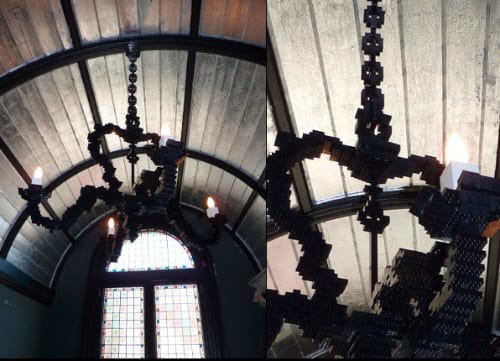 The
Lego LED Lamp
is blocky and bright and will look great in any home décor. The LED illuminated acrylic block lamp is the brainchild of Taiwan's 25togo.
It doesn't take a genius to figure out that the Flatshare Fridges have been inspired by good old Legos! Designed by Stefan Buchberger, the fridge has separate compartments for all your favorite foods.
There is nothing geeky or childish about the Leucos Stacking Lamp. The sophisticated lamp is composed of assembled blown glass cylinders in various colors and four sizes.
The Lego Sofa looks straight out of Legoland and we simply love it. You can assemble it anyway you fancy and buy the bricks/blocks online.
Snobby wine connoisseurs may turn their nose up on the Bachus Wine Rack but we can't resist it. Designed by the inimitable Marcel Wanders, the stackable wine rack is functional and quirky.
Never did in my lifetime did I think, I will witness a product that takes inspiration from Legos as well as the late Rococo furniture style! But that is the wonderful world of A&D for you! Staffan Holm and Johannes Tjernberg's CEO Desk has been manufactured from beech and MDF.
Bekky is another Lego inspired sofa that will transport you back to the colorful Legoland. Retailing for $466, the on board rubberized foam pieces can be customized according to one's mood and living space.
"Brick Bright" lamps unlike most Lego inspired furniture pieces doesn't take the crazy color route. This subtlety designed lamp has been designed by grown ups for grown ups! The lamp is a brainchild of design studio OutofStock.
Brainstorming sessions at the office may just turn out to be more fun if you have a Lego conference table like the "Boys and Girls" . The table consists of 22,742 pieces clicked together with traditional Lego construction techniques (no glue), a 136mm grommet is located in its center.
Legomania goes Retro or so it seems with this bathroom space. Playa d'Eau by French brand Delphi looks something straight out of the eighties and takes design cues from legos and the Rubik cube.
"Brick for Scirocco" looks more of an art piece than a radiator heater! Designed by Marco Baxadonne, the radiator consists of modular elements, which can be assembled according to the buyer's requirements.
Mario Minale has designed the Red Blue Lego Chair for Droog Design. This geeky chair is ideal for the unabashed Lego fan that doesn't mind spending a cool £20,000-25,000 on it!
The Lego styled Brick Tower Mood Light lets you tap the creative genius inside you as you can deconstruct or reconstruct anytime you fancy. This one can be bought from Brando for just $35!
The almighty Lego strikes again! Check out the superbly executed Lego kitchen. Designers Simon Pillard and Philippe Rossetti, used more than 20,000 Lego pieces on the Lego kitchen island alone!
This was just few of the many Lego styled furniture pieces that grabbed our attention. Do let us know about more Lego inspired furniture that deserved to go into the Lego Hall Of Fame!