Yes these people are alive they are just relaxing to the cool sound system included in the "Sonic Bed" by designer and composer Kaffe Matthews. The high perch may even help you hide away for a quick power nap while listening to your favorite music thanks to speakers and six large subwoofers within the bed frame that literally surround you with music. Kaffe Matthews who is quite versed in the production side of the musical industry has been making and performing new electro-acoustic music since 1990. She is acknowledged as a leading figure and pioneer in the field of electronic improvisation and live composition making on average 50 performances a year worldwide.
Matthews has become well known for making site-specific sound works live, playing in the dark in the middle of the space, the audience surrounding her, the sounds moving around them. She uses self-designed software matrices through which she pulls, pushes and reprocesses sounds live, using microphones and feedback within the space; the site then becoming her instrument. It is this practice that she has shifted to sonic furniture building, with Sonic Bed London and the Worldwide Bed project being a central pin in this ongoing project.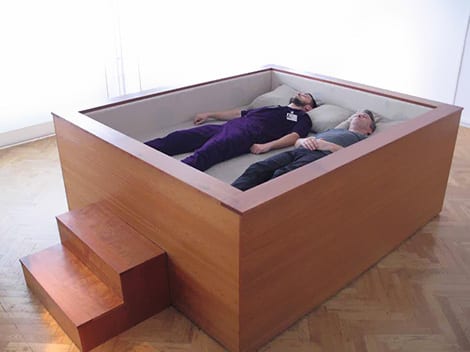 We're an affiliate
We hope you like our recommendations! Just so you know, we may collect a share of sales or other compensation from the links on this page. Thank you for using our links, it is much appreciated.