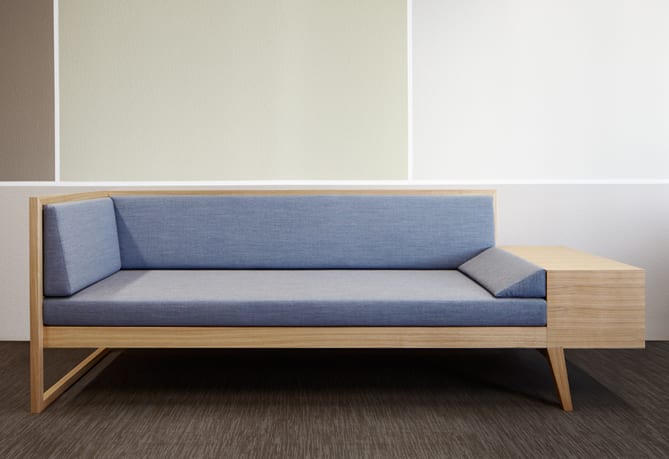 Modern Sofa With Storage
Sofa Sophie designed by the Swiss artist Daniela Saxer and manufactured by Raum B Architektur, is a very original creation. Sofa Sophie brings together many functions in a single piece of furniture: it's a sofa for sitting, putting your feet up and having a comfortable lie-down, as well as having a little table and a box.
The armrest on one side and coffee table with embedded small storage space on the other are not the only unusual things of this sofa; the totally mismatched feet offer a special and unusual look.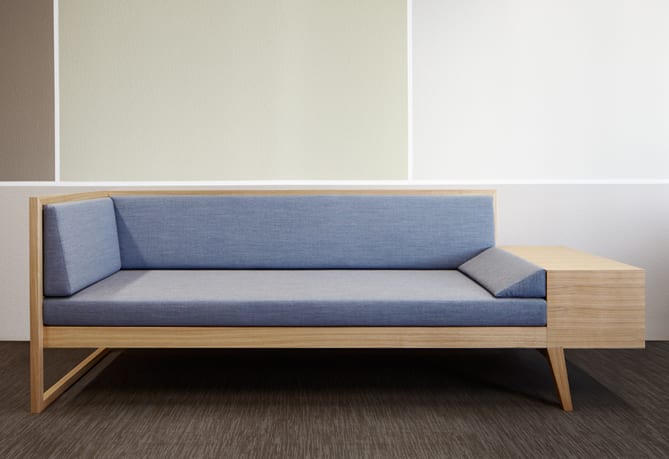 Using the Sofa Sophie as a centerpiece, complete seating landscapes can be created. Thanks to its small dimensions, the piece accounts for the requirements of the urban lifestyle but can also be effortlessly placed in small rooms.
A modern seating structure with base frame and the fabric covers that can be selected to match your interior needs. Sophie can also be transformed into a guest bed in just a few movements. The upper part can easily be removed, and the bed is created.
Thanks to its reduced form and high seating comfort, the piece is not only suited for private use. Sophie is suitable both for private use as well as public spaces such as reception areas or business class lounges. Depending on the desired purpose, the box and table can also be adorned with sliding doors, collapsible power sockets or newspaper racks.

This contemporary piece seems inspired by the clean silhouettes of mid-century designs, its main attribute is a frame in solid wood that is light end elegant and will effortlessly fit in almost any type of decor.
Raum B is an incredibly creative achitecture and design office in the heart of Zurich, created by the architect and owner Daniela Saxer, a graduate of the legendary ETH Zurich. The firm specializes in complex products and ideas that are developed from the first sketch to the finished object.