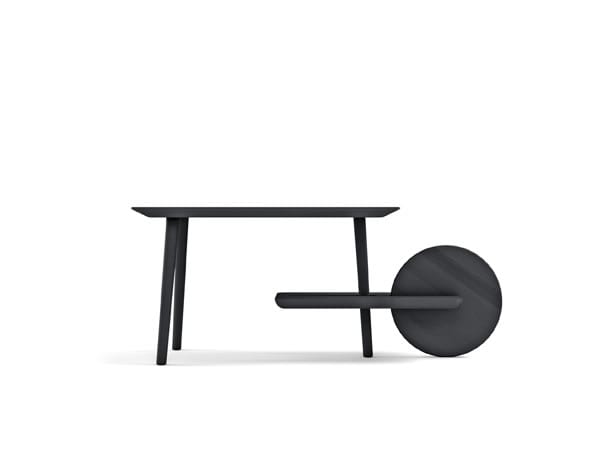 Upcoming Russian designer, Lera Moiseeva's debut in Milan featured the much acclaimed Dot Table ,  manufactured by the renowned Italian company, Casamania. Touching on the concepts of minimalism, linearity, dynamism and versatility, `Dot' has not gone unnoticed in the design circles.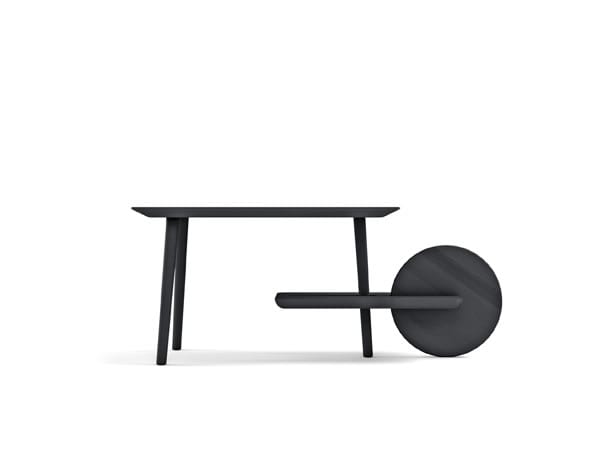 Working on the concept of transformation, the Dot Table by Casamania, otherwise a stationary parked ensemble, transforms into a mobile one, due to the low side table capable of turning 360 degrees encircling one of its legs. The higher version stands on three legs with the lower one attached to a wheel, lending a wheelbarrow silhouette to the entire configuration. This dynamic transformation proffers multi functionality enabled by an array of possible arrangements.
Structured out of solid oak, the Dot table comes packed with strength and solidity backed up with sleek, linear & minimalist aesthetics, touched up with a sprinkle of dynamism. Dot accent table easily slips into any desired role or space, be it a bedroom or an office, it graces every area adorned with its sleek charm and multifariousness. Good enough to function even a desk, Dot enhances the decor with its stylish aesthetics and innate dynamism. Dot's flamboyance will grab the attention of one and all, with compliments pouring in to find out more. So go ahead and get yours today!