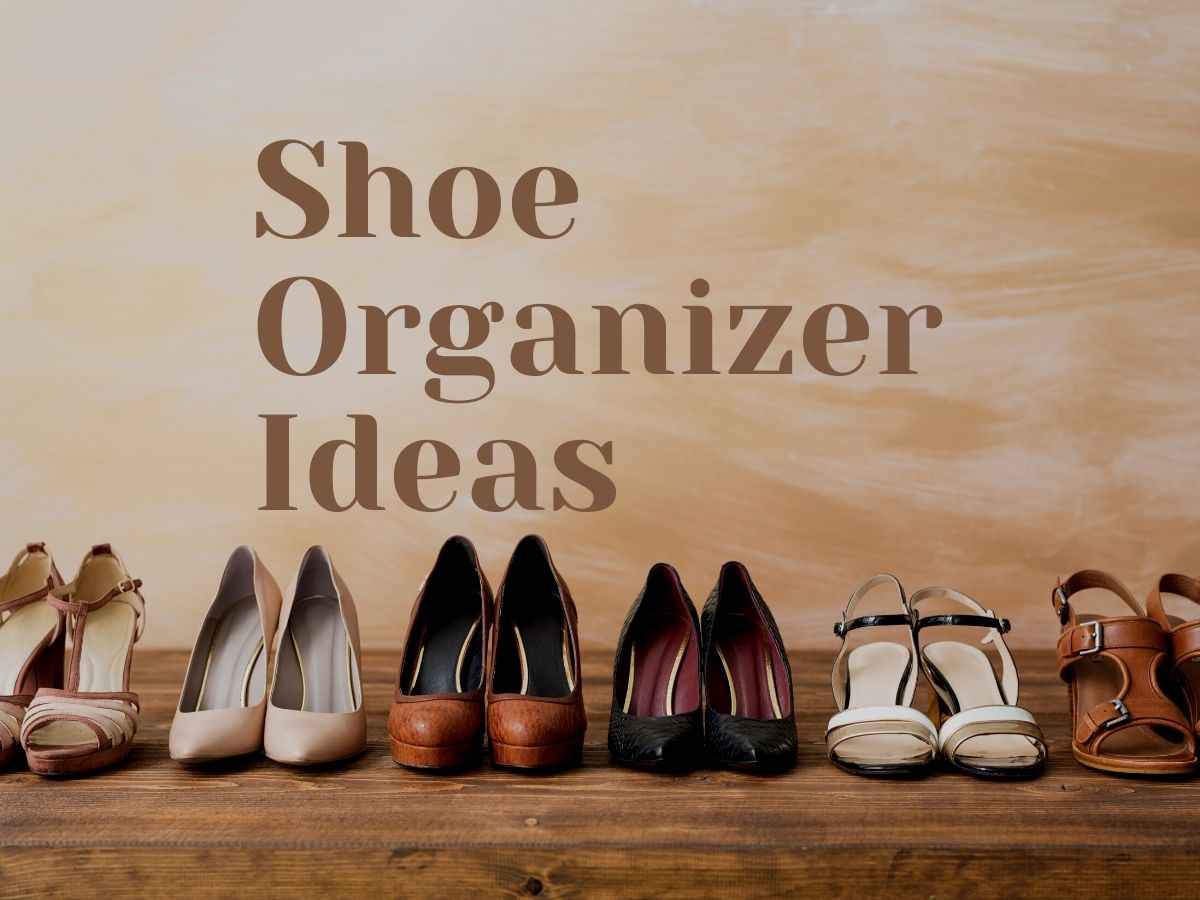 Shoe Organization Ideas For 2023
A great challenge is finding adequate room for clothes and accessories.  Shoes in particular can take up a great amount of space and not be easy to store efficiently.   Closets are not typically configured with that in mind.
If you're noticing shoes taking over your home, perhaps it's time to organize. Whether you live by the idea that one can never have too many or you've grown weary of tripping over shoes the second you walk through the door of your home, it may be time to purchase one of the many shoe organizers that can handle your entire footwear collection.
Perhaps you're looking for your first shoe organizer or want to peruse other space-saving solutions. Nevertheless, the market has become glutted with hundreds, if not thousands of shoe organizers – some good, others less capable.
To help you on your quest for the perfect one, here you'll find a list of products that will prove well-built, easily assembled and easy to use, sleek and stylish. Each organizer listed will help your handle your entire footwear collection, however big or small.
To keep all your shoes, sandals, boots, and slippers either you have to purchase a separate shoe rack or you can go for a shoe organizer to be placed inside your closet. If you are in a position to spend a considerable sum, the option of a shoe storage cabinet is good for you but in case you are in shortage of funds, you should go for shoe organizers for closets.
There are various types of shoe organizers available in the market and you can purchase one according to his/her needs, availability of space in the closet as well as budget constraints.
Shoe organizers for closets are made of wood, wire, canvas, wicker, and plastic. Whereas shoe storage organizers made from canvas and plastic are quite cheaper, those made up of wood are a bit expensive but still are easily affordable for all.
First of all, you should assess the need for a shoe organizer with respect to its size. If you have got a small family, a smaller organizer would do for you but you will have to look for a larger one in case you are a member of a larger family and you have got a huge collection of shoes and other footwear.
Shoe organizers for closets are primarily of two types – one which can be placed on the floor of the closet and the other which can be hung on the back of the closet door. There are a number of leading manufacturers who provide these organizers, some of them being Closet Maid, Whitney Design, and Whitmore. There are some shoe storage organizers which can be fitted to the closet wall as a tilt-type shelving unit.
Normally these shoe storage organizers have a capacity of 12-20 pairs of shoes to be put in. Before purchasing a shoe storage organizer, first, you should clear up your closet and all the unnecessary and unusable items should be sorted out so that you have enough space in your closet.
There are some transparent shoe storage organizers available in the market which makes the accessibility to the desired pair of shoes quick and easy and it also keeps your shoes in a good shape.
Shoe storage organizers are helpful for easy and systematic storage of your shoes and other footwear so that these are not scattered all over your home and you don't have to spend your precious time on finding your one shoe while the other might be lying in your garage or backyard. In this way shoe storage organizers save a lot of space and give your home a neatly arranged and tidy look.
In a Hurry?
A Quick View of "THE" Most Popular Shoes Ideas
Image
Title
Price
Prime
Buy

Top

Tangkula Wooden Shoes Racks, Entryway Shoes Storage Stand, Modern 7 Tiers Shoe Rack Organizer, Space Saving Vertical Shoe Rack, Storage Shelf (White, Single)

Prime

Take a Look
Whitmor Hanging Shoe Shelves Closet Organizer, Crosshatch Gray, 30 Section

Prime

Eligible

Take a Look
Shoe Rack with 3 Shelves-Three Tiers for 18 Pairs-For Bedroom, Entryway, Hallway, and Closet- Space Saving Storage and Organization by Home-Complete

Prime

Eligible

Take a Look
Tribesigns Modern 3 Drawer Shoe Cabinet, 3-Tier Shoe Rack Storage Organizer with Doors for Entryway Bedroom (White)

Prime

Take a Look
VASAGLE Industrial Shoe Bench, 3-Tier Shoe Rack, Storage Organizer with Seat, Wood Look Accent Furniture with Metal Frame, for Entryway, Living Room, Hallway ULBS73X

Prime

Eligible

Take a Look
12PCS Travel Shoe Bags Non-Woven Storage with Rope for Men and Women Large Shoes Pouch Packing Organizers, Black

Prime

Eligible

Take a Look
Seville Classics 3-Tier Expandable 24-Pair Non-Slip Metal Frame Shoe Storage Rack Organizer, Perfect for Bedroom, Closet, Entryway, Dorm Room, Chrome

Prime

Eligible

Take a Look
TXT&BAZ 27-Pairs Portable Boot Rack Double Row Shoe Rack Covered with Nonwoven Fabric(7-Tiers Black)

Prime

Eligible

Take a Look
LANGRIA 18-Cube DIY Shoe Rack, Storage Drawer Unit Multi Use Modular Organizer Plastic Cabinet with Doors, Black and White Curly Pattern

Prime

Eligible

Take a Look
SONGMICS 8-Tier Shoe Rack, Set of 2 Stackable 4-Tier Shoe Organizers, Adjustable Flat or Angled Shelves, Bronze ULMR08A

Prime

Eligible

Take a Look
SONGMICS 2-Tier Stackable Metal Shoe Rack Flat & Slant Adjustable Shoe Organizer Shelf for Closet Bedroom & Entryway Bronze ULMR02A

Prime

Eligible

Take a Look
SONGMICS 10 Tiers Shoe Rack 50 Pairs Non-woven Fabric Shoe Tower Organizer Cabinet 39.4 x 11.1 x 68.9 Inches Black ULSH11H

Prime

Eligible

Take a Look
Product prices and availability are accurate as of the date/time indicated and are subject to change. Any price and availability information displayed on [relevant Amazon Site(s), as applicable] at the time of purchase will apply to the purchase of this product.
Prices pulled from the Amazon Product Advertising API on:
---
Hanging Plastic Shoe Rack Wall Mount Creative Folding Organizer
Hanging design, save space. suitable for bathroom, bedroom, hallway or behind a door. A great way to hang your shoes rather than leave them in a mass pile in any room.
---
Country Rustic Finish Brown Wood Perfect Shoe Organization
Get the idea from here. Take any style of wooden box and make your own shoe hangers. Great for those who want something a little different and away from others.
---
Under Stairs Storage Rack Staircase Organizer
WORKS OUT GREAT: Want more organization in your room but on a budget? This is it! It will help you stay organized, and its good static load-bearing capacity of 105 lb (each layer holds up to 17 lb) is also impressive.
Related Articles: