Reading is fundamental — any educator will tell you so.  And while the bookworms among us would stack hundreds of books on the floor if we had to in order to keep them around, it's obviously a bit more civilized to keep them organized in a bookcase.  Today's roundup of stunning bookcase designs ranges from the uber-organized filing system of the USA Bookcase by Ron Arad to the hippie-chic hanging net comprising the Bookwave by Ilio.  There's something for everyone in this particular series — quirky iconographic pieces from Estudio Breder and Lau Design, an in-your-face reminder case for the forgetful reader, and even a movable dolly case for the literati on the go.  And so the story goes: once upon a time, we fell in love with ten amazing bookcase designs and lived happily ever after.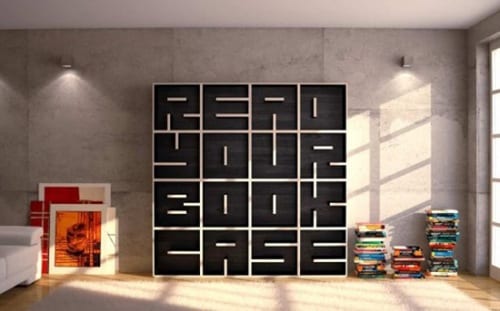 We're an affiliate
We hope you like our recommendations! Just so you know, we may collect a share of sales or other compensation from the links on this page. Thank you for using our links, it is much appreciated.
Readable bookcase found at Saporiti.