The chic style factor of this sofa makes it a sophisticated option for even the most contemporary of living rooms.  The sleek lines and minimalist profile of a great design are the elements that designer Paricia Urquiola wants you to notice and love.  In fact, most admires would never guess that the Ravel sectional couch also happens to be built with the durability of outdoor furniture.
Usually, the construction of outdoor furniture, built to withstand the elements, takes precedence over the design.  Although the Ravel sofa from B&B Italia is stylish enough to live indoors or out without a second thought.  The basic concept of wide cushions supported by simple bench legs is expanded into accent tables, corner units, and backrests with a textured open weave.  Whether a flat bench, a generous chaise lounge, or an inviting conversational "U"-shape configuration, the Ravel is designed for style and comfort in lounging.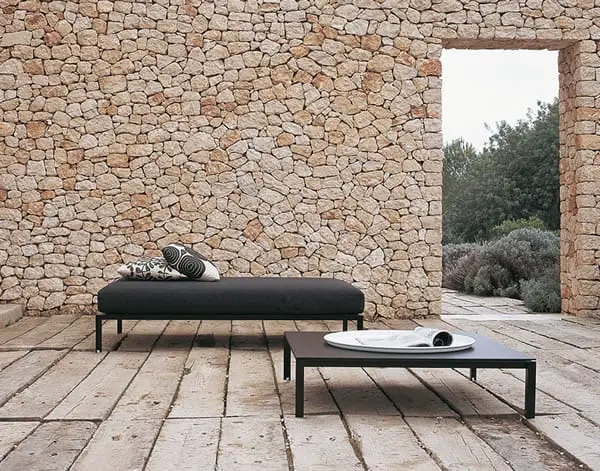 The seat and back cushions are crafted from shaped polyurethane and covered in water-repellent polyester fiber.  You can lounge with the peace of mind that, indoors or out, the Ravel sofa will look great for a long time to come.  When you don't want to sacrifice a stunning design just because it's outdoor furniture, the Ravel sectional sofa is the solution for outdoor seating that doesn't look like it has to be outside.  Weather the elements and the parties from the comfort of this sophisticated sofa.  Will you tell your guests that the Ravel is more than just a great-looking sofa, or keep that secret to yourself?