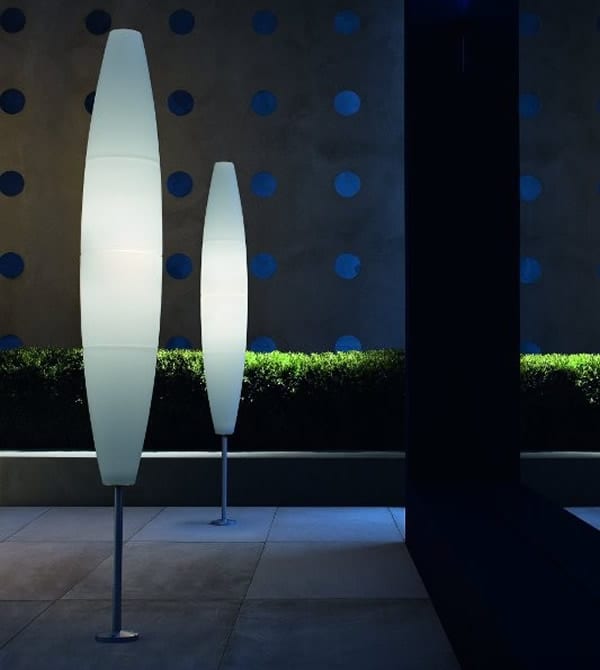 Oftentimes, we focus so much on decorating our homes' interiors we tend to neglect the exteriors. The Havana Outdoor Terra floor lamp makes dull exteriors a thing of the past. It will brighten up your outdoor home with a lovely glow.
Designed by Jozeph Forakis in 2005 for Foscarini, you will simply love what this light will do to your outdoors. The lamp, which gets its beautiful name from Cuba's capital, is both functional and stylish. It is made up of one rotational element in white or yellow polyethylene.
The Havana Terra Outdoor Floor Lamp from Foscarini has a metal structure with a base for underground installation, with a fixed base, or with a ground spike. Undoubtedly one of the most gorgeous outdoor lamps to date, this light from Foscarini even has a special place in the Museum of Modern Arts design collection in New York!
If you love the outdoors and are always sad when evening comes, say goodbye to your dark exterior with the Havana Outdoor Terra lamp. For the best effect, get several lamps and place them in strategic areas in your compound and your outdoors will light up just like the indoors.
The lamp provides lovely ambient light for outdoor events and is ideal for those who like to entertain. It is perfect for lighting up wide spaces and will beautifully integrate into the landscape thanks to its short stem. You can use it to define perspective planes, paths, or depth of field. How can you beautify your outdoors with the Havana Terra Floor Lamp?
Stunning Floor Lamp Alternative
Maui Arc Lamp Antique Bronze
The Maui arc lamp is the perfect solution for illumination around the urban-inspired sections or any living space with a natural vibe

Three barrel-shaped lanterns are composed of brown cane sticks and lined with a fabric like white rice paper to diffuse the light from three 60W incandescent or CFL equivalents, creating efficient overhead mood lighting

The lamp has an antique bronze finish and a simple on/off rotary switch located on the pole

Elevate your home décor with natural style lighting fixtures from Adesso

Our vast array of lighting options is sure to bring the perfect style and ambience into your home

With a compact footprint and elegant design, Adesso Floor Lamps provide a large amount of light in a small amount of space

Lamp requires three 60W Incandescent or 13 CFL bulbs