During autumn, temperatures fall and the days shorten, bringing the need to be safely at home before nightfall. Maybe this is why we associate the coming of the season with more family time. As with the summer, our homes should change to reflect our lifestyles during this season. Wool clothing, rugs, and upholstery keep us warm, as do sweater-knit throws. In more traditional homes, dark or muted colors like aubergine or persimmon are quite popular. Contemporary homes may use the same color pallet, or may try a more graphic look using bold seasonal colors, like pops of orange and yellow with black and white backgrounds. There are a ton of magazines and design periodicals that may have a lot more ideas, but one of my favorite places to look for inspiration that I can replicate is in retailer catalogues. My pick of the season? Pottery Barn. I normally abstain from the typical arts and crafts look, but there is something about fall that always works some heartwarming seasonal items into my home.
Cutesy items are a big "no-no" in my designs, but during the Halloween season, when everyone wants to dress up, I will occasionally help my clients masquerade their homes as an ultimate testament to the Martha Stewart Home look.


Want this look? If you don't have black furnishings, try black table cloths and slip-covers with white/cream piping or tie-backs. The candles in the background with pumpkin faces are a great project to do with your family. Just get black construction paper and cut out the shapes for the eyes, nose and mouth, and use stick glue or a rubber cement to adhere them to a large candle (select a thick candle, or the walls of the candle could become thin, creating a fire hazard). Seasonal squashes help set the mood, but don't leave them too long; a rotten pumpkin can ruin a party in a flash. Fill the candy jars with seasonally colored M&M's, candy corn, or other sweet treats.
This more streamlined concept is gorgeous… Perfect for a Halloween get together, and can work with any style of home, although the graphic nature of the space creates a modern feel. The orange and yellow really standout and get noticed.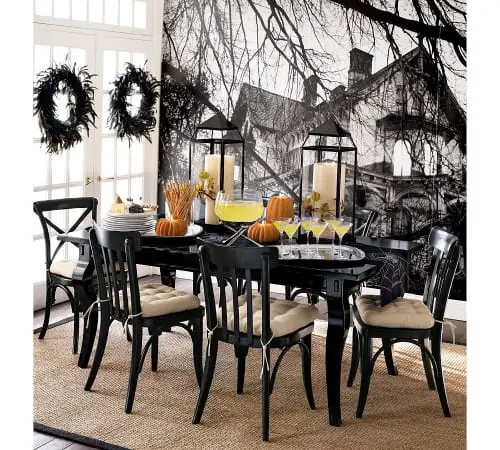 Want this look? The same principle as above applies to the furnishings. Real pumpkin lanterns can be used in place of the candles, and a photo of a creepy house in your area can be taken to a large print shop to create the back drop (be aware that the personalized photo creation may cost more in this case than purchasing the large mass produced one).
A cozy fire and soft textiles are essential to autumn nap taking. These, as well as a few decorative additions like the magnolia branches on the mantle and the subtle use of branch motifs help change this space from a well appointed room, to a favorably seasonal one.


Want this look? The twig motif is in this season, not difficult to find, and is definitely a fall favorite. Fire screens protect our homes from any stray embers that spark, and should complement the fireplace, both in style and in scale. A good quality leather chair is a bonus, but any chair that is snug and welcoming can be used, changing the current color to a seasonal hue is easy to do with slip-covers. Add a fluffy pillow and a soft throw into the mix, set it in front of a warm fireplace, and snooze your Sunday away.
Fall is often associated with the harvest, and fruit motifs are very appropriate. Try using fruit branches in your seasonal floral arrangements. All styles can handle this kind of décor, and adding candlelight only enhances the simplistic beauty of a table setting done right.


Want this look? Dark wood tables look beautiful, but if you don't have the right shade of wood or don't have a wood table at all, use a colorful/patterned tablecloth to create an autumn setting. Warm colored cushions or slip-covers can be used to enhance the look of your chairs. Purple and orange add a lovely contrast to the setting, but simple white pottery stands out to contrast against all of the colors to create visual interest. Hanging candlelit pendants are shown in this space, but glass/crystal hurricanes can be set on the table to achieve the same look.
Product highlights:


This drink dispenser is easy to doll-up and is a functional as well as decorative.


Never invest in a wild colored upholstered piece. Use pillows or slip covers to accent the furnishings, and change them to reflect the seasons.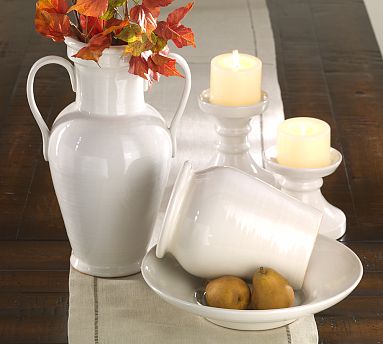 White or cream colored pottery can be used for almost any season, and are good to have in your general collection of accessories.


Fruit branches are great ways to remember what the fall season is about, the plentiful harvests, and of the fruits of our ancestor's labor.


Orange is such a wonderful fall color, adding it into your fall china collection is a great way to bring in a touch of fun color. Use real fruits like pears and apples of all shades as hangers for your guest's place cards.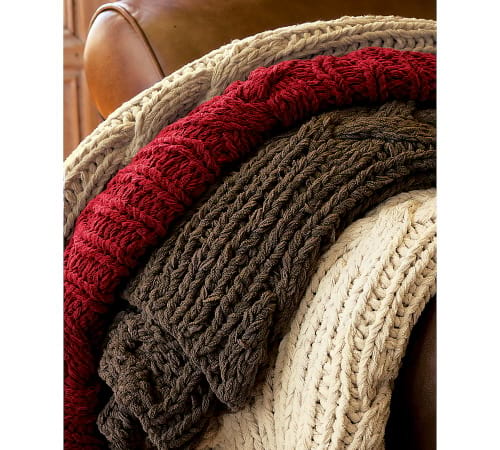 Sweater-knit throws are the most comforting of all blankets during the colder parts of fall.
Most people have fond childhood memories of making cookies and other goodies with their parents or siblings during this eventful season, so it's no wonder we try in many different ways to recreate these feelings every year. Candles should have spicy or bakery style scents, and simple shapes. Accessories can be as sleek or as artistic as your memories recall them to be. This is a personal, family filled season, so don't let traditional design rules dictate all of your decisions, listen to your heart