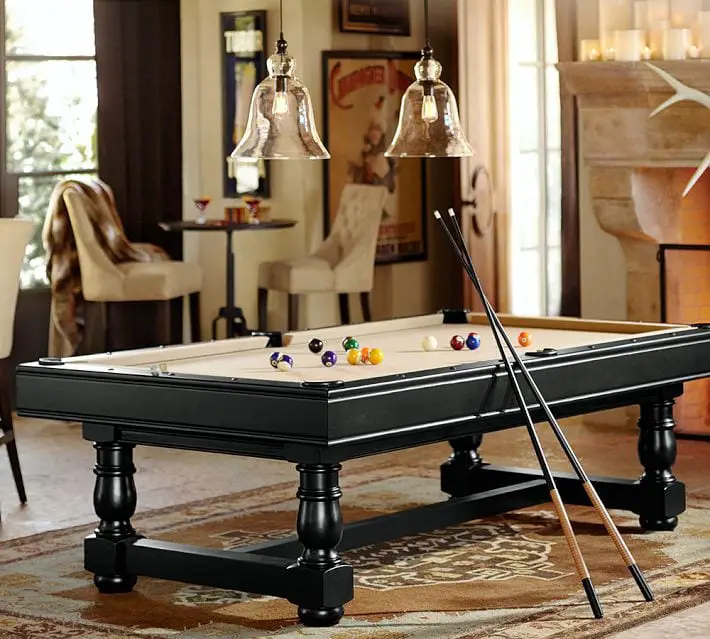 Tired of going to the local bar every time you want to play pool? Get Turned-Leg Pool Table. It is not only captivating; it is a perfect conversation piece. It is the best home accessory for any billiard enthusiast.
The first thing you'll notice about the table is its legs. They are turned and have sinuous lines which resemble that of a modern table. They are joined by planks of the same color.
Turned legs and a sturdy frame make the Turned-Leg Pool Table by Pottery Barn stand out from other pool tables. It has a modern aesthetic and is well suited for contemporary homes. It caters to several age groups and will keep you entertained for hours.
When not in use, it makes a beautiful focal point. Pottery Barn is passionate about its creations and this is clearly evident in its designs. Turned-Leg Pool Table is one of its stunning successes. It is crafted with the utmost care and each of its parts is in perfect alignment.
Perfectly merging fun and function, Turned-Leg Pool Table is ideal for both avid gamers and beginners. It is all you need to keep your family and friends entertained. If you are looking to add interest and excitement to your recreational room, get it.
It will help you say goodbye to waiting in line for the pool table at your local bar. What's more, you won't have to spend money on costly drinks as you wait to play.
Do you think Turned-Leg Pool Table will turn your home into an entertainment zone?