Designer Giuseppe Vigan created a modern masterpiece when designing the amazing Ellipses Bench. Moveable, versatile, functional and stylish, this is a must-have lounge piece for your outdoor living space. Manufactured by Pierantonio Bonacina, this furnishing breaths life, interest, and fluid beauty to your important outdoor living area.
The Ellipses Bench by Pierantonio Bonacina is composed of a series of modular sections. Through the design of different sections, the product can be arranged in a variety of seating arrangements or configurations.  Each section of the bench is constructed in either a concave, convex, or straight design; thus allowing for the seat to be configured or arranged in a wide array of setups. Such a puzzle-like quality gives users several options when designing the Ellipses around their outdoor space, making the piece quite versatile.
It is constructed of a sturdy metal frame and is available in a lacquered white, black or honey color.  Comfortable seat cushions as well as soft backrest cushions add to the design's overall appeal.  With so many options available for bench color and seating configurations, the Ellipses is the primary solution to furnishing your patio or outdoor space.
Image Copyrights care of Guiseppe Vigan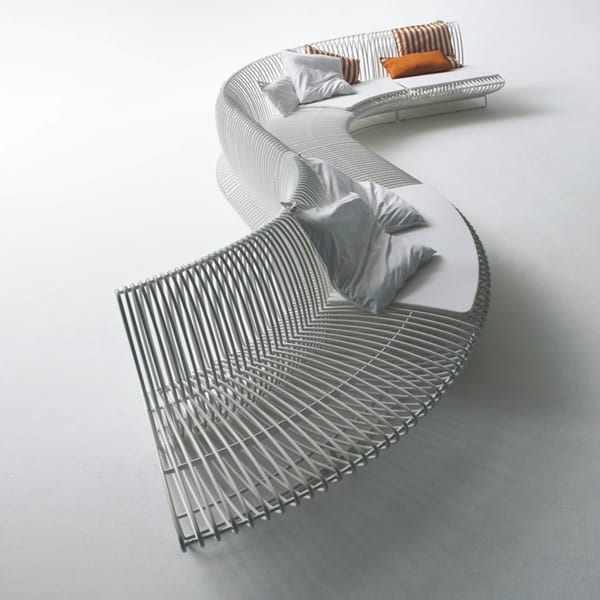 A modern masterpiece in outdoor lounge furniture, the Ellipses Bench is the conversation piece your patio needs.  Comfortable, flexible and beautiful, this seating option makes sense for any outdoor living space no matter the size or shape.
Don't you think your backyard or patio deserves the chance to shine with this beautiful piece?