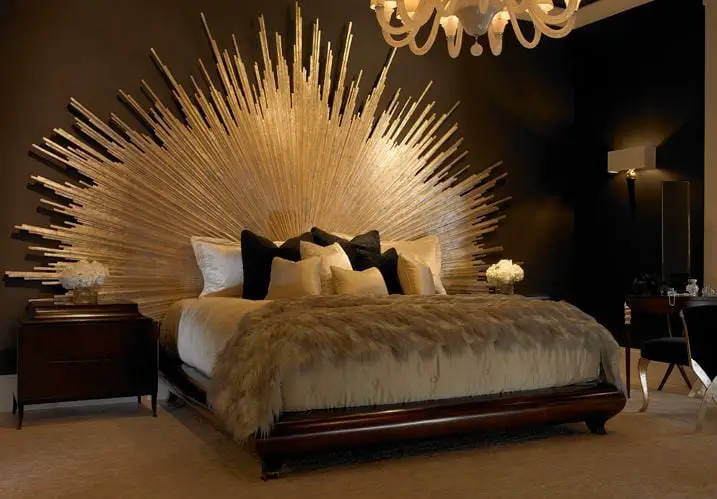 Cosmopolitan Headboard for a Perfect Haute Couture Bedroom
Create a haute couture interior and a world of romance with this elegantly-styled and luxurious unusual headboard from Christopher Guy.
No bedroom design can't possibly be complete without a beautiful luxury headboard. This has to be one of the most unusual headboards I have ever seen. There are thousands of styles one can possibly choose from, but none as eye catching and intriguing as the Cosmopolitan headboard and bed.
The Cosmopolitan bed represents an explosion of monumental proportions; its considered a truly spectacular achievement in carving and is sure to create a stir everywhere will be placed.
The fascinating piece of furniture that will bring fulfillment to any bedroom is the work of award-winning internationally renowned designer, Christopher Guy that is the the founder and CEO of the high end luxury furnishings brand with the same name.
Well-known for fusing classicism with modernism in his designs, his style can be described as "contemporary with classical values". Renowned for a wide range of decorative mirrors, the brand grew into a collection of upholstery, chairs, dining tables, sofas, headboards and office furniture.
Unlike many might be thinking, the bedroom is not just for sleeping, and its decor should only be a mattress and eventually a nightstand! The bedroom is probably the most important area of a home and should be a haven. The place where you can unwind at the end of a hectic day or find romance with the one you love! It should be decorated to relax you and give you the power to start fresh in the morning, therefor it needs a lot of attention.
If you're going for a haute couture bedroom design, the Cosmopolitan headboard from Christopher Guy headboards sets an immediate luxurious tone, and will become the centerpiece of this relaxation room. With its shell-like corner carvings, wood stain and reflective metallic detail this is a piece that includes all elements of great appreciable design.
The Cosmopolitan is a piece of furniture appealing to sophisticated and discerning audience across the globe, that offers a bold approach to bedtime and adds the ultimate in contemporary style to any bedroom.