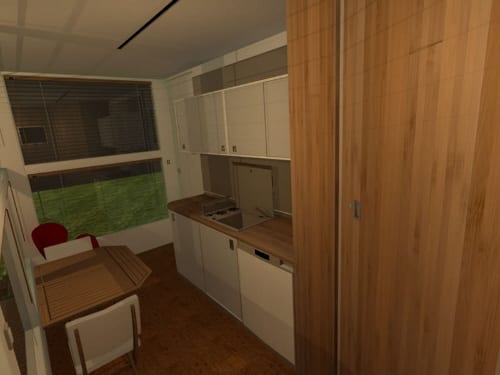 We received this submission from Andrew Scherr which includes concept drawings for a camper or travel trailer. The project is called "Eco Caravan". In Andrew's words, "the ECO Traveler concept is a shed office on wheels, specially designed to be towed by a car, van or pickup by means of a bumper or frame hitch. The ECO traveler provides all the comforts and necessities of a home while on the road." More and more people are looking at more mobile lifestyles. Coupled with the desire to live more eco-friendly, there likely is a future market for living spaces such as these. Via – Andrew Scherr.
Below is a rundown of the features:
-CHASSIS: Uses 30% to 100% recycled materials.
-EXT. WALL:Recyclable aluminum with natural insulation
-WINDOWS: tempered and tinted Low-E dual glazed glass
-ROOF: incorporates rain water collection.
-PASSIVE WATER HEATING: Evacuated Tube Solar Collectors
-NO WASTE DUMB: Collected in tanks hidden under trailer.
-ELECTRICITY: PV panels, stored away when driving.
-INTERIOR: compost toilet, foldout bed, sliding doors, fully-equipped kitchen, 12-48VDC/220VAC Circuits, satellite TV, LED flat-screen TV, LED illumination etc.