From luxury to function, we've got a list that will inspire every closet around. Instead of stacking your shoes in the corner and causing mass amount of chaos in your bedroom, why not install an organizer that will help to display and tidy up? Of course not all of us have the opportunity to have a space so large acting as our place to hang our clothes, but this roundup can surely inspire and give you some great ideas of what to do inside your own. Let's take a look at some amazing closet shoe organizers that will get your heels off the floor and management in your bedroom.
An entire wall full of shoes is every women's fantasy, isn't it? From top to bottom there's a spot for every heel, flat and boot. These kind of shelves are incredibly easy to install and easy to organize with. You can see every pair of shoes at a quick glance so you can grab and go in a jiffy. You just may need a ladder for those higher shelves you can't reach in a pinch.
Make your space look bigger, better and more organized with glass shelves. Not only does this light, lilac wall give off a beautiful accent to this walk-in closet, but the glass shelves don't shut off the room, but instead keeps it open and organized. Stack and line up your shoes so you can find them easy and utilize every inch!
A smaller organizer for a limited spaces or shoe collection, these bar shelves are perfect for heels and keeping the bottoms in tact. You can make this type of shelving system bigger or use a couple of them in different spots throughout your larger, walk-in closet. It's a more subtle way to organize without too much fuss.
For an extra bit of style and outside-the-box thinking, use recycled paint cans to spruce up your closet and keep your flip-flops together and ready to go throughout the summertime. It's so easy to lose the "other" sandal and with this easy installation you will not only keep your pairs in pairs  but you'll be adding eclectic inspiration to a spot that doesn't see the more unique layers of interior design.
You may even need to look for something a bit more masculine and chic. Traditional shelves atop some extra drawer space makes shoes for your men more organized and more easily found. The back-lighting on the shoes also give off a brightness to a darker closet, making it easier overall to get dressed in the mornings.
If you're lay out in longer than the actual opening, which personally is a problem for my own home, you must utilize every bit of space you can. Slanted shelves are perfect for shoes, as they're easier to see when you have to lean in and find exactly what you need with more ease. Keep the shelves the length of the rest of the closet or cut it off for more hanging space.
Here's another example of rod shelves that are great for keeping heels intact. But, we love how there's separate areas that can be used for different people or to separate casual and formal pairs. They're also easy to grab and go, as you won't need a ladder to reach the top!
A more traditional and budget-friendly approach, without having to renovate completely, is to find a collapsible organizational piece such at this. You can hang it behind the door or right inside your closet depending on the amount of space you have. And you'll truly be surprised how many shoes can actually fit inside!
Sometimes small spaces are the key. This design has two spots covered in small boxes and you can have a his and hers section to keep things even more organized and easier to get too and each pair will stay with it's partner without the frustration of finding the the missing one when you're in a hurry.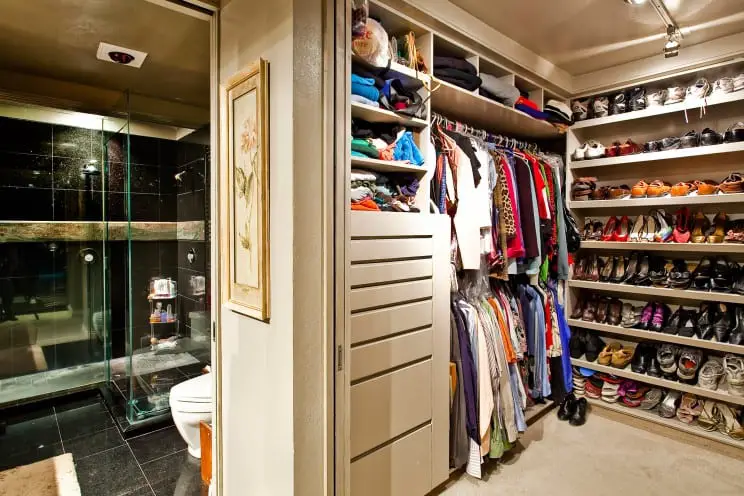 And finally, here is another example of simple slanted shelves in a large, but smaller than most of its predecessors. It's okay to take up an entire wall