If you're thinking about renovating your home or doing a bit of reorganizing, look no further for ideas and inspiration. Today, we've compiled a list of custom closet design ideas that will get your wheels turning and help you envision exactly what you may want or need in your own space. This is one area of home design that is often neglected where the end results of space alloted does not fit the needs of the owners. From traditional styles to nooks and crannies that you may have not thought to use before, let's have a peek at some creative pictures and ways to design and tidy up!
Here is a great example of a traditional style with a lot of space to work with and organize. The dark cabinet choice helps to blend and maintain that contemporary appeal. But this only works if have the space to make it work as these tones will just make a room look and feel smaller.
Spacious and luxurious, this smooth, chocolate layout has so much room to spread out and utilize. All of the open shelving helps to keep a more lively and roomy edge as well, which is helpful when using darker colors. Even though this closet is large, it still needs help maintaining a widespread look and feel.
Are you not loving this space? It's not necessarily what you think, but a corner turned into a "dressing" space. The window above helps create light and space, making the nook look larger. But all the cubbies, drawers and hanging rods are strategically designed and placed for the best efficiency possible.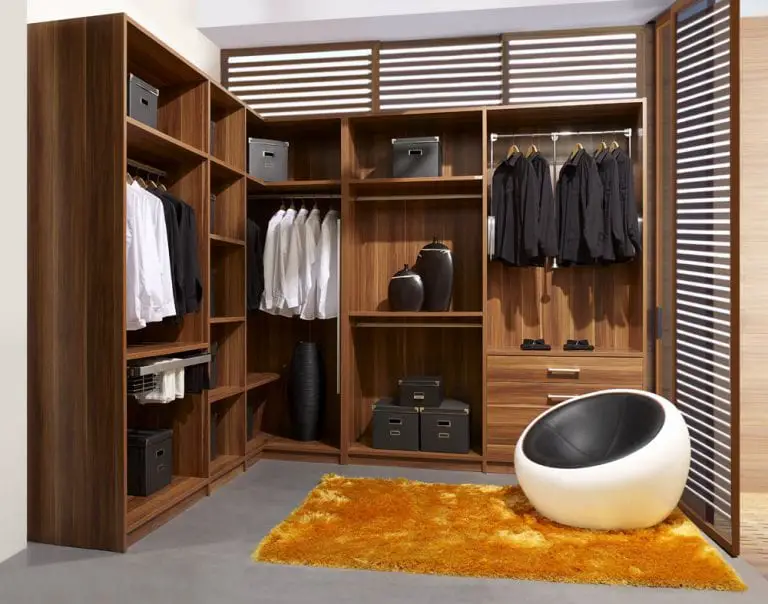 This is a great example of a system made for simplicity and solid organization. If you don't need an abundance of space or you aren't sharing with a significant other, this is a great way to utilize your area with ease and traditional vision. Although, this theme has a bit of an Asian- zen vibe that we're really loving.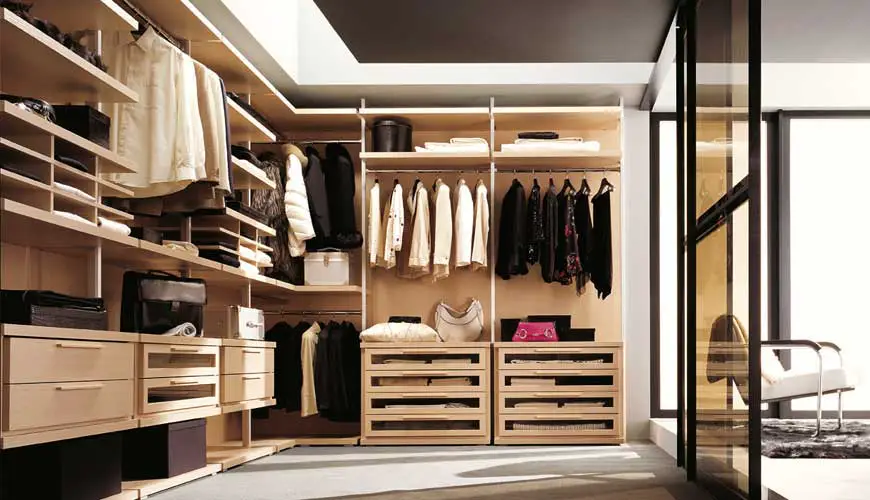 This light beige layout looks bigger and better with its tone choice and natural lighting nearby. There are so many great ways to utilize this space with its drawers, shelves and compartments. It's such a great space for organizing and finding what you need in a rush. But, overall, the actual design is quite beautiful.
Sometimes we're lucky enough to not have a tiny space to work with, but an entire room. From the shelves for shoes to the spiral coat rack in the corner, this walk-in custom project is one to swoon over. The white and silver combination keeps the space fresh and spacious in feel, and notice the drawers to the right with windows – making it even easier to find your favorite sweater in a pinch.
Here's another walk in design, but without so much excess space to play with. Instead, it has a bit of tunnel vision but with a lot of room to work with when it comes to figuring out how many hanging spots, drawers and cabinets are needed. The pouf in the center serves as an easy spot to take your heels on and off at and the cabinets in the back make for a great area for holding jewelry or other small accessories.
Slick and posh, here's a solution that screams bachelor pad and contemporary, modern-loving style. Black and charcoal layers round out this room as do the hidden drawers and shelves waiting to be organized and tucked away. Again, this is a room so it's a bit more luxurious than what the average-person is used to, but you can still grab some fashionable ideas from taking a peek!
Glass doors and fabric additions for a incredibly whimsical and romantic essence, this idea is more than just a space to organize your clothes but it's a stylish piece of the house all on its own. Although it's very contemporary and chic, this space has a lot of feminine and soft quality about it. We also love the open shelving throughout the entire design as it gives a more spacious appeal.
Although we can't see right inside of the doors, we had to show off this beautiful custom solution. With mirrors all around the room looks even bigger and more luxurious. The island in the center will help with accessorizing and keeping your undergarments handy and organized. And don't forget to notice the ladder in the corner, meant to get to the cabinet up top – great for holding seasonal or specialty items that you don't need all year long.
Here's a smaller nook that quite quaint and charming. First of all, we are loving the vanity section designed right into the system. And then there's the highlighting on some of your favorite heels – what woman wouldn't love to have that in their closet? Of course this is a smaller example, but not all of us need an entire room to hold our clothes and accessories.
Vibrant and traditional in color and style, this design would fit into so many different homes and people's lives. It's a good space for sharing and a great space for keeping your clothes tidy and find-able. There's space for suit separates, drawers for personals and some open shelving to hold purses and hats that you'll need to grab in a quick pinch.
Here's a beautiful, contemporary solution that is perfect for sharing and filling up with lots of great items. Two islands make it easier for those that need room for two people. It's a great place to hold your jewelry and undergarments without taking up space in the bedroom. But notice all the drawers, shelving and hanging areas that provide so much clothing storage. We love the utilization of every nook and cranny of the room!
Have we mentioned before how much we love natural lighting? It can turn a room into something so much more special just by the sun coming up. Without this window, this closet would be a lot darker and look and feel a lot smaller. But with it (and notice the fabric curtain to give privacy in a romantic and feminine way) you get a more vibrant and lively room.
What we love best about this idea and what we'd like to point out first are the extra lights in the shelves and hanging areas. This is most needed because the closet is quite dark, and without them you'll have a harder time finding particular items (especially when you're trying to distinguish from navy and black!).