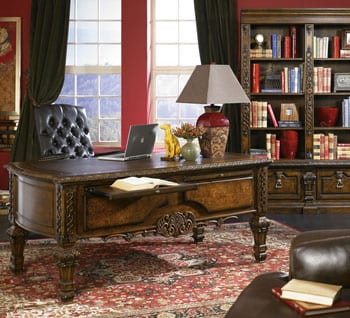 Casa Mollino Executive Desk
Here is a great looking desk perfect for a more formal office setting. The Casa Mollino desk from Ashley furniture captures the classic look of desks of old.
Smaller by design, with an open area where the legs would be, this desk will complement any traditional decorated home. Now that computers are much smaller, and many owners having laptops, the surface area of the desk should not be an issue for having ample work space.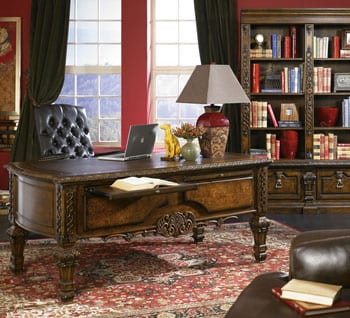 The Cavour Desk by Carlo Mollino 1949
Mid Century Modern is still one of my favorite furniture design eras for many reasons and the Cavour Desk by Carlo Mollino is a fine example of what the movement was all about. This curvaceous design sure looks ahead of its time considering its 1949 release.
Mollino's philosophy "everything is permissible as long as it is fantastic" is reflected in his body of work which included architecture and furniture design. The Cavour Desk features .86″ thick, plate glass top which sits atop a graceful and sculptural oak wood frame and drawer compartment.
97.2″ w 29.5″ h 35.4″ d $12,071.00