Wall Items: a simple name that embodies a simple concept.  Shelving units that are clean, geometric, and straightforward in shape and color are easy to include in any room in a home or office.  Practical in storage space, artistic in open display, whimsical in shape; there is just no drawback to the freedom and function of designer Rodolfo Dordoni's Wall Item creation.  Poliform produces several wall system elements in a range of height, width, and configuration.  That is exactly what Wall Items is intended to be: simple, easy, and flexible.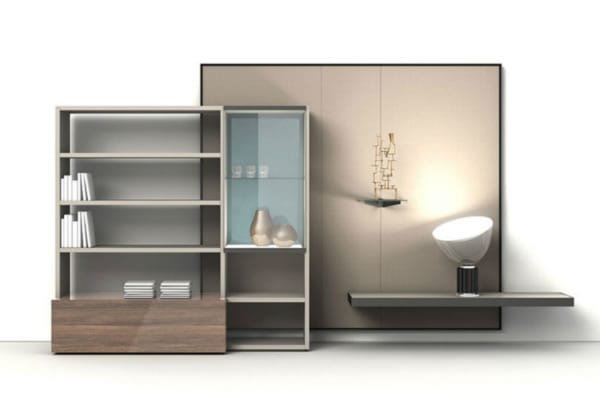 The only parts that are not so obvious are the options.  There is no single, right way to create your wall system.  You get to capture your personal style and your storage needs any way you want as you transform an empty wall into a piece of modern installation art.  There's no more creative way to put your own signature design stamp on your home than by building a unique wall space in the bedroom, living room, dining room, and beyond.  Beautiful glassware or office books are all at home on the Wall Items by Poliform.
Will you create a unit with the perfect places for extra pillows and blankets in a guest room, or a wall of your favorite collectibles in the living room?  Working from a simple concept and basic pieces, the creativity and function of the final result is all yours.  That's just how Wall Items was designed.  How will you bring this innovative storage into your interiors?