Olympia Ceramica's Practical Bathroom Collection: Aesthetically Pleasing and Functional
Olympia Ceramica launches another original and practical bathroom collection: Beauty collection offers enough space to have an efficient bath. Beauty is the perfect blend of functionality and beauty conceived on the needs of well-being.
Better designed to exploit every corner of an ambitious bathroom setting and give it an elegant, modern and contemporary look. A complete bathroom, distinguished by soft sinuous shapes, designed to offer surprising versatility.
Thanks to its large mirror surface and its wooden components, ideal to contain many accessories, it combines in one object all the advantages of Italian creativity, but also the practicality of a piece that doesn't need to be large and bulky in order to be functional. The practical bathroom collection is the ideal solution to take full advantage of the bathroom environment and give it a contemporary and above all, an elegant look.
Designed by Gianluca Paludi for the italian furniture and ceramics manufacturer, Olympia Ceramica, Beauty is a bathroom furniture collection that includes a mirror, a sink and a storage unit on wheels.
All designed to offer functionality and versatility and available in two color options: wenge and honey. Perfect blend of functionality and beauty at the service of wellness, it represents a small and special oasis of relaxation for all senses.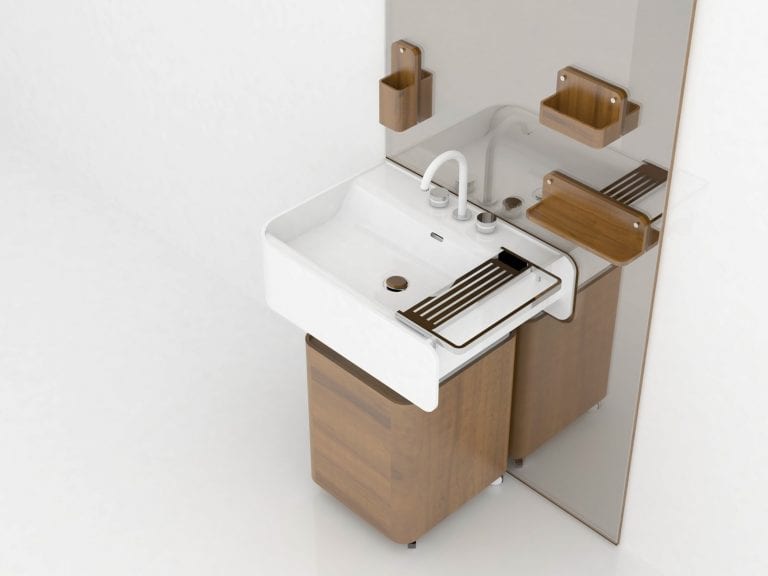 Olympia Ceramica started producing sanitary wares back in 1979 and nowadays it can, better then many, exploit every corner of the bathroom. It makes ambitious furnishings and gives them a sleek, modern and contemporary appeal.
The unique productive space of Olympia Ceramica srl covers an overall surface of 40.000 sqm, located in Civita Castellana ceramic district in the northen area of Rome. Other then the technology used in the manufacturing processes, all the Olympia Ceramica staff have an excellent level of specialization and that made the company a great promoter of the "Made in Italy" products around the world.