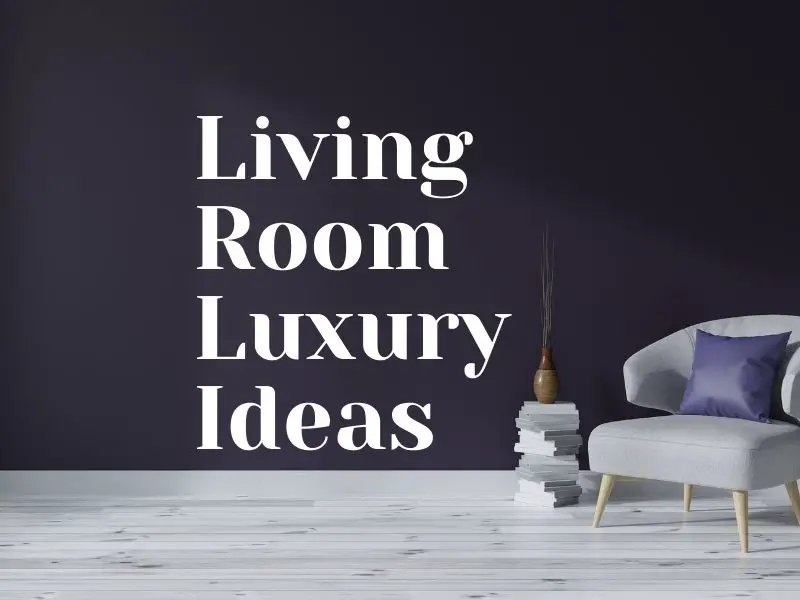 Luxury Living Room Furniture
The living room is, more often than not, the heart of the home when it comes to comfort and relaxing. However, living rooms are one of the most neglected areas of the home and often go years without being updated or freshened up.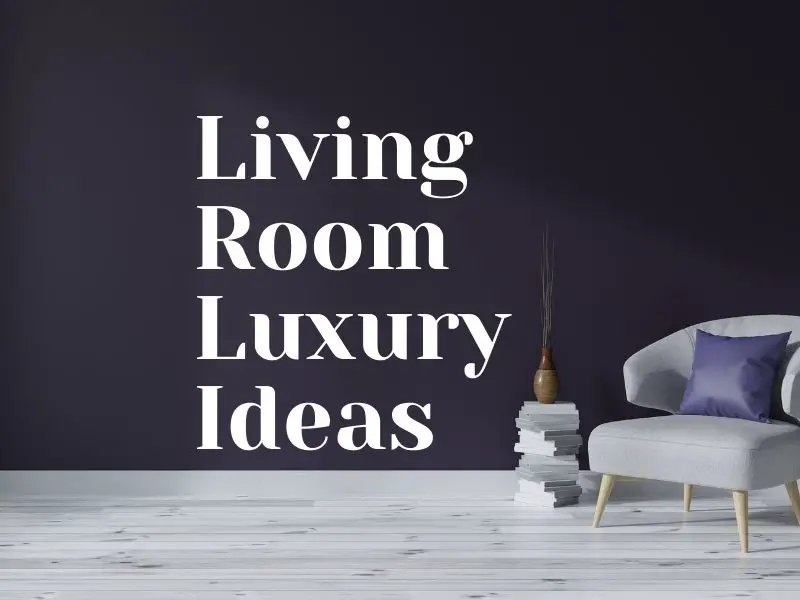 Many people struggle with inspiration, whilst others might dismiss the idea of creating a nice living room because of pets, small children or budgets. This doesn't need to be the case as there are endless possibilities when it comes to creating a living room design which suits the functionality of your home and your personality.
Living room luxury is something which is becoming increasingly more popular, especially over the past few years. Luxury home design, like most decor styles, is open to interpretation and, what one person may consider being the height of style and luxury, another person may not. Bear in mind that luxury can mean whatever you want it to – everyone has different ideas!
Perhaps you might picture living room luxury to be traditional, with chandeliers, chaise lounges, heavy fabric curtains and a deep, rich colour scheme, or perhaps it could be a take on modern luxury with crushed velvet sofas, accent prints and swathes of glass and mirror.
Whatever your ideal living room luxury might be, there are plenty of ideas to suit all living room sizes and personal style. If you're looking for some inspiration for living room luxury, then here is a guide to decor, style and furniture.
In a Hurry?
A Quick View of "THE" Most Popular Living Room Furniture Ideas
Image
Title
Price
Prime
Buy
Coasters for Drinks, Absorbent Drink Coaster (6-Piece Set), Housewarming Hostess Gifts for New Home, Man Cave House Warming Presents Decor, Wedding Registry, Living Room Decorations, Ideas

Prime

Eligible

Check Me Out On Amazon

Top

Lifeholder Touch Lamp with 2 Phone Stands,Dimmable USB Lamp Include 2 Warm Edison Bulbs, Grey Table Lamp Built in 2 USB Ports & 2 AC Outlet, Bedside Lamps Idea for Bedroom or Living Room(Set of 2)

Prime

Eligible

Check Me Out On Amazon
NICETOWN Sound Barrier Room Divider Curtain Screen Partitions, Wide Width Grommet Top Room Dividers Ideas for Office, Loft, Dorm, Hotel, Living Room (Biscotti Beige, 1 Pack, 8ft Tall x 15ft Wide)

Prime

Eligible

Check Me Out On Amazon
Besuerte Rustic Wooden Wall Hanging Decor with LED String Lights for Modern Living Room and Bedroom, Inspirational Country Style Vintage Wall Decoration Art, 6 Hour Timer Set of 2 Grey

Prime

Eligible

Check Me Out On Amazon
Galaxy Projector, Star Projector 3 in 1 Night Light Projector w/LED Nebula Cloud with Bluetooth Music Speaker for Baby Kids Bedroom/Game Rooms/Home Theatre/Night Light Ambiance

Prime

Eligible

Check Me Out On Amazon
Indoor 3-Tier Relaxation Tabletop Fountain, Automatic Pump with Power Switch, Extra Deep Basin with Natural River Rocks and Reflective Lighting Feature, EnviraScape Silver Springs by HoMedics

Prime

Eligible

Check Me Out On Amazon
YAHEETECH Rustic Lift Top Coffee Table w/Hidden Compartment & Storage Space - Lift Tabletop for Living Room Furniture, Rustic Brown

Prime

Check Me Out On Amazon
Greenco 5 Tier Wall Mount Corner Shelves Espresso Finish , 7.75" L x 7.75" W x 48.5" H.

Prime

Eligible

Check Me Out On Amazon
Lamorgift Home Decor Candle Holders Set for Bathroom Decorations - Candle Holder Centerpieces for Dining Room Table & Living Room Decor & Coffee Table Decor(Large Tray with 4 Candle Holders)

Prime

Eligible

Check Me Out On Amazon
Brightech Maxwell - LED Shelf Floor Lamp - Modern Standing Light for Living Rooms and Bedrooms - Asian Wooden Frame with Open Box Display Shelves - Havana Brown

Prime

Eligible

Check Me Out On Amazon
Product prices and availability are accurate as of the date/time indicated and are subject to change. Any price and availability information displayed on [relevant Amazon Site(s), as applicable] at the time of purchase will apply to the purchase of this product.
Prices pulled from the Amazon Product Advertising API on:
Fabulous Textiles and Fabrics
With living room luxury, there is something comforting about using different fabrics, textiles and textures in one room. In most luxuriously decorated rooms, fabrics play a huge role in the style and decor and are frequently used to pull all the different elements of the room together, so this should be the case when it comes to the design of your luxury living room.
Soft velvet, bright patterns and quilted fabric are examples of how different fabrics and textures can work in correspondence together to add splashes of luxury around the room. If you want to use fabrics to their maximum potential, then consider using the walls of your living room as a blank canvas with light colours, so that the different textures, colours and fabrics can become the feature of the room. Bright mustards, dark green, deep blues and blush pinks work particularly well with lighter wall colours in living rooms and are hugely popular in luxury home decor and style.
Stunning Wall Clock
Small, Simple Spaces
Both small and large spaces have their positives and negatives, but small living rooms often get a bad rep. When it comes to living room luxury, it is far easier to create a cost and welcoming space in a smaller living room than in a bigger one.
A larger room may need breaking up into sections in order to make the most of the space and will require more investment to fill the room. When it comes to small living room design, it is important to fully understand the space and proportions of the room and what this will mean for your luxury home decor and furniture choices.
For example, a lot of luxury and high end furniture is quite large and you may need to take this into consideration. Selecting furniture which is the right size for the room is one of the best ways you can enhance a small room, especially living rooms, as it will make the functionality flow a lot smoother.
If you are looking to add living room luxury in a small room, then there are some other interior design ideas that you can use to make the most of your space. You can use colour to make a room seem larger than it is and, if the room gets a lot of natural light, then you will be able to make the most of this.
Bright, light colours will reflect the light and make a small room feel much bigger, whilst darker colours will make the room feel much cosier. Surface texture is also a great way to add a feeling of space in the room, with lighter woods and metals emulating spaciousness.
Luxury and High End Furniture Choices
An easy way to introduce living room luxury into your room is by adding statement and luxury furniture pieces. If you've not got the budget or scope to redecorate, this can be a great way to refresh your room, plus you're investing in pieces of furniture which will last a long while.
Knowing which furniture pieces to add to your living room can be a little overwhelming, as there are so many luxury pieces available now at a much better price point compared to just a few years ago.
You want to ensure that the pieces you choose are practical and functional for your home – there's no point investing in a luxury sofa, for example, if you have pets and young children, in the same way that there is little point buying larger items for a small apartment.
Look at your living room and see where the focal points are (they'll naturally stand out). This is where you should consider putting statement or luxury high end furniture pieces, but be sure to choose items which suit the space and the natural flow of the room.
You wouldn't put an armchair in a corner away from the sofa, so be sure that the pieces you do choose match the room. A luxury coffee table would work well in a family-focused living room as it is not only practical, but looks good too, whilst a rug is perfect for larger, open-space rooms where you want to pull everything together.
Of course, a sofa or armchair are the most popular choices when it comes to investment luxury and high end furniture pieces, so if this is what you choose, you want to make sure it is the right size and style for living room luxury. Choosing a neutral colour means that you can add throws or cushions to add pops of colour or texture into the room.
Let The Light In
Your lighting choices are hugely important when it comes to living room luxury, as the overall effect can be changed even just by your choice of light bulb. If you're looking for a simple but effective way to add luxury into your living room, then your lighting choices are the perfect way to mix things up.
If you've got a woodburning stove or fireplace, then make the most of this stunning focal point with simple, yet stylish light choices. For some drama, adding chandeliers will instantly create a welcoming, stylish and elegant luxury living room space, especially if you have a long sofa or iconic Chesterfield armchairs.
When changing your light features, you need to be aware of the fine line between luxury and gaudy. Choosing too much glitz and glamour can make the room look less comfortable and welcoming.
If you don't fancy changing all of your light fixtures and fittings, why not choose some softer light bulbs instead? These will create a soft and welcoming glow when your lights are on, without being too bright and overbearing.
Modern Luxury Twists
Luxury is often a term granted to more traditional looks and materials and over the years has become more known with older styles of decorating. This doesn't need to be the case, as luxury can now be applied to almost all types of decor in the home, even in the most modern spaces and style.
Open plan living rooms work particularly well with the luxury home decor trend, especially coupled with stylish leather seating, wooden furniture and nice flooring, as the free-flow of the room makes it easier to apply luxury in smaller amounts, whilst still looking great when viewed altogether.
Contemporary luxury and high end furniture is something which is becoming increasingly more popular, especially in more modern homes. Extravagant armchairs, stunningly plush rugs and extra large sofas are just some examples of the statement pieces available now and work in a large number of homes, from smaller apartments to large detached homes.
Choosing these pieces, especially if you are looking to create a look of modern living room luxury, is easier if you have a neutral colour palette in your living room, as these will instantly become the focal point of your room once added.
With modern luxury, neutral colours are more popular – think whites, light greys and beiges – as they make the room appear lighter and more bright. If eclectic colour schemes and funky fabrics aren't for you, then the modern luxury look may be more your style. Understated modern luxury is a fast-growing trend and follows a "less is more" approach, which helps to create a luxury living room which appears more high-end.
Suede sofas, darker tones and colours, statement shelving units and coffee tables are all popular decor choices as they don't draw too much attention to themselves and give a sophisticated sense of luxury, which works well in modern homes and with modern appliances, such as TVs, Smart devices and home assistants.