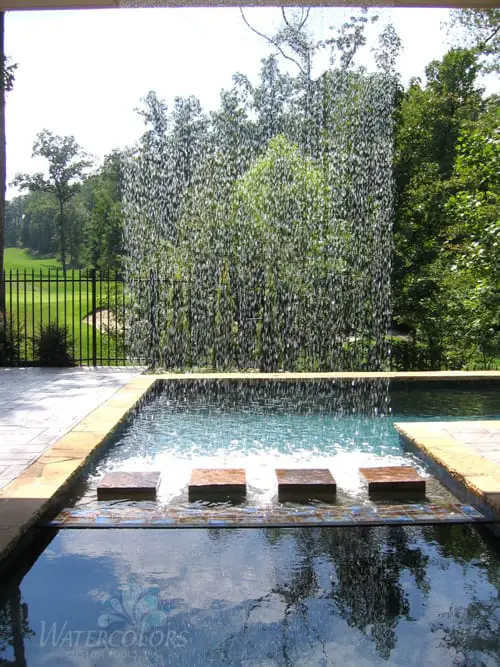 Choosing a Water Fall Feature For Your Garden Project
Although the weather outside is frightful (or frightfully chilly, at least), the timing is perfect to start planning a spectacular landscaping project to be completed just in time for spring. 
Outdoor Water Features are one of the most notable ways to leave an impression on guests and passers-by; the craftsmanship required to complete one is astounding when you consider the blend of science and artistry that's poured into such a project.  
From minimal modern water features to grand, nature-inspired installations that could make Fallingwaters' architect Frank Lloyd Wright smile, today's roundup of dramatic landscaping feats is visually arresting and soothing at the same time.
Water Jar Fountain
Here is a great looking fountain that incorporates lighting for the perfect ambiance at night. I really like the rustic brown stone look that gives this one a natural look and feel.
Unplug from the day and meditate to the sound of flowing water with the Alpine Corporation Jar Fountain.
The sleek, stylish design adds a Zen look, while the relaxing, gentle water falling helps to bring in a natural calming element.
This indoor/outdoor fountain looks great in your garden, patio, deck, porch, or home decor space.
✖

September 15, 2023 16:40
Outdoor Water Fountain with Lighting
Horizontal leveling of the fountain can aid the proper flow of water over each feature.
The submersible pump is constructed to screen out debris from the water and should be checked and cleaned periodically to maintain premium performance.
Maintain water level to ensure pumps remains fully submersed at all times.
Use the pump regulator to adjust flow to your liking.
For longevity, drain, cover/store fountain during wintertime (below freezing).
Waterfall Outdoor Fountain
✖

September 15, 2023 16:40
Here is an outdoor water feature that looks great nommatter where you place it in your garden. Complete with a bronze mirror back to add to the looks.
I guess the main point is to create the flowing sound of water while adding aesthetic beauty at the same time. If you can make it into something interactive as this slide does then all is well and I am sire your kids will love it too.
Bring the beauty of nature into your home with the Alpine Corporation Bronze Mirror Waterfall Fountain.
Modern interpretations of nature's wonders give your home a clean, contemporary look while creating a relaxing ambiance.
The combination of on-trend design mixed with natural stone elements gives a sleek look to your indoor or outdoor decor.
Watch as water falls from the top of the mirror to the bottom basin, bringing the beauty of the outdoors to your space.
Included river rocks can be arranged in the top of the basin, enhancing the rustic character of the fountain.
Lighted Waterfall Pool Fountain
APONUO Lighted Pool Fountain is excellent choice for for designing additional waterfalls and streams into existing ponds. Enjoy the soothing sounds of water in any setting!
The transparent and durable acrylic construction design finish allows the feature to blend into a wide variety of settings, ease of use in indoor/outdoor without worry about rust stains on the surface.
✖

September 12, 2023 22:03
Conclusion
A waterfall garden fountain is not what we all want. However just the relaxing feel from the sound of running water is what most people like the most. Plus a fountain in your garden always looks really stunning.