Unusual Mugs
A world without coffee would be a sad, sad place (not to mention angry), and sometimes I shudder when I think of a coffeeless existence. We have already picked our favorite coffee machines and hence now decided to list some of the most innovative creative coffee mugs out there.
Cool Coffee Mugs
1. Sloth Coffee Mug
We all love the sloth. It gives you something to laugh about, and everyone knows someone who is exactly that type of person. The sloth coffee mug is the perfect gift for your mate who reminds you of the sloth.
Cool As A Cucumber
The sloth coffee mug is as cool as it gets. Chill out with a coffee in your hand.
---
2. Elephant Tea Mug Green
Start your day with a fun cup of tea or coffee! This ceramic elephant tea mug in green is a symbol of luck, strength, and wisdom. It comes with its own spot for your teabag and several different colors. A great way to start the day with a bit of fun in life.
15oz Elephant Tea Mug in Green
Holds 15 ounces

Convenient space for tea bag

Ceramic mug with high heat resistance

Large handle for easy grip comfort

Only hand wash please
---
3. The Floating Mug
An unusual coffee mug that floats in the air, or so it seems. Looks good as a one-off mug. I would be aware of the handle and hope it is more than just ceramic, as it would be very easy to break otherwise.
---
4. The Moody Mug
A mug that reflects how you feel during the day. Choose between a happy mug, a moody mug, and a tired or dull mug. They are great for expressing how you feel to your work colleagues or friends.
---
5. Camera Lens Coffee Mug
A camera lens stainless steel vacuum thermos cup, a good companion on business trips. Imagine how cool it can be if you have a camera cup for coffee. No matter what kind of event you will participate in, this frozen travel mug will be a great conversation starter and protect you from No words of embarrassing movement. Camera gifts ideas for photography, a friend, or your lover and acts as a pen holder for your desk supplies or loose change and vase.
Camera Lens Cup is not only one of the most popular gifts for photographers but also Your kids will love running around like a professional looking photographer when they get it
Fun Stainless Steel Lens Mug Thermos
Upgraded waterproof lid design

Each mug comes with a spoon and a choice of 3 colors

Stainless steel camera lens coffee mug with improved seal lid

Lid is non-spill and closes your cup like a thermos and replica travel mug looks exactly like the camera lens

Lifetime durability this lens coffee cup with food grade stainless steel body, healthier than plastic cup

The insulated tumbler never sweat due to the Vacuum insulated design
6. The Innovative Mug
A space within the coffee mug to hold a couple of biscuits. What more do you want?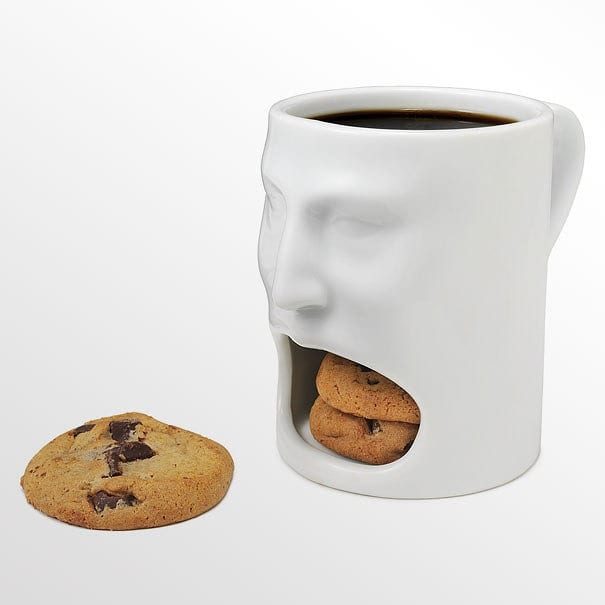 ---
7. Build-on Brick Coffee Mug
Build-on Brick Coffee Mug
You can build blocks on its sides to make your own unique coffee mug

Brings you lots of fun and also a useful actual mug

It is made of BPA free food grade plastic

It can hold hot water/coffee up to 100 degree Celsius

Hand-washing only

Safe to use for juice, tea, coffee and carbonated drinks
---
8. The Grass Coffee Mug
---
9. Creative Coffee Mugs
They do not get more creative in coffee mugs than a coffee mug full of coffee beans. How about this coffee mug for something completely different and unique? And it looks good.
---
10. Tabasco Coffee Mug
---
11. Sinking Coffee Mug
Freak out your friends and make them think your coffee cup is sinking into the table with this off-kilter ceramic mug from Japan.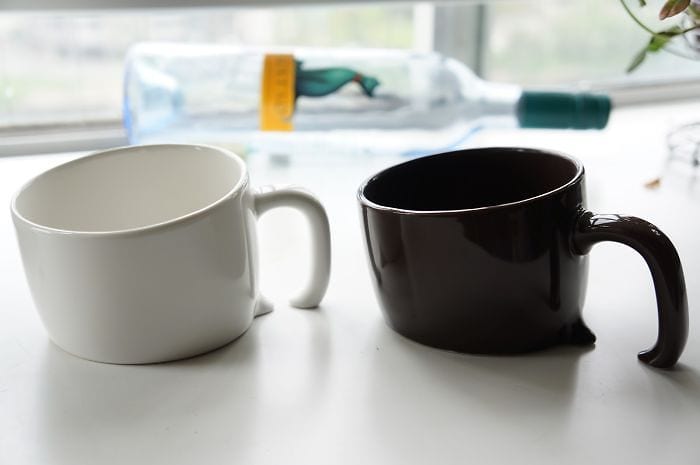 ---
12. Pirelli Coffee Mug
Quite unusual is the Pirelli coffee mug. It looks like a wheel from the side but is your everyday companion for a cup of coffee. Get 4 of them together for a set of coffee mug wheels.
Related Articles: