This whimsical kids' bedroom collection from Arca is a hit with kids and will even make parents smile at its quirky charm.  The Blue Jeans bedroom collection is hand made by the craftsmen at Arca using cherry wood with a natural, clear finish to keep the style cheerful and show off the innate beauty of the wood grain.  The kids, however, will probably be less interested in the quality construction, which will stand the test of time, than the fun shapes and interactive design.
The theme of the collection is evident in the bed, which is shaped like a car with a beautifully curved hood.  The Blue Jeans bedroom collection by Arca has running board provides a safe step up for smaller children.  With the car bed, kids will drive off into dreamland at night and have a place to play during the day.  To complement the theme, the four-drawer dresser functions as a "gas pump" as well as a foldout desk.  For more storage, a large cherry wardrobe with two hinged doors has space for future driver's clothes and toys.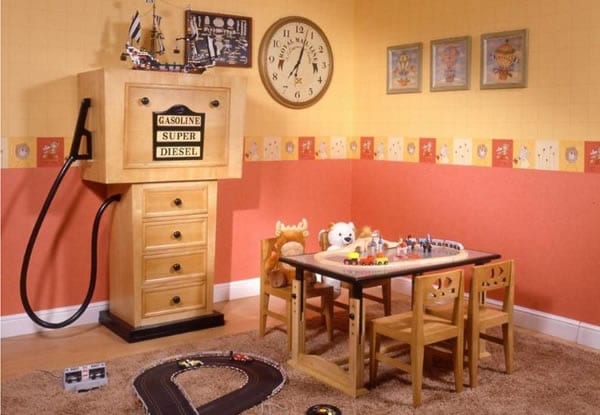 The table — which adjusts in height to grow with your kids — and carved chairs provide space for being creative or doing homework.  The Blue Jeans collection is fun, cheerful, and backed by the durable craftsmanship of Arca products.  That's a good thing, because your kids will want to spend all their time playing in and around this bedroom.  Which piece will your child love the most?