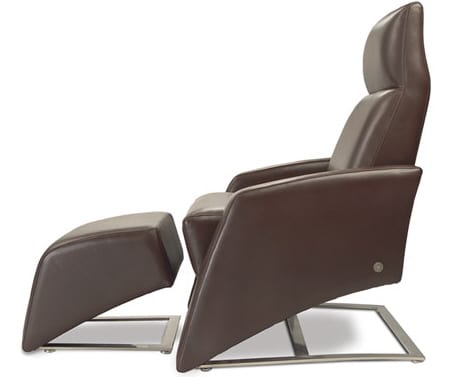 Four Modern Recliners by American Leather
When I think of American leather furniture it conjures up images of traditional sofa and recliner frames with a very mainstream look. Well, American Leather, the high-end manufacturer made right here in the good ole USA has their traditional offerings, but they are well versed in a modern and contemporary line of goods with an almost Italian look.
Here are four leather recliners that caught my eye and sense of style, and I know how hard it is to find quality leather that looks and feels good. First, the Clever has an angular look with a separate waterfall ottoman and a unidirectional suspension system on a proprietary flex chrome base that offers a spring-like effect, as if you were floating on air.
Next, the Odyssey and Melena recliners by veteran designer Rick Lee offer a pop-up footrest on an upholstered swivel base, and two variations of a loop style arm, one in all top grain leather and one with wood cap available in espresso or natural wood. The Fourth American-Leather recliner is the Antigo which rests on a ski-type foot to help facilitate the movement of the glider mechanism. The Antigo also has a pop-up footrest with a really clean contemporary look, definitely not your grandmother's glider/recliner.