Fun Wall Shelving Ideas
Looking through a wall shelving gallery is a great way to get creative and fun ideas about organizing your own space. Many times we lack the vision to see how a whole collection could be put together and struggle beyond seeing just one or two examples.
Today we may solve that problem with the examples being shared today. Our editors were inspired by what they found and hope that the same feeling can be transferred to readers.
[amalinkspro type="showcase" asin="" apilink="https://www.amazon.com/dp/B07SB3Y7SF?tag=furnitur11-20&linkCode=osi&th=1&psc=1″ new-window="true" addtocart="false" nofollow="true" sc-id="4″ img-sizes="500:500″ imgs="https://m.media-amazon.com/images/I/415fGa1P0bS._SL500_.jpg" link-imgs="false" specs="Modern design is compatible seamlessly with any décor of your room, frees up valuable floor space~~~1 open compartments for daily stuff and 2 side compartments with hinged doors for valuable ones ~~~This wall mounted shelf is ideal for bedrooms,
living rooms
, parlors or kitchens as a av shelf or desk hutch~~~Cable holes designed for hiding messy cables. Keep your stuff neatly organized" btn-color="#ff9900″ btn-text="Check Latest Price" alignment="aligncenter" hide-prime="0″ hide-image="0″ hide-price="1″ hide-button="0″ width="750″ banner="Floating Book Shelf"]Floating Book Shelf and
TV Stand
[/amalinkspro]
Just to recap the basics, most living spaces can use improved organization so that possessions are not on the floor, piled up in a corner or stuffed in a closet. Walls are often forgotten about how they can display and organize in one neat package.
I also, like that floors can be easily vacuumed or mopped rather than having to move things around once this design transition is made. Let's take a look at some of these ideas.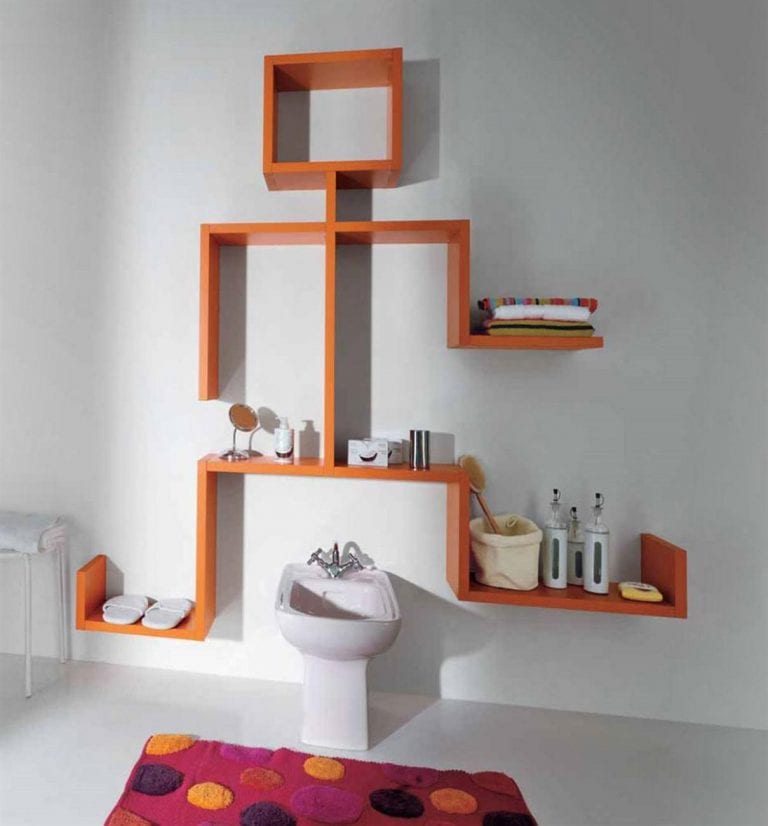 The above example is wonderful using traditional colors and shapes it achieves a nice balance that does not look to crowed. Notice that many of the items stored are not too large. Having bigger things can make this type of view hard to achieve.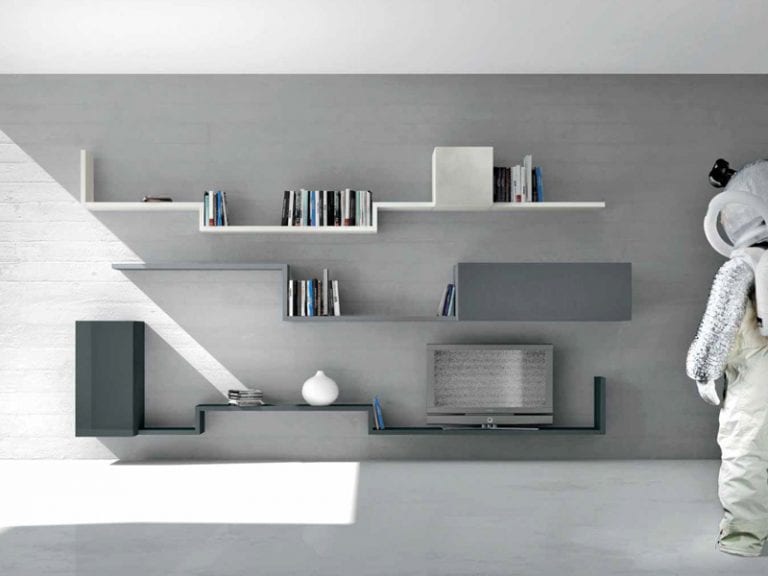 How simple are these white wooden examples? I wanted to show these as an inexpensive option that could easily be completed as a DIY project.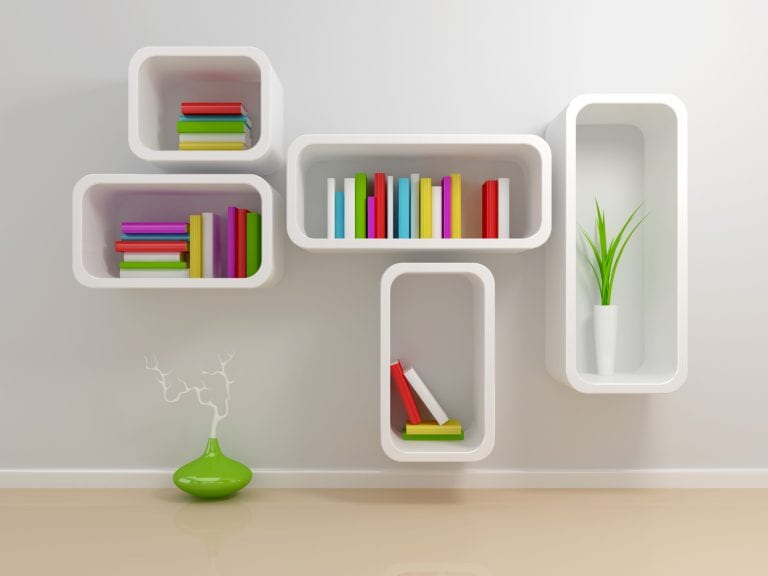 The intertwined rectangles look lovely here. I am also fond of the paint color and things it creates a nice backdrop to the dark wood. Looking closely, you can also see that color ties nicely to the furniture shown at the bottom of the picture.
Nature has such a great influence on interior design and this tree branch really highlights that. This is so subtle, but really adds a nice artistic touch to the scene.
For me the rounded edges really set off this contemporary design in white. All of the pieces are long and narrow save for one. The colored books are so great here and you can see how they really make the room more colorful.
A simple set of stairs like above creates a great place to organize. This example has some larger and smaller spaces offering a wider array of possessions that can be stored inside.
The way the squares are fitted together gives more of a comical appearance as they don't fit snugly next to one another. That one quirky move changes the entire feel of the living room.
How fun is this idea! One section contains the "has been read" books while the other has the ones yet to be read.
Even simple plastic can be used like you see above. This is another cost effective option.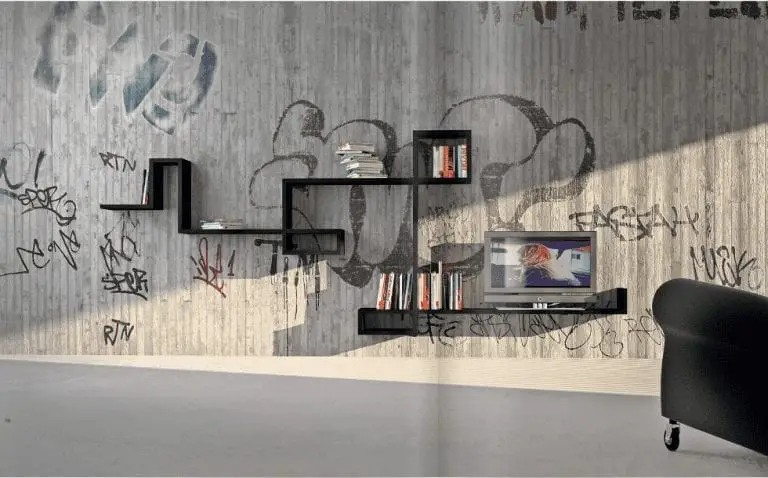 This list would not be complete without one examples showing suspended models. This may be an option if it's difficult to find a board to anchor to as you can build downward from the one good anchor point.