Unusual Coffee Tables Worth Buying
We all love something that is unique and unusual, and something that very few people actually can own. Not the usual Ikea coffee table but something a little different. Look at a few designs here that would be well worth snapping up if you can find them for sale.
Most of them will now be over 10 years old, so finding one in original condition could be a very good buy for the future.
Choosing a Coffee Table For Life
A coffee table is something we use everyday when watching TV with a cup of tea or coffee in hand. However most of us normal people just see a coffee table as another piece of furniture in the house. What if you decided to spend a little more cash on your furniture and buy things that are actually worth more at a later date.
Here we have a number of coffee tables to view. Some are just normal and will not increase in price, and others will be a one off, or something that is worth keeping and selling as antique at a later date.
Figured Maple Epoxy River Coffee Table with Waterfall Leg
Dont even bother looking at the price of this coffee table if you are not loaded. This is a coffee table like no other. Designed from a single piece of Maple wood. beautiful and unique. You will not find another like it.
Hand crafted using a solid maple live edge slab, this table will be prepped and cut out by hand, filled in with transparent epoxy, and sanded & finished with care.
[amalinkspro type="showcase" asin="" apilink="https://www.amazon.com/dp/B08X8WXZNQ?tag=furnitur11-20&linkCode=osi&th=1&psc=1″ new-window="true" addtocart="false" nofollow="true" sc-id="4″ img-sizes="465:500″ imgs="https://m.media-amazon.com/images/I/511o9FDm+PL._SL500_.jpg" link-imgs="false" specs="Transparent epoxy river~~~Maple live edge wood~~~Handcrafter solid maple wood~~~waterfall leg design" btn-color="#ff9900″ btn-text="Check Latest Price" alignment="aligncenter" hide-prime="0″ hide-image="0″ hide-price="1″ hide-button="0″ width="750″ banner=""]Figured Maple Epoxy River Coffee Table with Waterfall Leg[/amalinkspro]
Lift-Top Coffee Table
[amalinkspro type="showcase" asin="B01DYR1KHW" associate-id="furnitur11-20″ new-window="true" addtocart="false" nofollow="true" sc-id="4″ imgs="LargeImage" link-imgs="false" specs="Top lifts up and forward to create versatile work surface~~~Hidden storage compartment and shelf~~~Open shelves for storage and display~~~Finished on all sides for versatile placement~~~Craftsman Oak Finish~~~Engineered wood Construction~~~Assembled dimensions: L: 43. 15 x W: 19. 45 x H: 19. 02~~~5 year limited~~~Assembly required" btn-color="#ff9900″ btn-text="View on Amazon" alignment="aligncenter" hide-prime="0″ hide-image="0″ hide-reviews="0″ hide-price="0″ hide-button="0″ width="750″ apilink="" link_id="10159″]Lift-Top Coffee Table Craftsman Oak finish[/amalinkspro]
The Hardwood Cerne Coffee Table From Ginger & Jagger
Stunning, the Cerne coffee table from Ginger and Jagger works as a pair or as a standalone table. They design the pieces in such a way that they are also outstanding enough to be used separately.
Cerne comes from the heart of a tree, with rings showing evolution and the passing of seasons. The Cerne coffee tables are minimalism and elegance in the pure state. They combine the elegant and playful design with the robustness of the solid hardwood which will make them fit in any home interior or public space.
Each top has a unique form and character resulted from different trees and enhanced through wood and the shine of metal.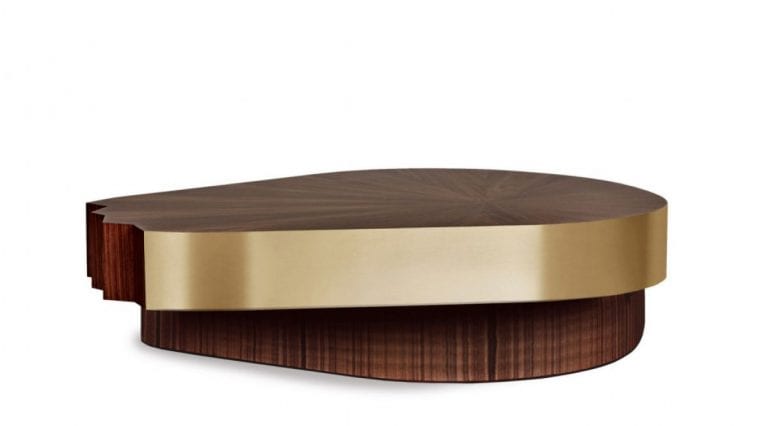 The wood veneer surface has radiating grain with a delicate metal border. With a warm wood surface, available in Bird Eye, Artic Bird Eye, Walnut, Miosotis, Night Jungle or Ebony and and its outstanding design, the Cerne collection is truly inspired from nature. The metallic lines combined with natural shapes give a light, open and uncluttered feel to any room.
The design showcases the beautiful rings and the layers of each wood slice. The solid top sits on a sleek and discreet stand and the edge of each top is highlighted by a brass border. Ginger & Jagger creators have designed a coffee table that will make a statement about the owner's sophisticated sense of style and design.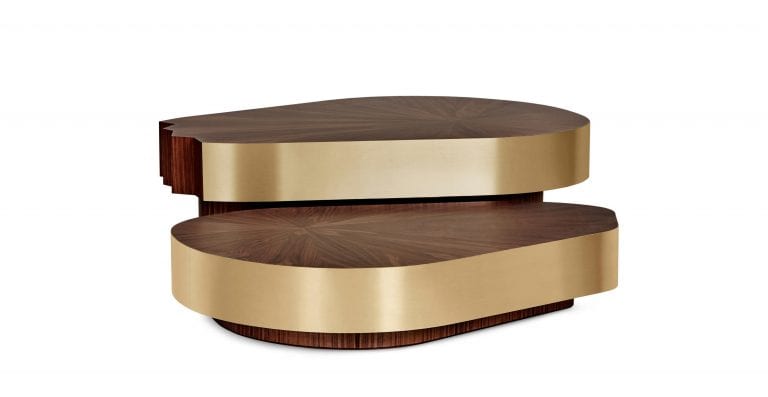 Launched in Europe in 2012, Ginger & Jagger is a product design brand that prides itself on creating handcrafted high-end contemporary products inspired by nature. All of their collections evolve from nature's sculptural shapes and rugged textures through unique artisanal techniques and an outstanding blend of materials.
The Wave Coffee Table
We have always said that a great center table can really make a living room sitting arrangement a lot more inviting, and this one will surely invoke many a conversation.
At first glance it seems almost impossible to image someone takes the time to carve out the exact details of the city scene within the curl of the "Wave".
I seem to remember a recent action packed movie that has apparently inspired designer Stelios Mousarris who after receiving his bachelor degree in model making ventured out on his own and created a company that bears his name.
Many of his previous works were interior design projects and some concept seating for commercial areas. It is clear that he has a unique eye for styles that offer much more than just the standard functionality.
The Wave City Coffee Table is a combination of wood and steel and some of today's modern 3D technology that made the detailing possible. It is most creative and hard to take your eyes off of, and it looks great from every angle.
I can visualize an artist lending real color to the scene here which would really take it over the top. I wonder if you can turn it over putting the larger curling part on the floor to mix things up a little now and then. This limited edition piece is available for a modest €6500 from the Mousarris website. 100 cm x 50 cm x 45cm.
The Frog Rain Coffee Table
They inspire frog Rain by the Asian rain drums which have existed for thousands of years. Rain drums get their unique name from the lovely sound they make from raindrops. They make this table of cast aluminum and has a traditional relief pattern of a glowing sun encircled by concentric rings with geometric patterns. They embellish its top with three frogs while its sides are adorned by botanical motifs.
Frog Rain Coffee Table by Pottery Barn will add a unique accent to your interiors and exteriors. It is a perfect piece for the contemporary home. It is a lovely blend of modern style and natural form. Besides adding exotic charm, it will enhance the elegance of your space.
Frog Rain comes in a range of shapes to fit any home. Designed by world-class artisans and will stand the test of time. If you like to relax indoors, place it next to your favorite sofa so you can take a drink as you watch TV.
If lounging outdoors is your thing, put it in the porch, patio, or by the pool. Its neutral palette makes it a perfect complement for various decors.
Frog Rain looks right at home in vintage settings, mid-century settings, and sleek contemporary settings. It has a rustic design that looks very elegant. It will make a lovely statement in whichever room. When you get it, you won't need anything else to give your interiors or exteriors a wow factor.
Frank Gehry's Icing Coffee Table by Knoll
Inspired by the apple crates he had played on as a child, Pritzker Prize-winning architect Frank Gehry created the ribbon-like design of the face off table with interwoven maple strips.
The graceful design integrates material with structure, transcending all conventions of style. Each table comes stamped with the KnollStudio logo, Frank Gehry's signature and the date of production.
Features hard white maple veneers; all wood grains run in the same direction for resilience. Solid maple center column prevents rocking. Arched base design provides ample leg room.
Glides are clear plastic with matte frost finish. Finishes; Top comes in a choice of two finishes: clear glass or white laminate. Base finish is laminated clear maple to 8-ply thickness with high-bonding urea glue.
Stunning coffee table that you can have now if you so desire.