Who out there dreams of a spacious kitchen, loads of storage and a giant kitchen right in the center of the space for all your cooking, entertaining and cake decorating needs? I know I sure do. And if you're lucky enough to have a kitchen that can fit an island, then it's time to start shopping for the right one. Today, we're showing off stylish and modern two tiered kitchen island ideas that are not only design-worthy but functional too.
Rustic Meets Modern
All the wooden accents combined with the neutral and pure white create a soft, clean and contemporary space. The marble top of this two-tiered beauty adds an extra bit of modern edge and the top bar instantly becomes the perfect breakfast location for the entire family.
Traditional Meets Modern
At first glance, this looks like a simple, traditional kitchen. But, with the smooth, black covering the two-tiered island, the room instantly gets a facelift. And don't you love how this island has room for all your cookbooks and even a built-in wine rack? It's a great space saver and adds a pop of trendy vibes throughout the room.
Industrial Meets Modern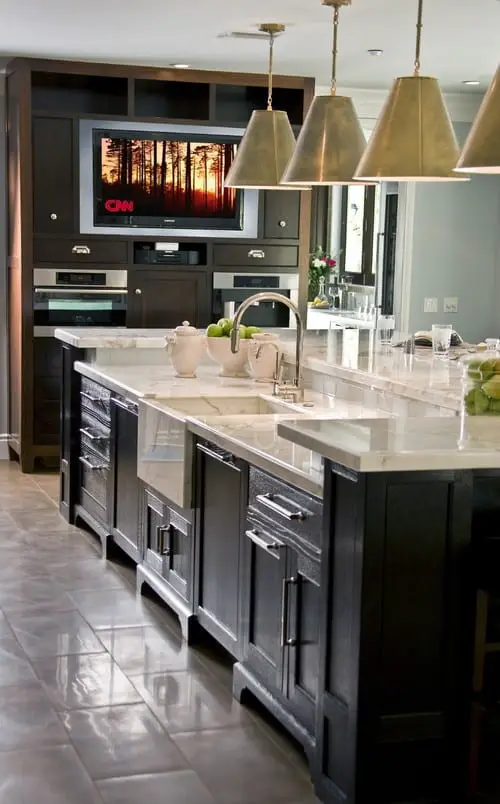 The industrial-inspired lighting, paired with this uber slick and sophisticated two-tiered island make this kitchen one to envy. This large piece no only makes cooking that much easier, but also organizing with all that extra storage underneath the sink! And again, the top tier is the perfect spot for a morning cup of coffee, homework time for the kids or even laying out the appetizers at your next dinner party.
Shabby Meets Modern
We love how the creamy white cabinets with a shabby-chic appeal, set the black granite and red top tier off in a wonderfully, fashionable way. This piece is artistic, it's funky and it's incredibly contemporary and chic when put in a kitchen with a lot of clean lines. This is the instant focal point of a room that's have a neutral and slick foundation.
Masculine Meets Modern
This kitchen has a lot of masculine energy, but we mean that in the most complimentary of ways. The thick, yet clean lines and the neutral, relaxing palette make a nice place to gather and relax. But the two-tiered island is functional and workable all the while having a place for the perfect, casual dinner for two!
all photos via Houzz