Equinox Personal Backyard Cabana by TUCCI
Part of the fun of going to a really nice hotel or resort is the great looking pool areas with all of their comfortable lounge chairs and umbrellas that make it a special place to vacation. If you have ever been one of the hotels in Las Vegas for example you will see that many offer a special cabana area for you and your friends to relax and escape some of the suns powerful rays.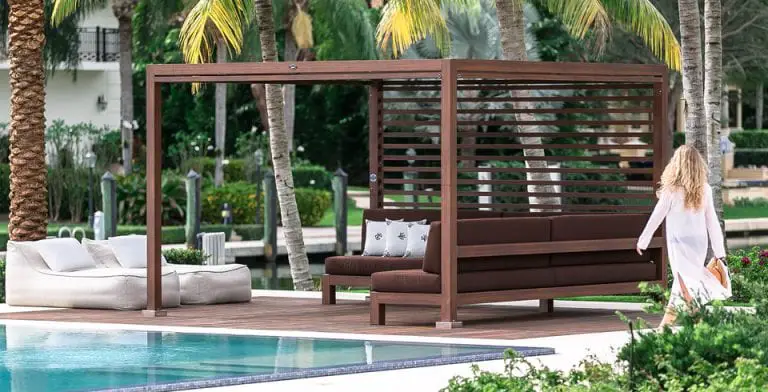 The Equinox Cabana from TUCCI is a super sleek design that can be customized with lighting, music, seating and walls to make it your own. The clean linear structure is very attractive and accentuated with the rich wood. See all of the outdoor Cabana structures from TUCCI.
This is such a classy look especially when the accent pillows are added. The nicely louvered back helps to block out some sun while creating a cozy encompassing backdrop. Many times we see additional sheen linens draped on or around these types of structures that add visual appeal and shade.
The sky is the limit on the types of materials but you may want to get something that is synthetic so you can wash it over the years and it will also resist the elements like rain and sun as well. It is always best to get a lighter colored material as it stays cooler and offers a nice contrast to the darker wood.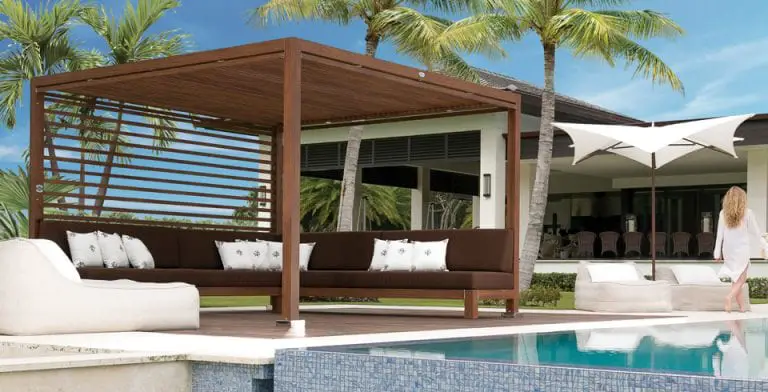 You are going to need some additional patio furniture like the two comfortable looking loungers seen just outside for those who want to catch all of the sun so you may want to get some ideas from a recent post we did on Luxurious Styles for Serious Lounging found here.  As you will see there is no shortage of unique accent chairs that will take your backyard to the next level.