With the perfect wall unit, you can transform your living room into a stylish, inviting area that you can show off to your guests. If you're tired of your old wall unit and looking for something fresh and modern, get the Blink wall unit by Acerbis. It has a stainless steel finish which gives it the ultimate modern look. The bright and neutral material creates fascinating reflections of the objects and the surrounding space.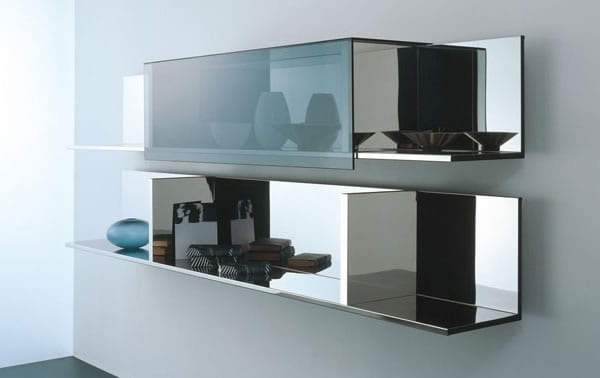 If you're looking for a wall unit that is both functional and chic, the Blink wall unit by Acerbis is a good choice. Designed by Ludovico Acerbis, it makes a perfect match for any home and can fit into limited spaces. The unit is partitioned into three asymmetrical spaces; 2 side shelves and a larger middle one. The middle shelf has an "L" shaped door which transforms it into a closed cabinet. The door is made of tempered glass and has a flap opening at the top which is controlled by an air piston.
Blink is perfect for residential and commercial environments. It allows you to show off your favorite books, photos, or chinaware in a stylish way. Place it in your living room and instantly transform the room from dull to spectacular. This wall unit shows off your love for design and accessorizes well with modern and transitional décor.  It provides extra storage without using up additional space. It is a great choice for homes and offices with limited space.
What gorgeous decorative display will you showcase in your Blink wall unit?