Choosing a Bed For Guests
For many, the holidays are synonymous with another warm and sentimental yet simultaneously stress-inducing "H" word: houseguests.
For those of us big on family but small on space, there may not be enough square footage (not to mention interior privacy) for a proper guest room, so if our friends and family are staying for more than a night or two and an air mattress just will not cut it.
Still, if we look hard enough, there are several inventive modern guest beds on the market, ranging from traditional trundle beds some with drawers as well to updated murphy beds and even a new out of the way option that remains hidden against the ceiling when not in use and which hangs from a suspension system as needed whenever those in-laws and distant cousins (and college buddies in need of a place to crash) are in town.
All are intelligent in their use of space, freeing us up to use those rooms as studies, dens or storage spaces throughout the rest of the year.  When in a pinch, get inventive that's just what these designers have done?
The Kids Room
Twin Kids
Unusual Designs
Twin Adults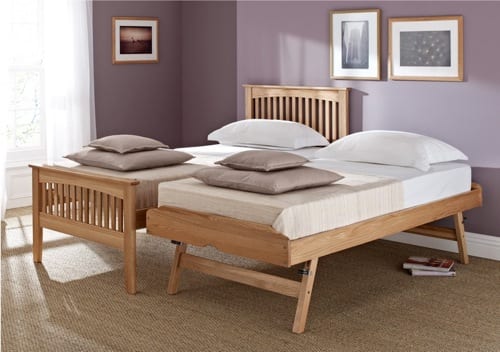 Electric Hide Away
Storage Trundle Bed
Pull Out Trundle
Comy and Stunning
Storage Trundle With Extra Storage
Double Storage Double Bed
The Childrens Dream
Suspension bed found at BedUp.