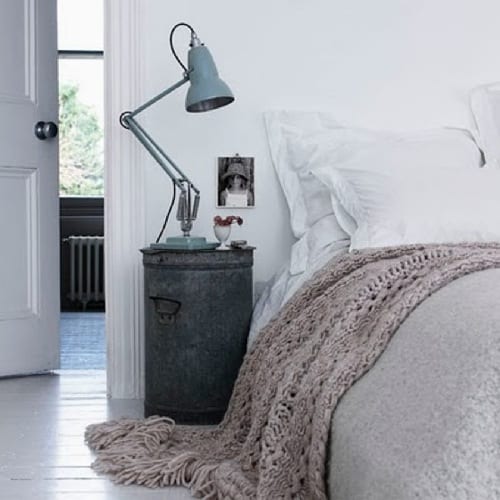 Nightstand Ideas For Your New Bedroom Design
As we've been covering in quite a few of our posts lately, there's no shortage of creativity in the world of furnishings and home decor.  
Today's roundup of quirky nightstands continues the theme with quite a dash of inventive ingenuity; the Seven-Night-Stand, for example, offers little daily cubbies for pills, reminder notes and whatever else we might need to assign ourselves in advance so we won't forget them, and lest you think it sounds like hospital furniture, take a look; if anything, it's more Scabble-inspired than clinical.  
Then there's the upcycling and repurposing going on with IKEA Hacker's hanging basket, HGTV's accent table split in two and reinvented into double-nightstands, and of course, the Funky Junk Sisters' vintage trash can-turned-bedside table.  
It's all in the eye of the beholder, and if a good night's sleep helps boost the creative juices, these ten inventive souls must be getting plenty of shut-eye.
Vintage Garbage Can Nightsand from Funky Junk Sisters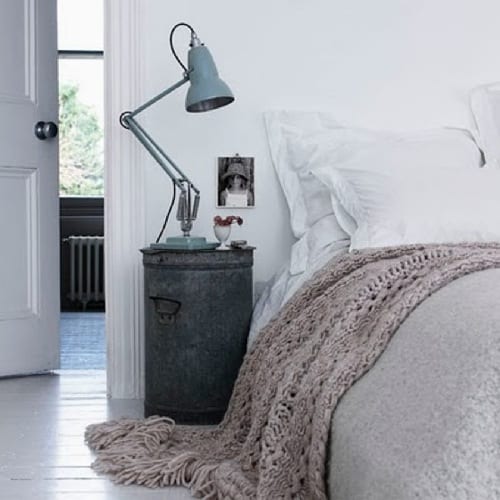 ---
The Seven-Night Stand by Emily Rothschild & Tom Weis
Seven-Night-Stand found at Emily Rothschild.
Two-in-One Nighstands by Brian Flynn via HGTV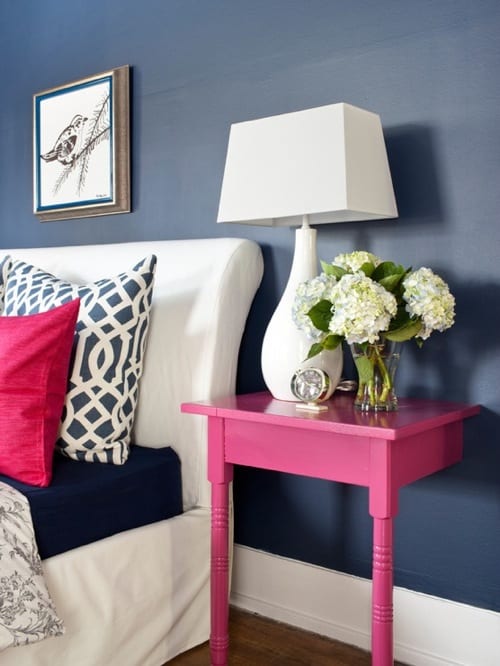 ---
Chalk Painted Nighstand by Centsational Girl
It all started with a skinny little nightstand I spied at a local second hand store, I fell in love with the carved detail on the front but it was a little beat up.  Nothing a little wood filler and paint won't fix!
Image rights: Centsational Style
---
DIY Painted Nighstand via Liz Marie Blog
Image rights: Liz Marie Blog
---
Handmade Nightstand by James Brauer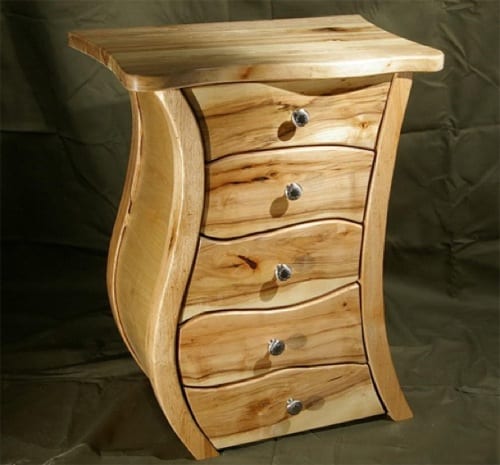 ---
Hanging Basket Nighstand by IKEA Hacker
---
Wall Sconce Nighstand via Lamps Plus
Image rights for Lamps by Lamps Plus
---
Bonita Nightstand by Allan Copley
The Bonita 2-Drawer Nightstand brings a regal elegance to your bedroom. With its framed two drawer cabinet in Zebrawood finish, perched atop its Mocha on Oak finished base that features graceful lines leading to the tapered leg supports, this nightstand delivers sophistication and relaxation to a whole new level. Turn your bedroom into your own retreat oasis with the Bonita 2-Drawer Nightstand.
Available at DCG Stores