We have featured much furniture and lighting designs from world renowned designer Ross Lovegrove. As we find more of his stunning designs we will slowly add them to his design profile.
Please look at what he had designed in the past. If you are a savvy collector, you should be looking in the usual places trying to find a designers bargain for your home.
Cosmic Leaf Hanging Lamp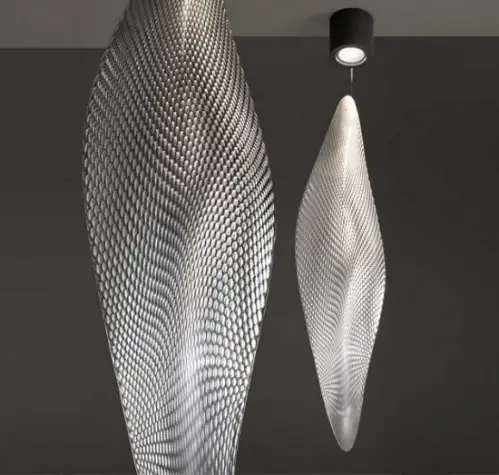 This is the "Cosmic Leaf" designed in 2009. Artimide is one of my favorite modern lighting manufacturers that never ceases to amaze. The fluid lines of the Cosmic Leaf hanging lamp have a meshed skin.
Andromeda LED Lamp
The inimitable London designer Ross Lovegrove is back designing products that transcend the mundane and emphasize on reinvention.
They have designed the visually striking Andromeda LED lamp for Japanese lighting brand Yamagiwa who are marketing it for both domestic and public space.
They make the lamp up of LED clusters that are embedded in the crossing parts of the hard polyurethane foam structure and the lamp also features mirrors that can be moved to reflect the light in different directions
The Aqua EII Lamp
In the world of illumination, Artemide is one maker that put forth not only quality but cool clean styles. From designer Ross Lovegrove we have the simple and sleek Aqua EII lamp that offers direct and indirect light thanks to the mirror treated aluminum diffuser.
The Aqua EII is available as shown in an opaque chrome structure, with a polished chrome diffuser in a table or hanging version.  This design reminds me of the liquid from one of the Terminator movies that oozes from the robots to reform into another shape. This feature of the lamp gives it a futuristic design.
The Go Chair
The Go Chair from designer Ross Lovegrove looks fast, as if it were moving, so the name fits it well. This ultra modern chair has a great combination of curves that flow in a very harmonious way with contouring seat and back for comfort.
The Bernhardt Company, known for quality, makes the Go Chair in two options, a wood veneer seat, and a polycarbonate version for use outside.
Frame options include a powder-coated silver or white lightweight magnesium which is very durable. The Go Chair is stackable up to three high so space saving while not in use is a bonus.
Available from Plushpod for $788-955 depending on the seat and frame option.
23″W x 27″D x 30″H