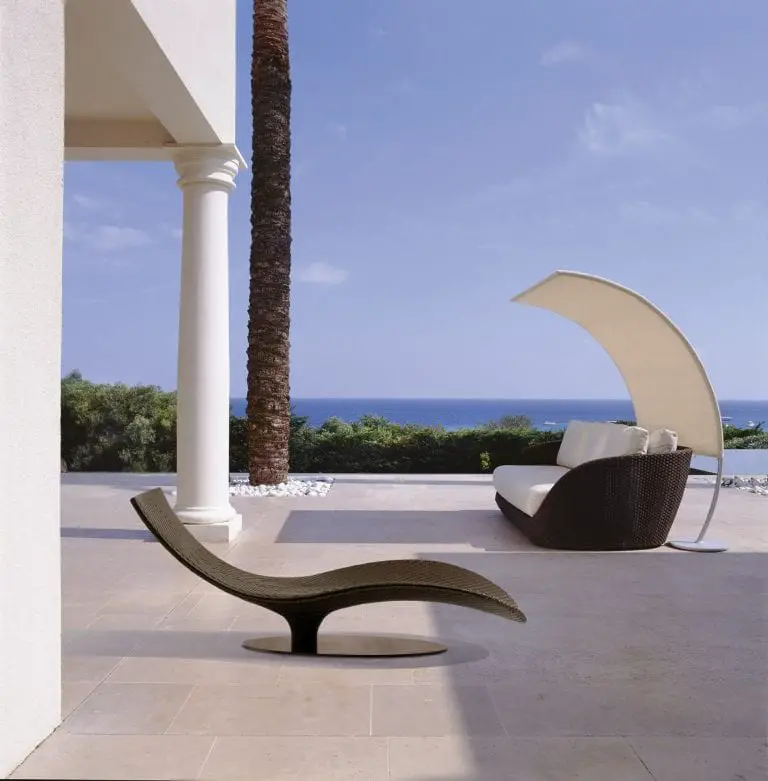 The Roberti Rattan Outdoor Chaise-longue was designed by Studio Baluto Associati for Roberti Rattan furniture manufacturer.
There is nothing more disappointing than getting ready for summer only to realize that your patio furniture is ruined and needs to be changed… again. So, why settle for less when for a little extra you can choose a designer sun lounger and enjoy it for may years to come?
The outdoor Chaise-longue, made with aluminum and Sunloom is characterized by its unique back shape which lends the furniture its elegant appearance and also makes it especially resistant against environment influences. The artificial material that looks like rattan, endures long years of beauty even when left under the cold and warm weather most of the time.
Its sinuous and ergonomic shape fits perfectly for furnishing wellness and SPA areas but also private spaces like patios and pool areas. With a unique design, this chaise-longue follows the soft line of the back, to ensure a complete relaxation.
The Roberti chaise blends perfectly with modern spaces and at the same time complements any home with a timeless classical style. The cozy feeling of this piece of furniture is perfect to comfort the user and offer relaxation. The outdoor Chaise-longue is light and easy to shift between the indoors and the outdoors, if wanted to.
This elegant collection will surely become a must have outdoor furniture for years to come.Whether you're just chilling on your patio or you want some contemporary seating solutions for your hotel or SPA, this would be one of the perfect products to choose.
Not only visually appealing, the Roberti Rattan lounger will offer extra comfort, specially when combined with the comfy mattress available, the resulting furniture will be a lot more comfortable than a usual deck chair and certainly alot more relaxing then a plastic chair! The ergonomic design ensures that any form of sitting is relaxing and comfortable. So, whether you're having a chat with friends, reading a book, catching sun or taking a nap, you'll feel hard to get up and leave it.
Related Articles: