A bookcase is a valuable piece of furniture. It can display your books, small collections, and pottery and has a height that gives a space visual interest. While bookcases come in all shapes and styles, the River bookcase by Antonello Italia is a perfect piece for any home. It offers an innovative solution to your organizational needs. The bookrack is comprised of curving sectional storage compartments which alternate in stacks of two and three. The compartments can be joined to form a number of configurations; from a semi-circle to a rolling wave.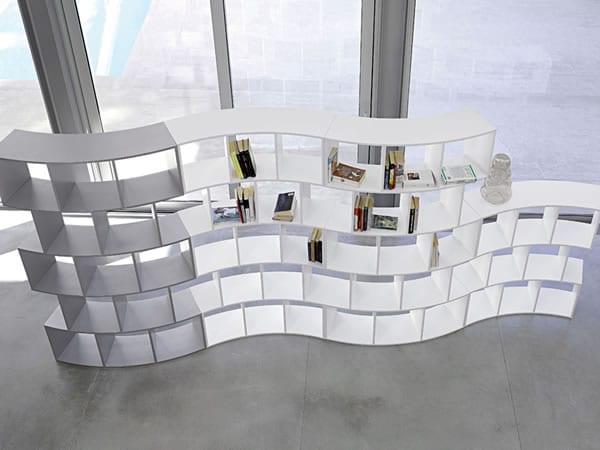 Made with a wooden or lacquered matt frame, the River bookcase by Antonello Italia will appeal to book lovers and design enthusiasts alike. Its open back is perfect for areas where you want to make a statement yet keep things simple. The case comes in two sizes and looks good in any home. It will excellently display your books and works of art. For a personal touch, add your portraits and favorite photographs and create a cozy spot you can call your own.
If you have large rooms, use the bookcase as a room divider and create different functional spaces. The River bookcase makes a great focal point to design a room around. For those who love to read or have a large collection of books, storage can become an issue. The River rack offers an excellent solution to your problems. It will help you to store your books, sentimental possessions, and home accents beautifully. Don't you think the River bookcase is the perfect place to store all your favorite pieces?