Trundle BedsWhenTrundle Beds Trundle BedsyouTrundle Beds look at the white laser-cut metal base of the Cyclone Lounger from Uhuru, your mind goes to a roller coaster, Coney Island's famous Cyclone roller coaster.
Is not often we talk about US furniture manufacturers or designs but when we do, we introduce you to a design which you can also find exposed at the Smithsonian Museum.
The Cyclone Lounger is crafted from reclaimed Ipe wood from the demolished iconic boardwalk in Coney Island and only 10 pieces have ever been made. Jason Horvath and Bill Hilgendorf, the designers of the Uhuru's Coney Island Line of furniture, took in the landfill-destined wood and used it to manufacture functional pieces for the home. Each piece is built to order, signed and numbered by its creator in Brooklyn. And unlike just about any other rollercoaster, this one just might put you to sleep.
The wood was first installed on the boardwalk in the late 1940's, has weathered in the sun, salt, and snow for over 75 years, while the laser cut metal base represents the complex framework of the rollercoaster, covered in a low-VOC powder coating.
The Cyclone Lounger with a white metal base and wood surface doesn't come cheap! If you want to own one of the few lounge chairs ever built, you have to be ready to spend around $15.000 even if the original price was $7,200.
The prices for the Coney Island Line of furniture skyrocketed, even if Uhuru's idea is not a 100% original one, when it comes to finding new and interesting uses for old Boardwalk planks. Manhattan company Olde Good Things also has used Boardwalk wood to make furniture items.
Taking their brand name from a Swahili word which means freedom, Uhuru is a company that started with absolute zero cash in 2004 and managed to become one of America's most innovative design firms, an icon of Brooklyn and a renowned worldwide furniture manufacturer.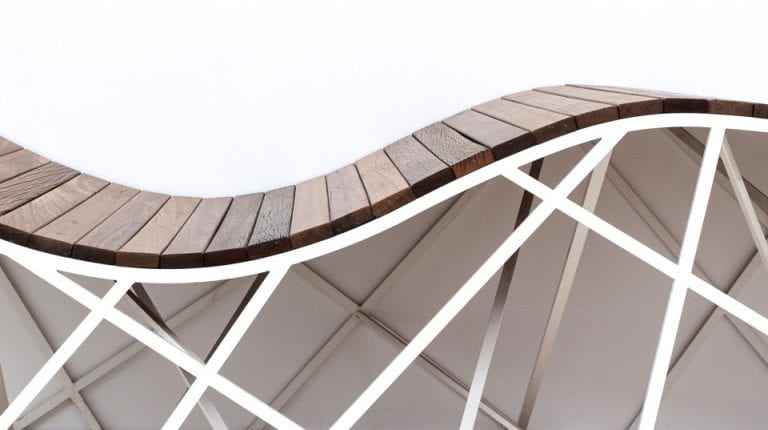 Hits: 1